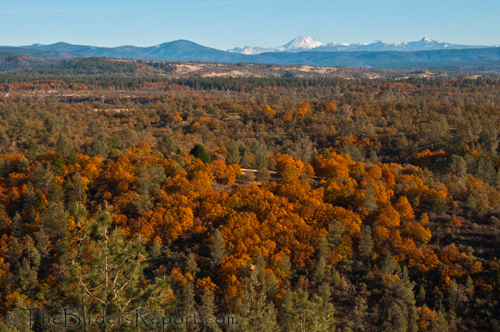 Mount Lassen View From Oak Run photo by Larry Jordan
This is a photo I took from the hill behind our house at about 1800 foot elevation.  The darker green tree you see near the middle of the photo is a row of Leyland Cypress trees on the south side of our house which you can't see because of all those yellow-orange California Black Oaks that surround it.
In the distance is Lassen Peak, the southernmost active volcano in the Cascade Range at an elevation of 10,457 feet (3,187 meters).  It is the home of Lassen Volcanic National Park, which is one of my favorite destinations for birding and hiking in northern California.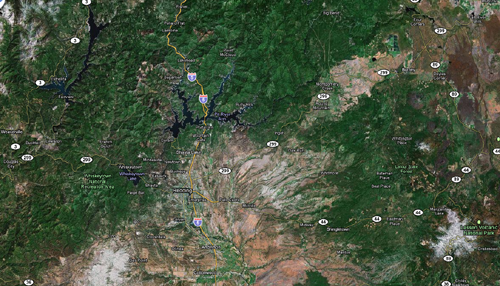 Oak Run is just about in the center of this map (click on map to go to google.maps) and is about twenty miles from Lassen Peak as the Eagle flies.  In upcoming MyWorld posts, I will try to bring you some of the best birding and recreational places to visit, in and around the Redding area.  For now, go visit some of the other places, all over the world, as folks bring you That's My World Tuesday!