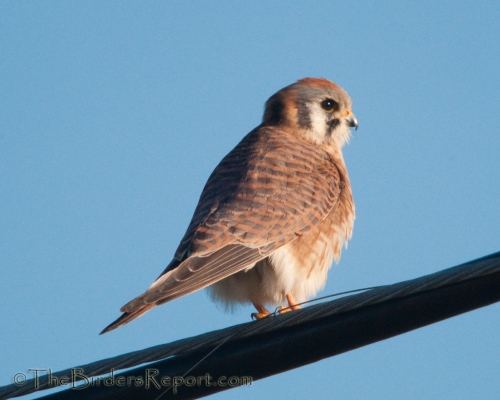 American Kestrel photos by Larry Jordan
There was a sighting of a Rough-legged Hawk out on Dersch Road in Milleville, one of the areas covered by our Anderson Christmas Bird Count.  I really wanted to get some photos of the bird because it is one species I have yet to photograph.
I found this very dark hawk perched in the lone oak tree where it had been reported.  I pulled my car slowly to the shoulder of the road and casually got out of the vehicle.  I pulled out my digiscope and tripod without looking at the raptor in the tree.  I was probably 100 feet from my target as I slowly pulled out the legs on the tripod and set it up on the edge of the abandoned roadway.  I turned around and took one photo of the back of the birds head, just before it took flight.
I got very good looks at this dark hawk as it slowly circled me overhead, all the while watching me to see what I was up to.  It flew back to its perch in the oak tree and waited.  I thought to myself, great, he has checked me out and considers me no threat.  Here's where I made my crucial mistake.
I began crossing the road when I noticed a car coming and rather than waiting to cross, I hurried to get to the other side before the oncoming vehicle got too close.  The hawk flew again.  This time it didn't return.  I watched as the dark hawk soared in circles away from me.
I waited.  I knew it would return to the oak tree.  It had been seen there several times.  While I was waiting, I kept my eye on the pair of American Kestrels that I noticed when I first approached the area.  They were both perched on the overhead wires on the side of the road, just like the kestrels I see on my way to work nearly every morning.  But these two didn't know me.  They didn't know my vehicle like the ones on my daily route do.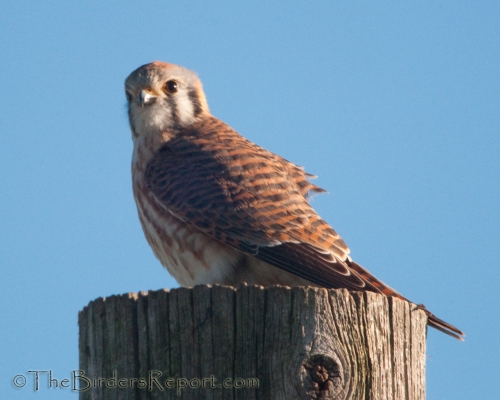 I watched as this beautiful female flew toward the telephone pole where she had perched before.  Right across the street from where I was set up waiting for the dark hawk!  I quickly turned my camera to the top of the post as she landed.  I began clicking off photos as if it could be my only chance.  After all, I had been trying to get shots of these rather abundant little raptors for over a year with no luck.
After giving me great views, she looked at me for awhile, as if she was trying to figure out what the clicking noise was.  Then she flew to the wire you see in the top photo.  But before she did, I got a nice shot of her looking right at me.  Click on photos for larger view.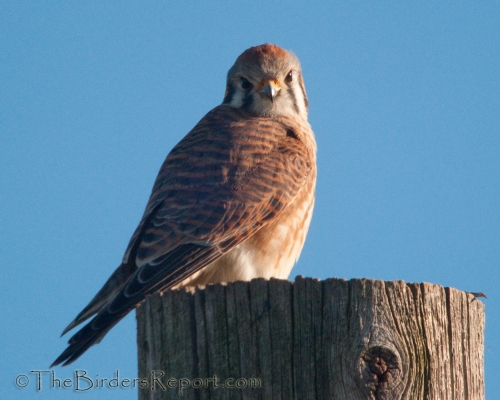 The dark hawk never came back to the tree so I decided to head out Milleville Road to look for a Ferruginous Hawk before it got too dark.  I didn't find any Ferruginous Hawks but I, amazingly enough, found another fairly cooperative American Kestrel.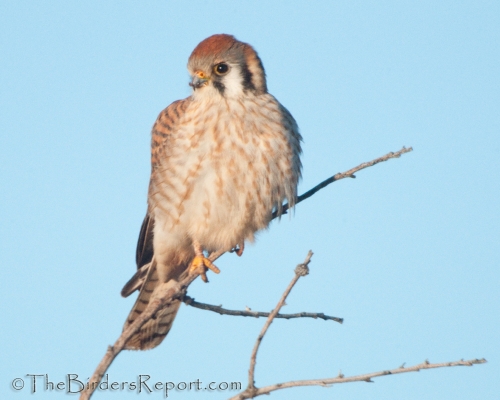 This beauty wasn't quite as close, but the light was perfect.  Another female.  She began to preen.
Showing some aspects of her markings usually not seen like this head pattern.  Male and female American Kestrels are sexually dichromatic, the male has blue-gray wings and a rufous tail with a single broad subterminal black band, while the wings and tail of the female are rufous with black bars across their lengths1.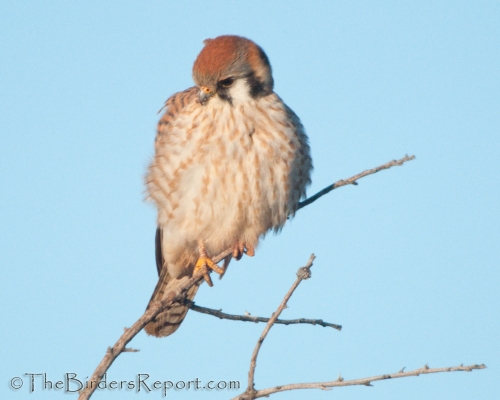 The male also has a spotted breast while the female's breast is streaked with brown.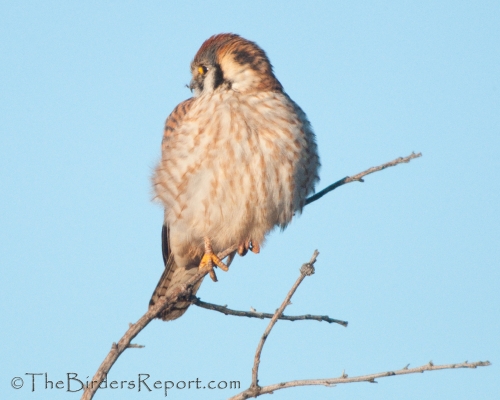 You can see the male American Kestrel at Christopher Ciccone's post on Picus Blog for this weeks Bird Photography Weekly.  You will also want to see some more great bird photos at Springman's World Bird Wednesday over at The Pine River Review.
So I have two tasks to complete, get photos of the male American Kestrel, and try to find the dark hawk again.  It is either a Rough-legged Hawk or a Harlan's or Dark Morph Red-tailed Hawk.  I really need to get some good photos to get a good ID.  I'll let you know how that goes.
References: 1 Birds of North America Online