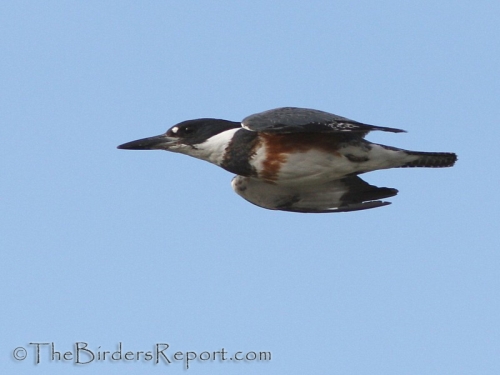 Belted Kingfisher Female In Flight photos by Larry Jordan
I was able to catch this Belted Kingfisher flying across the Sacramento River a couple of years ago and have been trying to get some good photos of one of these great fisher birds since.  They are so much fun to watch as they dive into the water for fish.  Their rattling call is usually heard before seeing this species.
I heard the call and watched as this female dove into the Sacramento River near a group of Wood Ducks I had been photographing nearby.  It was a cool, overcast day and the light was not very good for digiscoping but I followed her until she perched on a snag overhanging the river.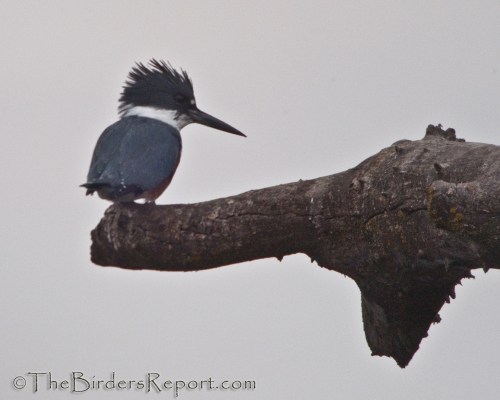 This is typical behavior for the Belted Kingfisher.  They will hunt their prey from an overhanging tree, snag or wire.  They will also hover over the water and dive down on their prey.  After capturing a fish, the bird flies to a perch where it pounds its prey against the perch by sideway movements of its head. Pounding serves to stun the fish and provides a means of turning the fish so it can be swallowed head first.  Undigested remains of such prey are regularly regurgitated as pellets1.
Before perching on this snag, this female was fishing from a large rock at the waters edge.  The female is distinguished by the rufous band across the lower breast and rufous sides.  Belted Kingfishers are solitary birds except during breeding season and will defend their fishing spots along the river, giving off those rattling calls we hear so often.  During breeding season they excavate burrows in the river banks (photo courtesy of Birds of North America Online).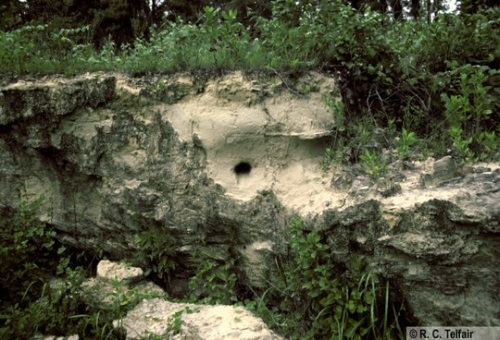 Now that I know where this snag is located, I hope to get some better shots of the kingfishers I saw here.  Maybe I will even be able to locate their nest site this spring and watch them with their offspring.  Until then, here is another shot of her just before she made another dive.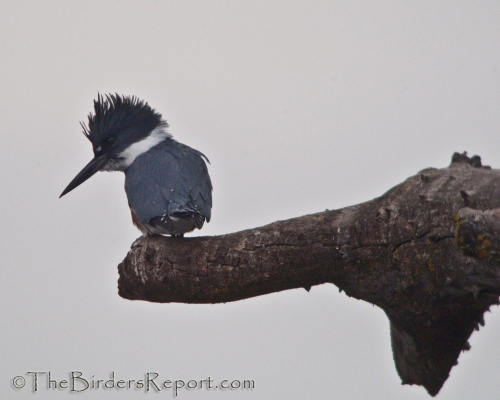 To see some great bird photos, check out Bird Photography Weekly!
Refereences: 1 – Birds Of North America Online: Issue No. 084 – Revised: January 27, 2009, Authors: Hamas, Michael J., Revisors: Kelly, Jeffrey F., and Eli S. Bridge