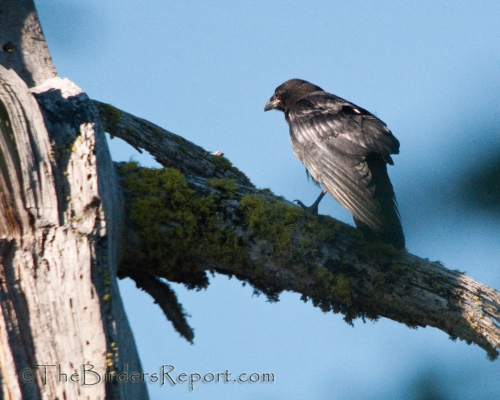 Common Raven (Corvus corax) photos and video by Larry Jordan
Last Weekend was our yearly bird outing to Lassen Volcanic National Park where we heard many a call from the Common Raven (Corvus corax).  Their calls echoed through the morning forest as I went searching for nesting birds to photograph.
While attempting to photograph the already fledged Brown Creepers, the Ravens were causing such a ruckus at daybreak that I had to investigate what was going on.  There were at least four Ravens calling and flying around the area, some spending a considerable amount of time near the top of different snags.  As I got a closer look at two of them, they appeared to be juveniles.  I say this because of the obvious yellowish color at the base of their bills (see photo above).
Since there was nothing going on at the Brown Creeper's empty nest, I turned my attention to the Ravens and shot this amusing video of the two juveniles on a branch of the nearby snag.
Later that morning, on the opposite side of Manzanita Lake, I found another Common Raven calling from atop another snag.  This was a mature bird as you can see by its color, sheen and elongated throat feathers.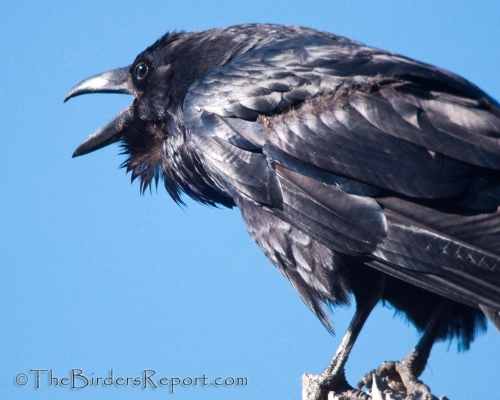 You get the full effect of one of these large passerines from the video.
If you want to see some really good bird photography, check out Bird Photography Weekly, then post one of your own photos!