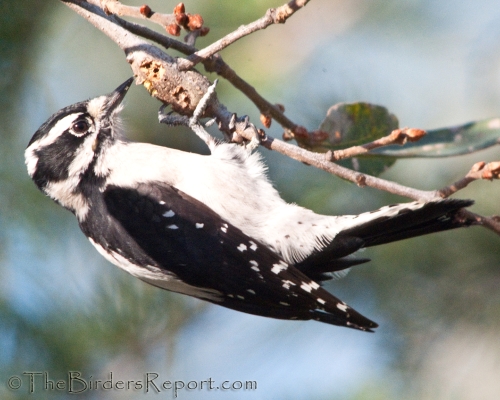 Female Downy Woodpecker photos by Larry Jordan
Last weekend I was building some new bluebird houses in my garage when I heard a Downy call as she flew into a nearby oak tree.  My car was parked next to the garage (as I was using the garage space to build the birdhouses) so I stopped working, scurried over to the car and got out my digiscoping setup.  It was a bright, sunny day and I was able to get some good photos of her.
Some folks have trouble differentiating the Downy Woodpecker from the Hairy, but this should really not be a problem.  Other than the fact that the Downy is quite a bit smaller and has a much smaller bill, there are other ways to tell these two look-alike woodpeckers apart.  The Downy's bill is petite and shorter than its head, whereas the Hairy's is heavy and long.
I'm sorry I don't have a photo of a Hairy Woodpecker to compare side by side, but after reading this post, you won't need one.  Here is a shot of the male Downy Woodpecker.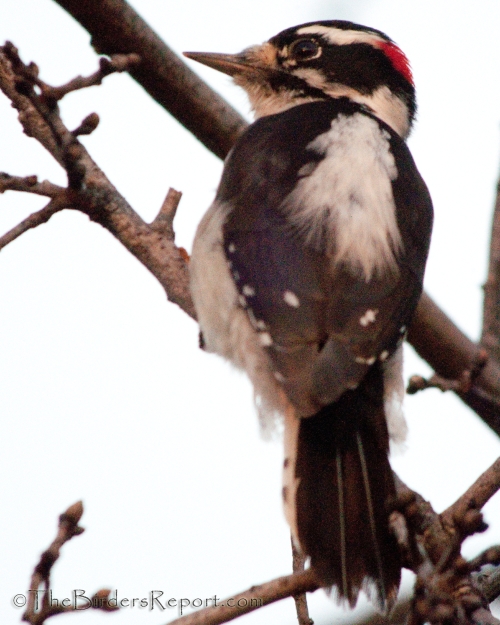 He's got the red patch on the back of his head, as does the Hairy and also the all white back, but notice the black markings on the outer white tail feathers.  The Hairy Woodpecker's outer white tail feathers have no markings on them.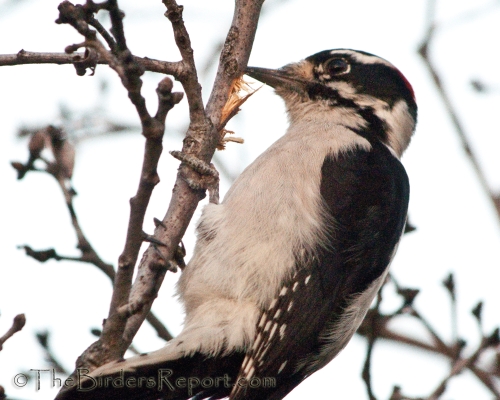 Both species have all white underparts.  Here is a better shot of the red patch on the back of the male's head.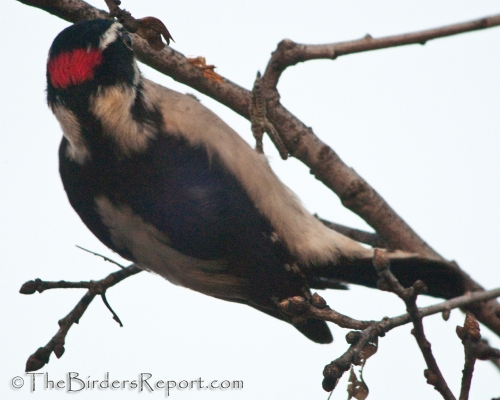 One of the best ways to distinguish these two birds is there behavior.  Take a look at the top photo again of the female Downy Woodpecker.  What do you see?  She is clinging to a tiny terminal branch of that oak tree.  You will never see a Hairy Woodpecker out that far on a small branch of a tree.
To quote Pete Dunne, from his book Pete Dunne's Essential Field Guide Companion, "people have difficulty distinguishing Downy from Hairy because they give too much weight to plumage and not enough to the powers of human perception.  Downy is a tiny compact woodpecker that would have to stretch to see over a coffee mug.  Hairy is a full-sized big-billed street brawler of a woodpecker that would have no trouble peering over a beer mug."
Now, go see some other great bird photos at Bird Photography Weekly!