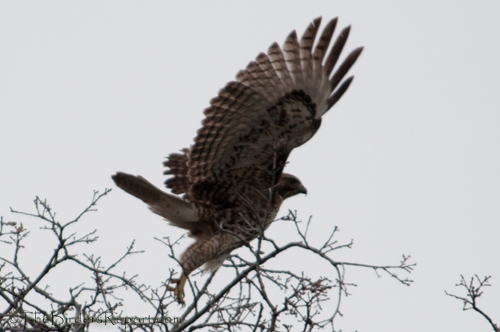 Red-tailed Hawk Just Taking Off photos by Larry Jordan
Not a very interesting sky, but on my way home from work last night, this is the sky I saw.   I caught this Red-tailed Hawk sitting in the top of an oak tree right on the road.  Obviously I had to try to capture a couple of pictures.  It was an overcast day and getting pretty dark so not much contrast but I liked the bird's form as it takes off.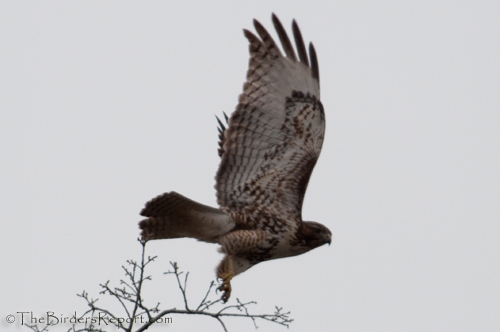 The Red-tailed Hawk is the most common and widespread hawk in North America.  It's most distinguishing field mark when seen from below is the dark patagial bar at the front edge of the wing as seen in this photo.
This coloring is the most common morph in the West but there are several intermediate colored birds between this bird and the very dark "Harlan's" race.  There is also a very light colored morph called the "Krider's" Red-tailed Hawk that is very pale with a whitish tail, found in the central plains of Canada and the US.
You can find other Red-tailed Hawk posts by typing "red-tailed hawk" into the search in the right sidebar and hitting the "enter" key.  You can also find some really great sky photos at Skywatch Friday.