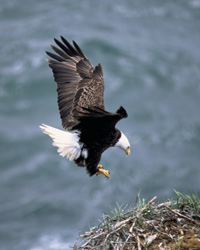 In November, Americans go to the polls to elect the 44th President of the United States. According to surveys by the U.S. Fish & Wildlife Service (FWS), as many as 46 million people watch birds. This makes the bird watching community a potentially powerful force in any election–if it makes itself heard. From budgets to energy policy, many executive decisions will impact birds; so what should we be requesting of our next President when it comes to addressing our conservation priorities?
American Bird Conservancy's report, American Birds: An Endangered Species Act Success Story, demonstrates how a strong Endangered Species Act can help restore populations of our most threatened birds. The next President needs to commit to a fully funded Act, and provide FWS with the direction, tools, and resources it needs to assess, protect, and recover endangered species and their habitats.
The next Administration's energy policy will surely focus on the critical issues of global warming and energy independence, but it must also incorporate the immediate, direct effects that generating power has on our birds and other wildlife. Expanding corn ethanol production stands to drastically impact bird habitat; oil and gas drilling operations could continue eating away at our last pristine wildernesses; the growth of unregulated wind farms will kill more and more birds through collisions, and impact ever more grassland and forest species through habitat alteration unless addressed; and the coal industry is turning thousands of acres of bird habitat and miles of clear mountain streams in the Appalachians into desolate moonscapes through mountaintop removal/valley fill operations. Each of these and other energy issues must be comprehensively addressed by the next President.
Excerpt from the ABC site.  See full text of post here at American Bird Conservancy .  You can get American Bird Conservancy updates on my "Birds In The News" page.