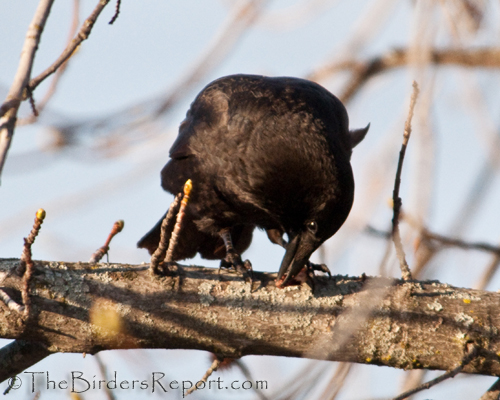 American Crow Eating On A Bone photo by Larry Jordan
The American Crow is a member of the Corvidae family, commonly refered to as Corvids or Crows. This family of birds includes crows, ravens, jays, magpies, nutcrackers, rooks, jackdaws, treepies and choughs. They are considered to be the most intellegent birds in the world.
I was listening to NPR on the way to work this morning and was astonished by a story about crows and how they can recognized individual humans. Robert Krulwich, science correspondent for NPR, interviewed Professor Kevin McGowan from Cornell University and Professor John Marzluff from the University of Washington, both experts on crow behavior. Here is a short video about the experiment. I suggest you take the 7 1/2 minutes to go to this link to hear the entire interview. It is a great listen.
You want more proof of the crows intelligence? Watch this video showing crows using tools.
My suggestion, if you go out to band crows, wear a mask, unless you want to be haunted by crows for the rest of your life.