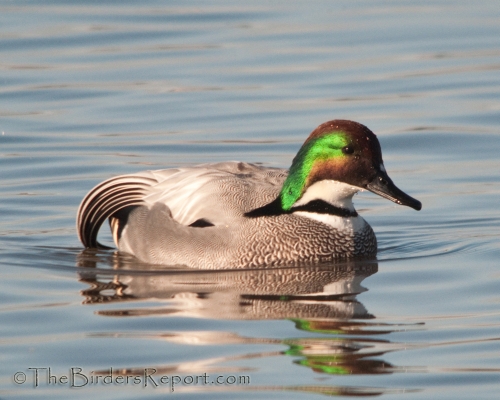 Falcated Duck (Anas falcata) Male photos by Larry Jordan
A vagrant Falcated Duck (Anas falcata), a bird you would normally see in Asia, was first spotted at Colusa National Wildlife Refuge on December 8th (click on photos for full sized images). Colusa National Wildlife Refuge is part of the Sacramento National Wildlife Refuge Complex located about 90 miles North of Sacramento, California's state capitol.
Colusa National Wildlife Refuge is part of this complex of five national wildlife refuges (NWR) and three wildlife management areas (WMA) found in California's central valley. It is located about 6 miles east of Interstate 5 on Highway 20. A map of the refuge can be found here showing the location of the viewing platform, auto loop, restrooms and photography blind.
Colusa National Wildlife Refuge occupies 4,567 acres, including seasonal marsh, permanent ponds, and uplands1. It includes a three mile auto loop, a one mile walking trail and a photography blind that you can reserve like I did this weekend 😉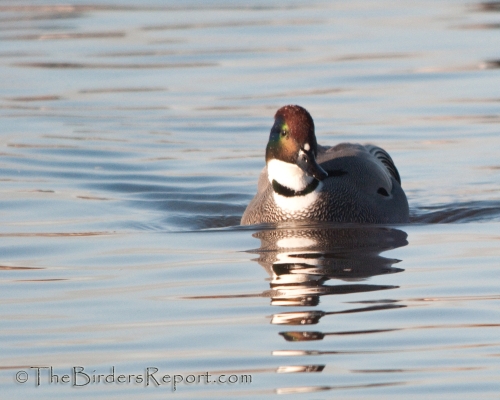 I didn't see this Near Threatened (NT) species from the photo blind though, it has been visible to everyone from the observation deck at the refuge entrance!
Birdlife International and the IUCN Redlist categorize the Falcated Duck as Near Threatened mainly because of its rapid decline in China due to over hunting2. You can read more about the status of this duck by clicking the link above.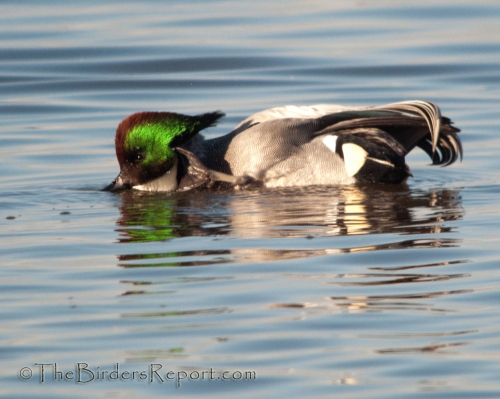 This Falcated Duck drake has been seen in the constant company of a pair of American Wigeon near the observation platform almost daily since it was discovered. Notice I said almost daily. I missed seeing the bird in my first attempt a few weeks ago but I figured I had another shot at him this weekend since I had the blind reserved anyway.
It was lucky Friday the 13th for me when he showed up at about 2 o'clock in the afternoon and moved to within about fifty yards of the platform to the thrill of the birders in wait. He spent most of his time foraging with the American Wigeon pair but I caught this video of him as he bathed and preened.
As you can see, this drake is beautiful with his iridescent green and bronze head and the elongated, arched tertial feathers after which it is named.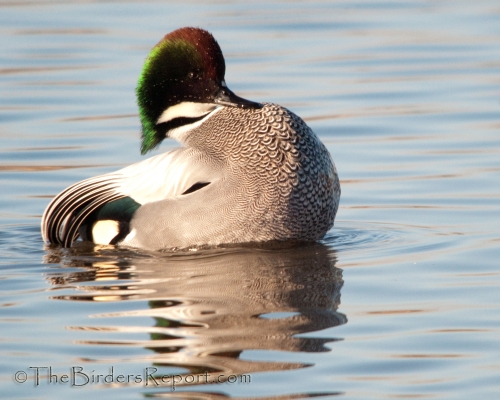 Here is a sweet shot of him preening. A good time was had by all!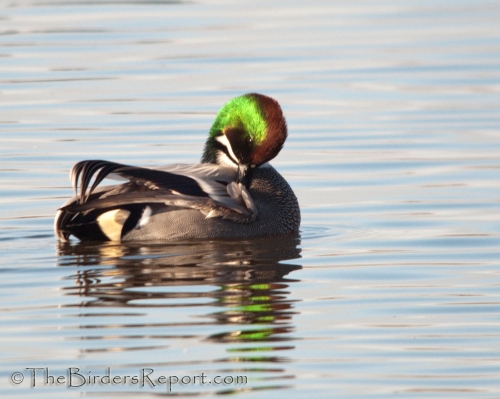 This post is linked to Bird Photography Weekly and will be linked to World Bird Wednesday on Tuesday morning. Please go check out both of these wonderful bird photography memes.
References: 1Sacramento National Wildlife Refuge, 2BirdLife International