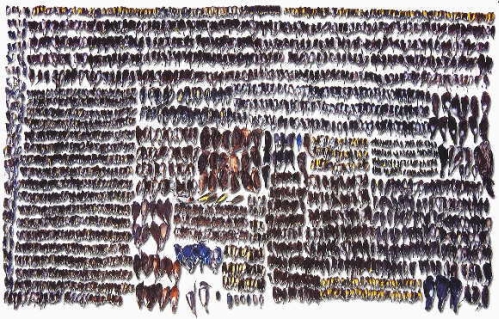 This is a photo of the birds killed during the fall migration in 2002 in Toronto just to give you an idea of how big this problem is. Please watch the 4 1/2 minute video below to learn about Fatal Light Awareness Program and maybe together we birders can begin to make a difference in the cities near us to solve this problem.

Windows may be the most significant cause of death to birds, second only to loss of habitat according to Dr. Daniel Klem of Muhlenberg College who has done studies over a period of 20 years, looking at bird collisions with windows. There has been some improvement in Toronto, Chicago and New York which have introduced programs to dim lights in skyscrapers at night but there is much work to be done.
The group largely credited with beginning this campaign is the Fatal Light Awareness Program or FLAP.  You can download their Bird Friendly Development Guidelines (8MB) which offers a comprehensive list of development strategies to make new and existing buildings less dangerous to migratory birds. There are a number of ways to make buildings better for birds including glass treatments, how the building and site is lit at night, as well as adopting new practices for building operations and site management.
There are a few things that might help us all move toward a greener and heathier planet and help our bird friends too.  Check out Laura Erickson's 101 Ways To Help Birds.  This engaging book presents 101 things individuals can do to help both individual birds and bird populations as a whole.  It also explains exactly how these actions can make a difference.
For more information on this phenomenon, an Audubon Alert has some history on the subject of window strikes including some solutions for home owners as well as information on how architectural changes will help solve this problem. One product I am going to try on my own home is CollidEscape, a product that makes windows visible to birds without obstructing your view of the outdoors.