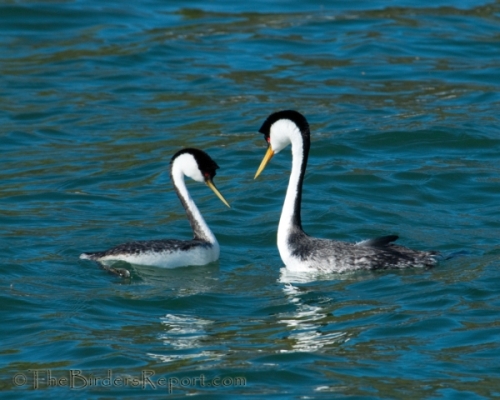 Western Grebes (Aechmophorus occidentalis) Courtship photo by Larry Jordan
We are fortunate in Northern California to have four lakes that support 76% of the total number of nesting grebes in California1.  A few weeks ago I visited Clear Lake, one of the four aforementioned lakes which also include Eagle Lake, Lake Almanor and the Thermalito Afterbay of Lake Oroville, to give a presentation on the Burrowing Owl to the Redbud Audubon Society.
Eagle Lake, Lake Almanor and Clear Lake have all been identified as Audubon California Important Bird Areas (IBA), meaning that they provide essential habitat for breeding, wintering, and migrating birds.
Redbud Audubon is conducting a four year Grebe Conservation Project that is being monitored by Dr. Floyd Hayes, Professor of Biology at Pacific Union College.  To my good fortune, Marilyn Waits, president of Redbud Audubon, arranged for me to meet Floyd and accompany him and three other bird enthusiasts on a day long waterfowl count on Clear Lake.
As a guest on the boat, I was able to relax and enjoy the day as the others were busy counting birds.  One of the highlights of our day was the sighting of a juvenile Parasitic Jaeger.  But even better than that was the chance for me to get to know Floyd and learn about the grebes breeding on the lake.
Western Grebes (Aechmophorus occidentalis) and Clark's Grebes (Aechmophorus clarkii) are probably best known for their elaborate courtship displays.  These ceremonies are some of the most complex displays in the world of birds.
Breeding success on Clear Lake has been highly variable noted by U.C. Davis's researchers over the past ten years logging a high of 2,675 nests in 2000 to a low of 20 nests in 2007.  The 2011 grebe nesting season, which appeared to be off to a good start ended in disappointment.
Just a few weeks before my visit to Clear Lake, Floyd and his students had tallied 1,248 grebe nests, but on the day we did the waterfowl count we only saw about a dozen grebe chicks.  What happened?  (All remaining photos taken by Floyd Hayes during the 2010 nesting season)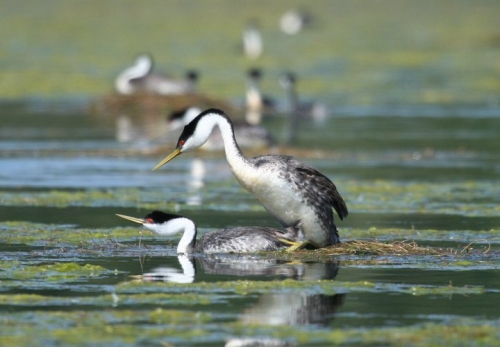 Western Grebes Mating on Nest photo by Floyd Hayes
Clark's and Western Grebes nest in colonies of several pairs to hundreds per site.  Unfortunately, in all the colonies on the lake this year, grebes that had been sitting on nests incubating eggs abandoned their nests.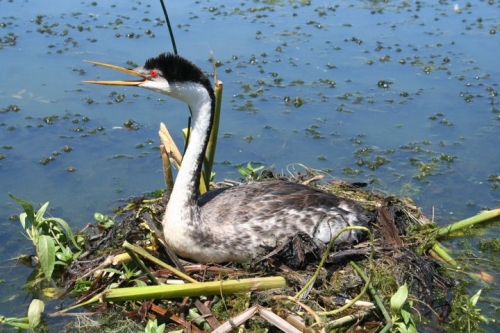 Western Grebe on Nest Incubating Eggs photo by Floyd Hayes
The most likely explanation is a lack of sufficient food supply for the chicks.  Grebes eat fish.  This year at Clear Lake the silverside minnows and other baitfish spawned very late.  Wildlife biologists at the lake stated that there have been numerous studies done on why wild birds abandon their eggs and nests, and most of the time the studies point to a lack of food to feed the young.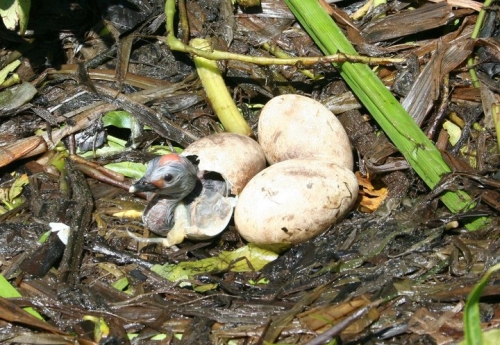 Western Grebe Hatching photo by Floyd Hayes
The parent birds, realizing that there won't be enough food for the chicks once they hatch, abandon the nests, avoiding the wasted energy and devastation of hundreds or thousands of starving baby birds.
But when they are successful the young climb onto their parent's back within minutes of hatching.  They back-brood on the nest while the eggs are in the nest…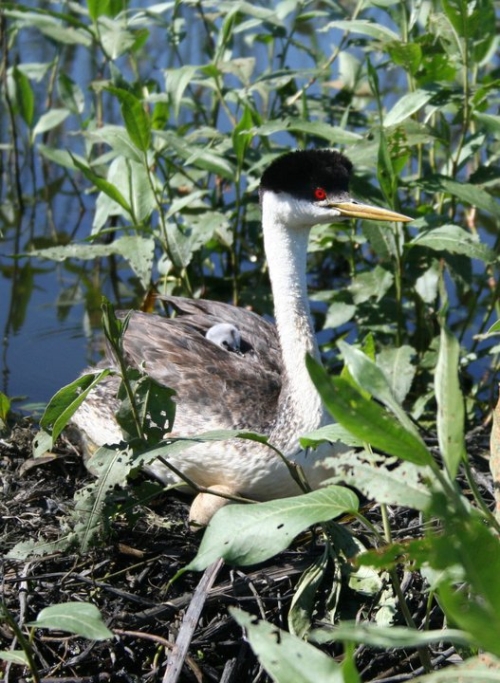 Western Grebe with Brooding Chick and Egg on Nest photo by Floyd Hayes
and on the water until they are 2 to 4 weeks of age.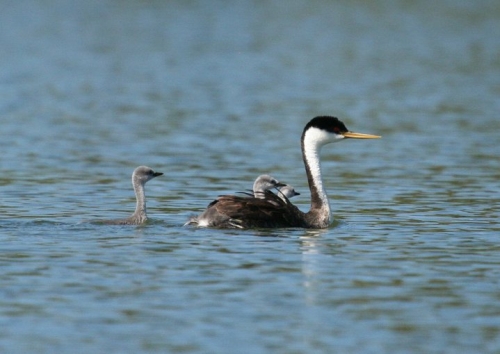 Western Grebe Chicks Being Carried on Parent's Back photo by Floyd Hayes
I did get to see some chicks dutifully following their parents and being carried on the parent's backs, but very few.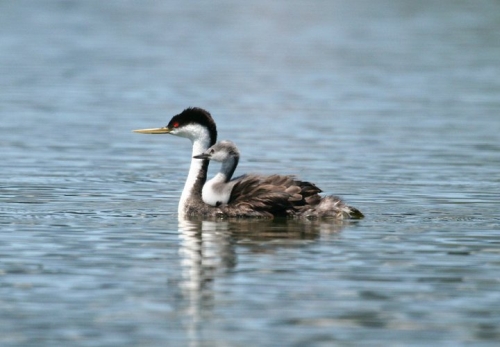 Western Grebe Chick Riding on Parent's Back photo by Floyd Hayes
Audubon California is employing a variety of strategies to reduce the impact of human interference on breeding grebes.  With the help of three local chapters, Plumas, Altacal and Redbud Audubon, the project involves identifying the key threats to the grebes at each site, outreach and education to local communities, working with agency officials to optimize conditions for the birds, and extensive monitoring1.
"No Wake" buoys are placed around nesting sites and these signs were designed and placed at boat ramps to educate local boaters and fishermen.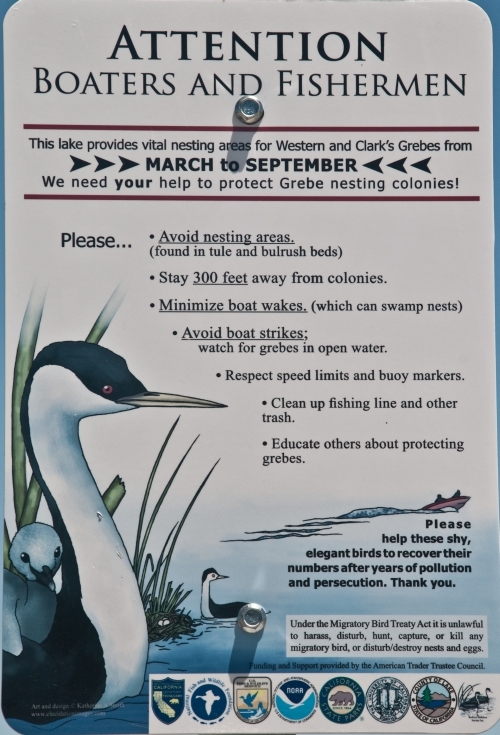 Some folks don't seem to realize how critical it is to minimize their boat wake which can swamp and destroy a nest.  Here is a photo Floyd took of an unconcerned boater plowing right through the middle of a nesting grebe colony at Clear Lake last September.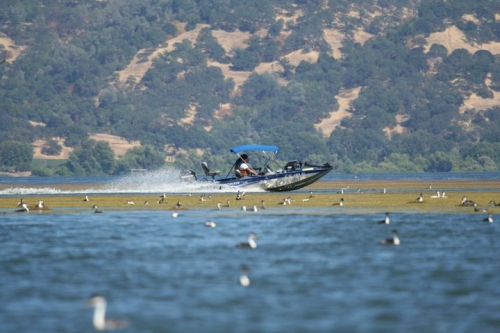 This kind of behavior can kill birds outright if struck but will most certainly cause swamped nests like this one with corresponding deterioration of breeding success.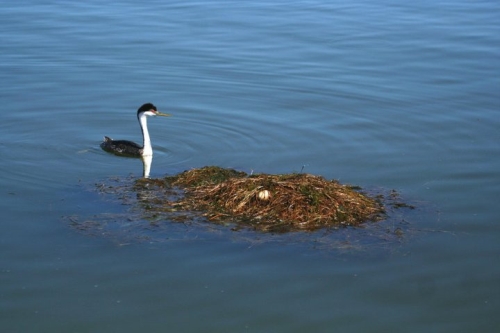 Western Grebe Nest Swamped by Boat Wake photo by Floyd Hayes
Hopefully, as people become more educated and concerned about the wildlife around them, unwarranted acts of destruction like this one will diminish and wildlife will get the respect it deserves.
I leave you with a couple more photos Floyd captured at Clear Lake last year.  This portrait of a Clark's Grebe, a species on the Audubon Watch List, showing that bright orange bill.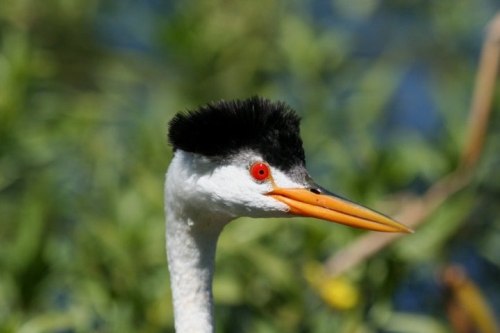 And (step back) a Western Grebe defending its nest!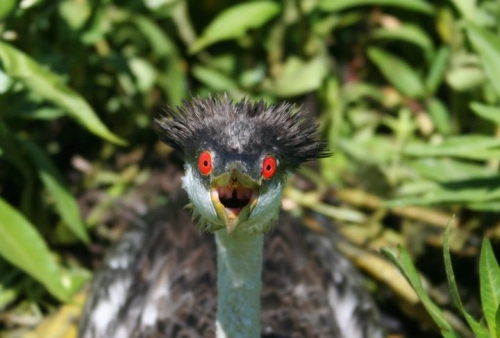 For more great bird photos, go check out World Bird Wednesday!
References: 1Audubon California