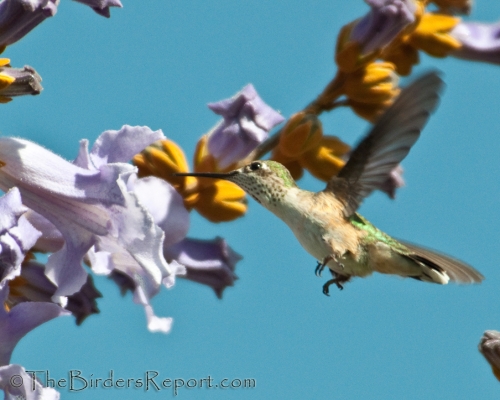 Calliope Hummingbird photos by Larry Jordan
The Calliope Hummingbird is the smallest bird breeding in North America at a mere 3 1/4 inches in size.  I discovered these beauties when I went out to try and get some photos of the Rufous Hummingbirds I had seen at the feeders.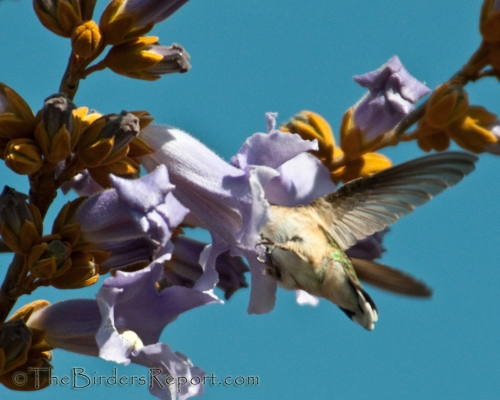 This female is so small, she half disappears as she enters a flower of the Sapphire Dragon tree blooming next to the feeder.  She is distinguished from the Rufous Hummingbird by her smaller size and wings which extend beyond her shorter, square tipped tail.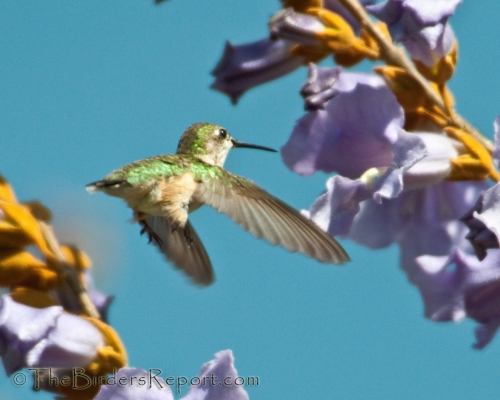 The buff color on her sides is lighter than on the Rufous Hummingbird and, if you look at the top photo you can see that, in front of her eye there is a dark spot, then a pale line that goes over the base of her bill.  Compare this to the perched Rufous Hummingbird female below.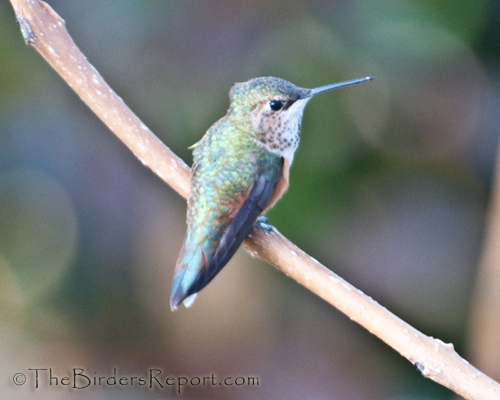 Also the pattern of spots on the throat of the Calliope Hummingbird are smaller and more evenly distributed than those on the Rufous Hummingbird, but the facial pattern seems to me to be the most distiguishing difference for identification of the female.
The male Calliope Hummingbird, on the other hand, is easily identified by his gorget.
The male hummingbird gorget (pronounced gawr-jit, meaning "armor for the throat") is arguably his most spectacular attribute.  The male Calliope Hummingbird's gorget shows purple-red rays spreading out below his beak against an all white background.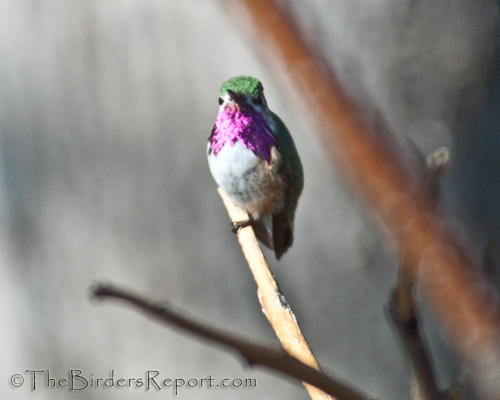 Those feathers can also be folded like a dark inverted "V" on his throat.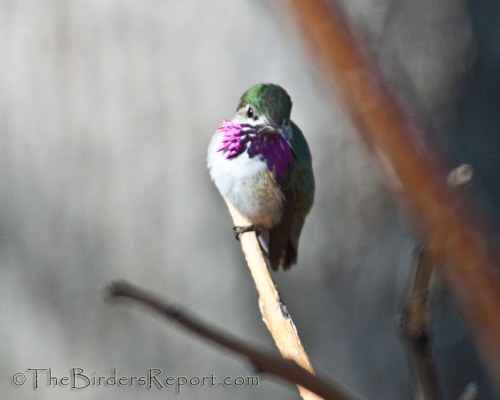 He is the only hummingbird in the U.S. with this gorget pattern.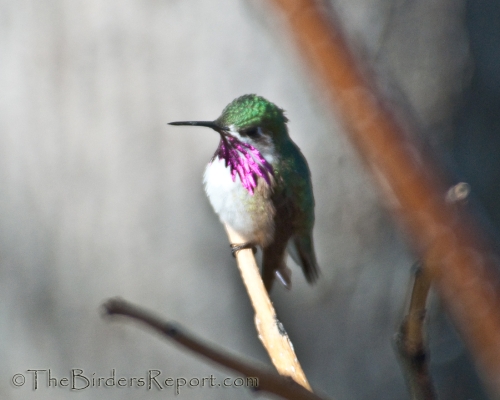 That iridescent green crown really makes him quite the jewel too, doesn't it?
I found an incredible photo by Wally Rufous of the Calliope Hummingbird in a courtship display of his gorget.  You can see it here.  It is absolutely amazing!
Go check out the other posts at IATB #124 and Skywatch Friday!