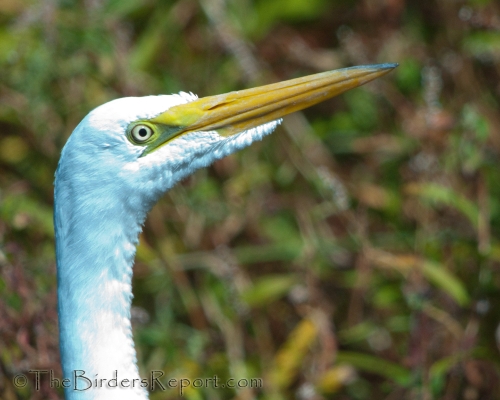 Great Egret Portrait photos by Larry Jordan
While scouting Lema Ranch for an upcoming bird walk to kick off the Northern California Audubon Chapter Council meeting, hosted by Wintu Audubon, October 23rd, I spotted a Great Egret (the organizational symbol of the National Audubon Society) fishing the channel between Lema Pond and Hidden Pond.  I slowly set up my camera near the bank and allowed the bird to make its way toward me.  The photo above was taken as the egret stepped into the open.
I took this shot through the various plants along the shore as the great fisher bird approached my location.  Notice that when you view the Great Egret from the front, the eyes are set to look partially forward and down similar to the Green Heron.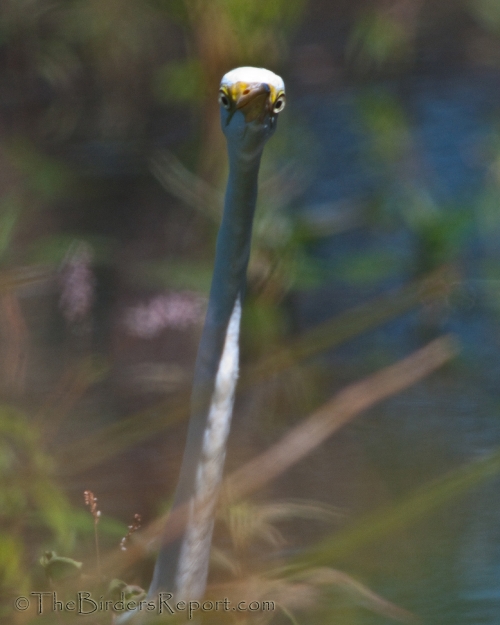 I watched this bird fish for about 45 minutes, using several different fishing styles.  It was a warm and calm day, the water, like glass.  The photo below was taken as he or she was using the "slow walk" foraging technique, where they peer down into the water as they slowly walk the shoreline.  I liked the way the sun shone through the bird's eye.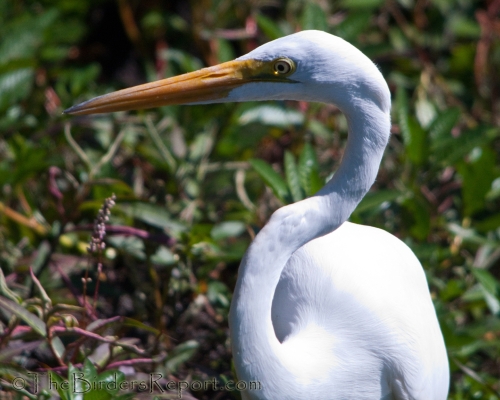 It caught several fish and amphibians using this method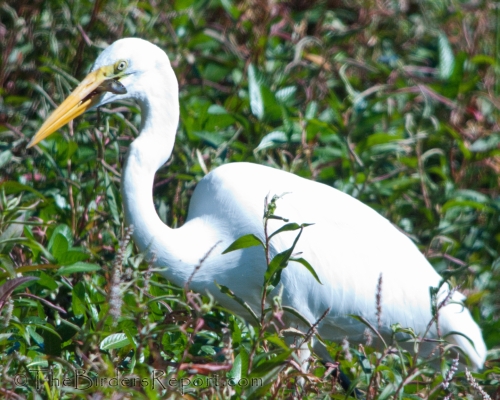 then stopped to do a bit of scratching.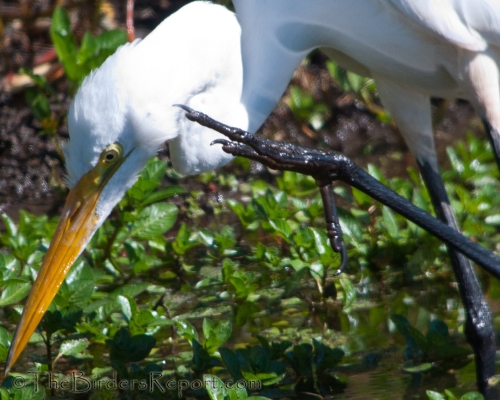 This Great Egret also practiced the "stand and wait" fishing technique most bird watchers have probably seen being used by herons and other wading birds as well.  This tried and true fishing method was also a great success.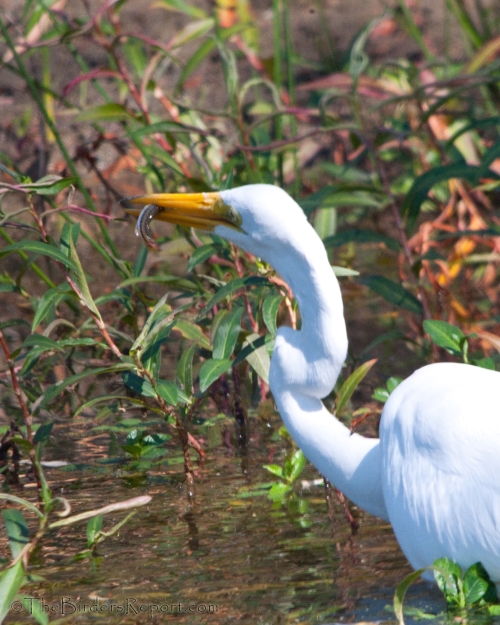 As it turned the fish around to go down head first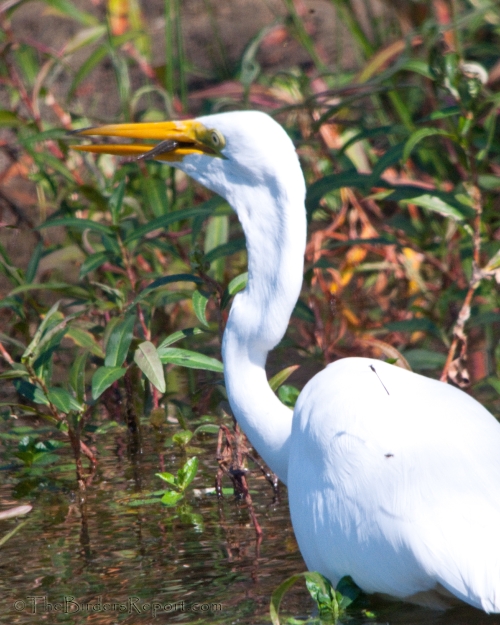 and then tilted its head up to swallow it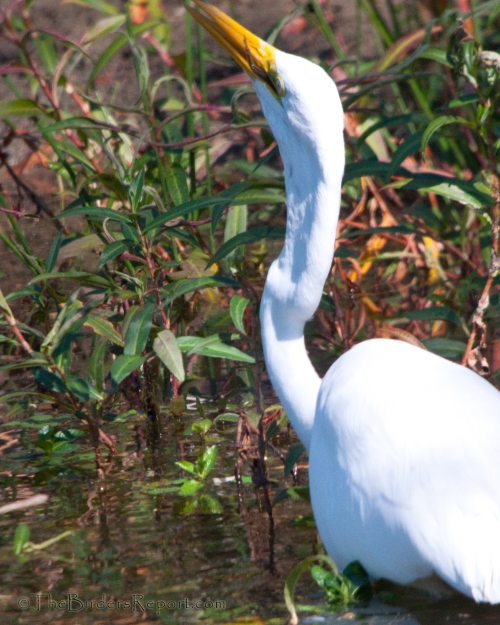 The foraging technique I had never seen before involved the Great Egret standing still but moving its outstretched neck back and forth in a rhythmic motion while keeping its head fairly still.  I don't know if this allows them a better view of their prey or if it is used to lure the fish.  This is what the pose looks like with the bird's head slightly tilted.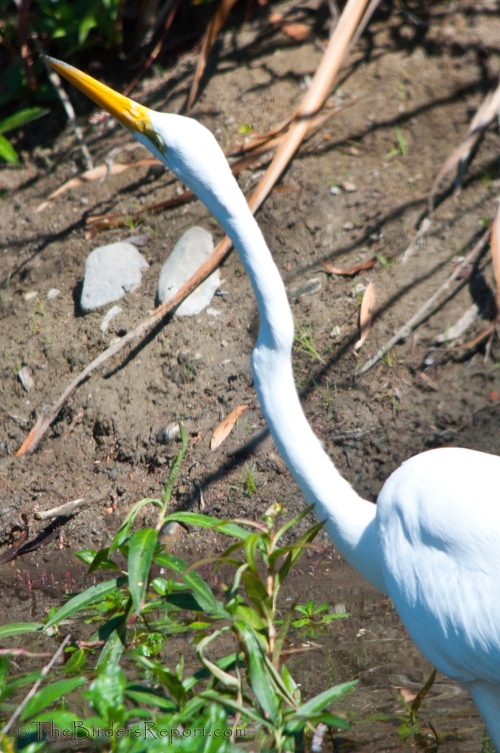 I recorded a video clip to show this technique, unknown to me before seeing this bird use it.  It's not the greatest video but you can see the strange neck motion used, the head plunge into the water and voilà, another fish.
I have more photos of some of the other 36 species I observed yesterday at Lema Ranch coming up in future posts.  Until then, here is this beautiful bird in graceful flight.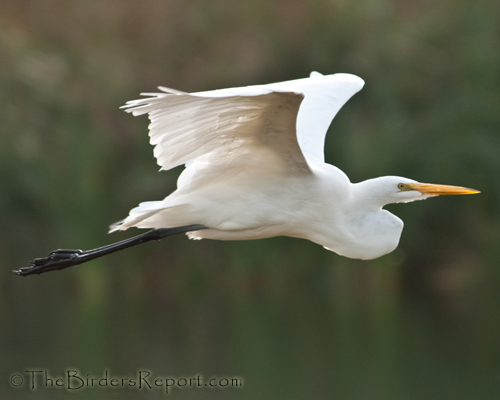 Check out more cool photos at Bird Photography Weekly.