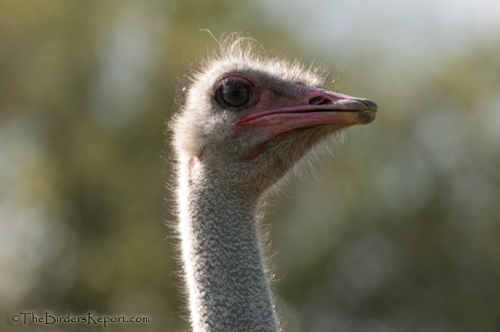 Ostrich all photos by Larry Jordan
I guess you may be wondering what Ostriches have to do with Easter. Ostriches are the largest living birds and produce the largest eggs of any bird species.  Native to Africa, these huge flightless birds are 6 to 9 feet tall when mature, and weigh nearly 300 pounds.  I have seen many Ostriches and Emus because of the farming craze that seemed to peak in the USA during the 1990's, but I had never witness this behavior.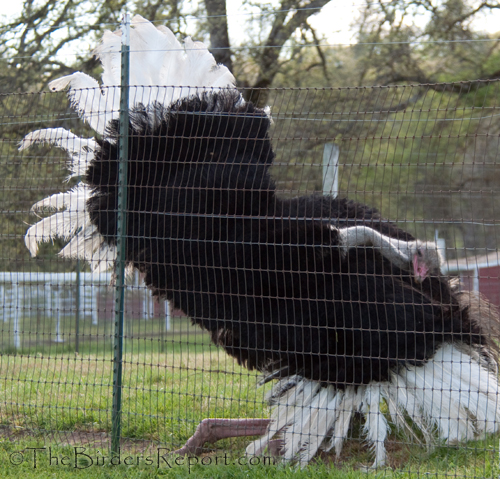 Male Ostrich Doing A Mating Dance
As I approached this huge bird, he ran to the fence and began this crazy dance.  Kneeling down he began moving his head from side to side and making a beautiful display with his wings.  I later learned that this is their mating dance and, after all, it is springtime.  Here is a video of this unusual dance.

Oh yeah, the eggs!
Ostrich eggs have been used for centuries by people from the Ukraine for decoration to celebrate the rebirth of Spring.  To read more about this tradition called Pysanky and see more photos of my wife, Brigitte's, ostrich eggs, see my previous Easter post, Birds, Eggs, Pysanky and Easter.  Here is a photo of one of her ostrich eggs.
This egg has four different images representing the four seasons stretching around the egg.  This image is of Spring with a bird singing atop the tree which has fresh fruit blossoms on it and flowers coming up under the deer.
However you celebrate Easter or Passover, we want to wish you a very happy holiday and a very enjoyable Spring season!