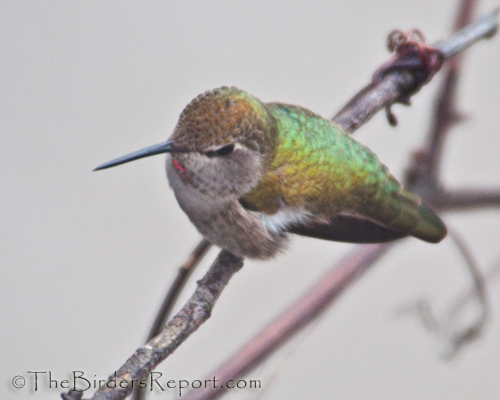 Anna's Hummingbird Female photo by Larry Jordan
I got in my first day of counting for the Great Backyard Bird Count today.  It began with an Anna's Hummingbird outside my window.  I didn't take a photo of the one outside my window but I'm posting theses photos that I took while at the Wildhorse Golf Club, photographing the Burrowing Owls there.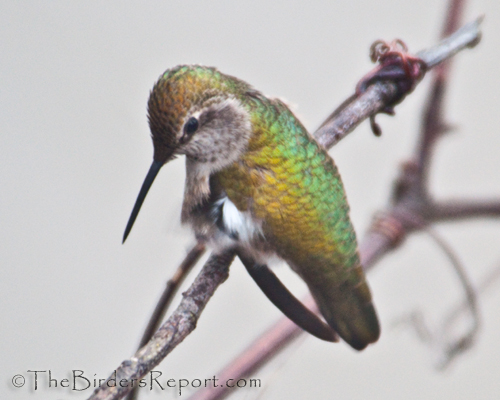 I spotted this little female Anna's as I was leaving the area.  She was plucking down from a cattail next to a bridge which I thought quite odd until I discovered that Anna's Hummingbirds begin their nesting when the winter rains begin.
This early breeding enables them to avoid competition from other hummingbirds and take advantage of the flowering shrubs from March through June as they raise their brood.  To see an Allen's Hummingbird raising her two chicks in southern California check out this live web cam.
So, I began my first count of this 13th Annual GBBC with Anna's Hummingbird and finished after a little over an hour with 20 species I observed on my property.  This is the list from today:
California Quail – 2
Turkey Vulture – 1
Mourning Dove – 3
Anna's Hummingbird – 3
Acorn Woodpecker – 1
Nuttall's Woodpecker – 1
Northern Flicker – 1
Western Scrub-Jay – 2
Common Raven – 2
Oak Titmouse – 2
White-breasted Nuthatch – 2
Ruby-crowned Kinglet – 1
Western Bluebird – 2
American Robin – 1
Spotted Towhee – 1
Dark-eyed Junco – 21
House Finch – 12
Lesser Goldfinch – 32
American Goldfinch – 2
European Starling – 2
This is the first sighting of European Starlings in my yard and I am not happy to see them.  I will be keeping a close eye on this non-native species.
To see more great bird photos, get on over to Bird Photography Weekly!