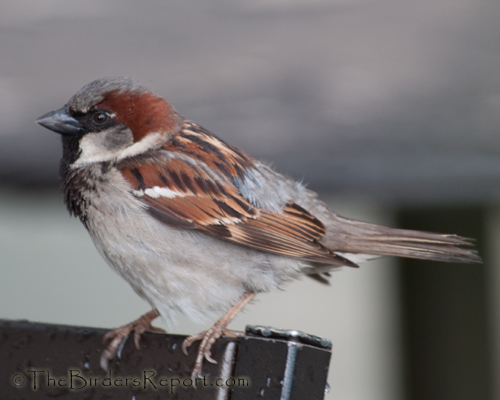 House Sparrow Male all photos by Larry Jordan
I decided to take a walk around Mary Lake after work the other day because I had gotten word of a Phainopepla, Virginia Rail and Belted Kingfisher seen there recently as well as Hooded Oriole, Nuttall's Woodpecker and Western Tanager, among other species.  I did get a good look at a Nuttall's Woodpecker as well as twenty other species in an hour walk around the lake.
I began my walk seeing one of our non-native birds, the House Sparrow.  Being the Shasta County Coordinator for the California Bluebird Recovery Program, I don't care for House Sparrows, this bird being a non-native bird that displaces bluebirds by taking over their nesting sites (see my post on The Insidious Invaders).  But the walk got better as soon as I turned the corner and saw this Green Heron standing on a stump.  He wasn't close enough to get a good picture but I managed a decent shot of him "fluffing up" after Preening.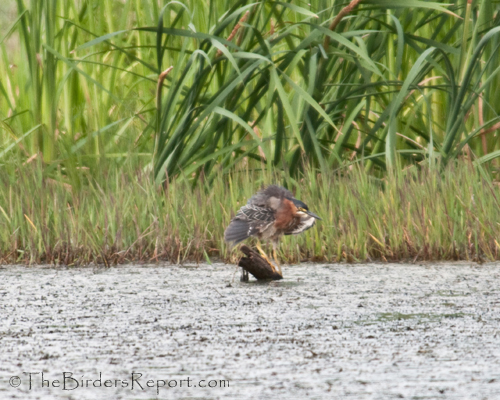 While I was photographing the heron, several Red-winged Blackbirds and their fledglings were making a ruckus I couldn't ignore.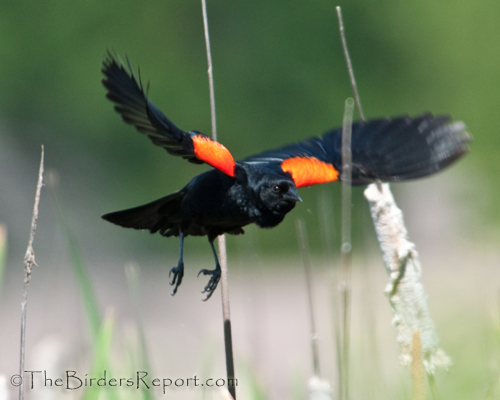 Red-winged Blackbird Male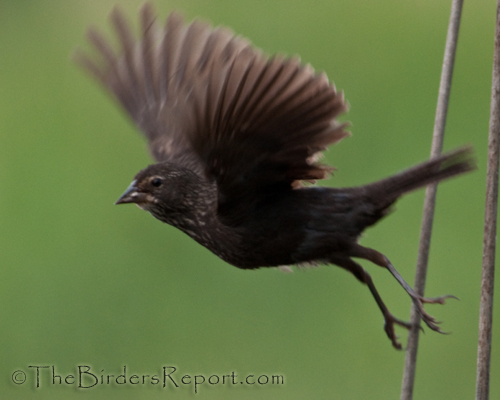 Red-winged Blackbird Female
As I made my way around the tall grasses to a more open area, I saw a Black Phoebe hawking insects and a female Wood Duck with her chicks.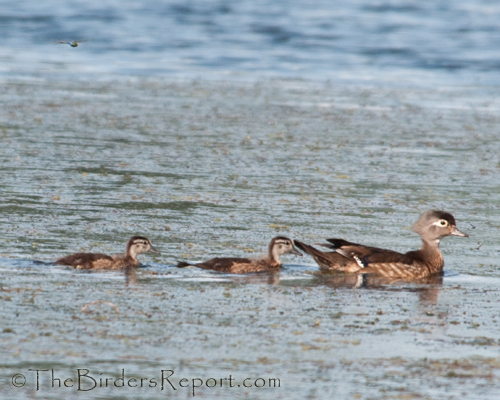 If you noticed, there is a dragonfly in the upper left-hand corner of that photo.  There were lots of dragonflies around the lake.  If anyone can identify some of these (Amila) I would appreciate it.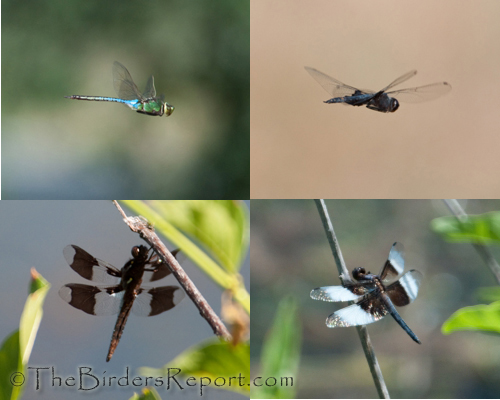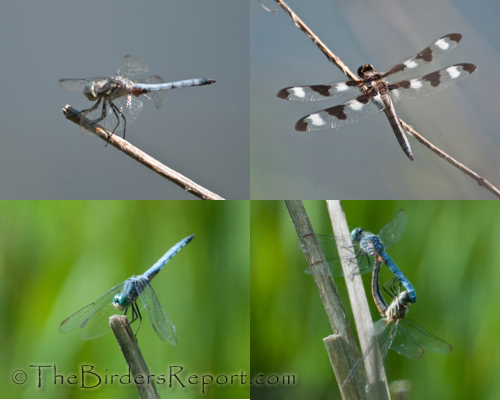 When I reached the north side of the lake, there is a group of Mulberry trees where I saw Western Bluebirds, House Finches, Black-headed Grosbeak, Anna's Hummingbird, Northern Mockingbird, and this Nuttall's Woodpecker and European Starling (the other non-native species found here in the US).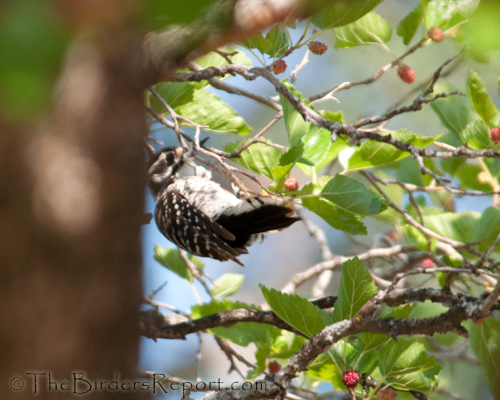 Nuttall's Woodpecker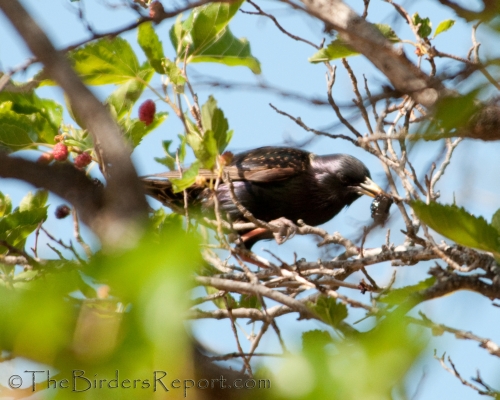 European Starling
There were also several Tree Swallows nesting in the oak trees on this side of the lake.  On the way back to the car I encountered a pair of Ruddy Ducks, a Pied-billed Grebe, plenty of Canada Geese with their goslings and a Mallard female sitting on a nest.
Mallard Female On Nest
The Great Egret was conspicuously present also as I made my way back to the car to head home but as I was driving away I had to get out of my car when I got one last, pleasant surprise.  I saw a male California Quail sitting atop a fence looking around.  You know how they do when they are on the lookout?  Sure enough, the female and several little bundles of fluff scurried across the road into the safety of the bushes.  I leave you and Mary Lake with the images of the quail family.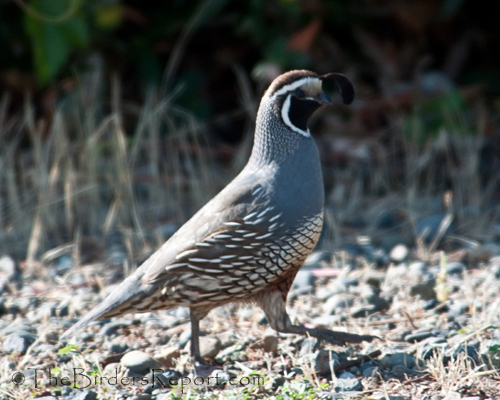 California Quail Male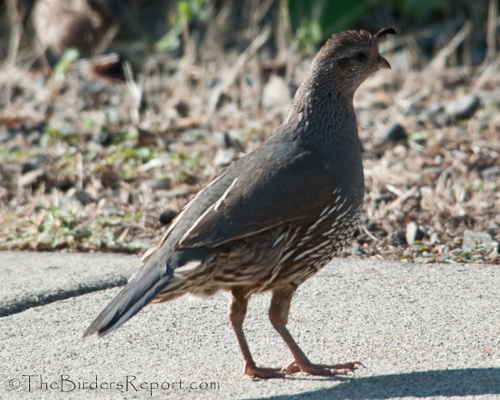 California Quail Female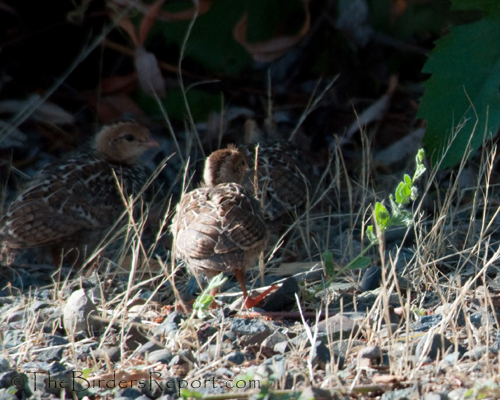 California Quail Chicks
Good Birding!