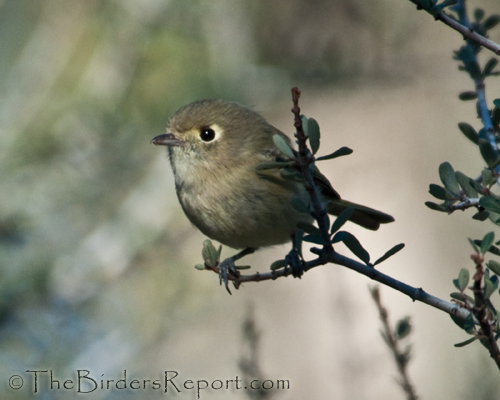 Hutton's Vireo photos by Larry Jordan
If you live in the Western United States and you saw this bird, you may not be able to identify it from this view.  You might not even be able to positively ID the bird below from this view.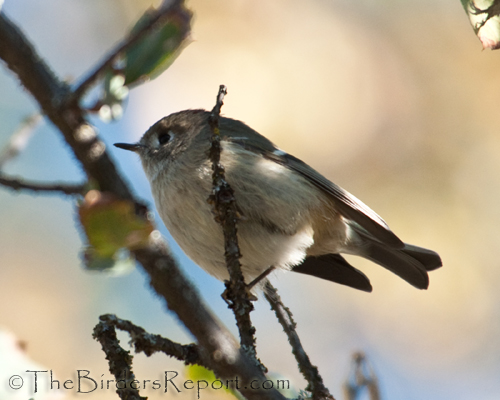 But if you look real closely at the second photo, you can just make out a white wing bar with a black "highlight bar" behind it.  That black band bordering the second and widest wingbar differentiates the Ruby-crowned Kinglet from the Hutton's Vireo pictured above and below.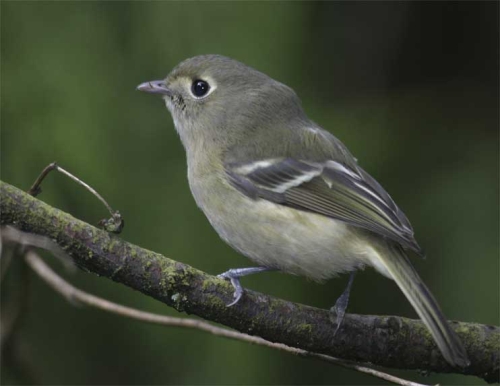 Hutton's Vireo photo by Walter Ammann
Note that the Hutton's Vireo has a broken eye ring just like the Ruby-crowned Kinglet but lacks the black "highlight bar" behind the second white wing bar.  The Hutton's Vireo also has a more stout bill than the kinglet, with a hook on the upper mandible.
One of the giveaways of the Ruby-crowned Kinglet, when you watch their behavior, is that they constantly flick their wings and they never remain still.  They are in constant motion which makes them easier to spot than other birds.
If you are lucky enough to see the male Ruby-crowned Kinglet, there is another feature that gives away their identity…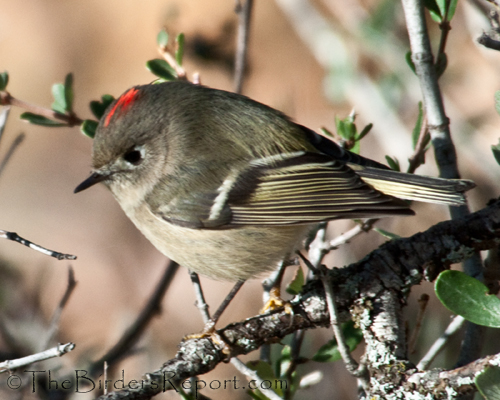 the male has a bright scarlet crown patch that may be concealed but stands erect when he is excited.  I was excited to finally get some good photos of one of my favorite birds that visit my oak trees every winter.  As a matter of fact, it was such an incredibly beautiful morning this morning, knowing where they hang out, I set out specifically to try and photograph them.
These little gems are a delight to watch as they glean spiders and insects from the tree bark, sometimes hovering to grab something under a limb or actually hawking insects in mid air.
They nest high up in conifers during their summer breeding season but they always come back to my oaks in winter to feed.  You can hear the song of the Ruby-crowned Kinglet here and I know you will want to see some other great bird photos by visiting Birdfreak's Bird Photography Weekly.