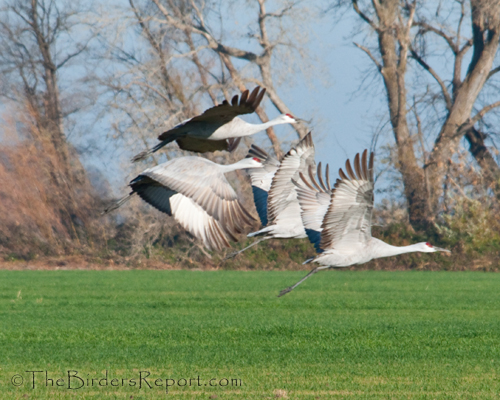 Sandhill Cranes Take Off photos by Larry Jordan
I was lucky enough to catch these Sandhill Cranes taking off from a field near Chico, California last weekend when I went to visit a friend and survey his property for one of my Burrowing Owl habitat installations.  Yes, I was fortunate to be awarded a California Audubon Collaborative Grant to install Burrowing Owl habitat in Northern California!  (Can you see me jumping up and down with delight?)  More on that later.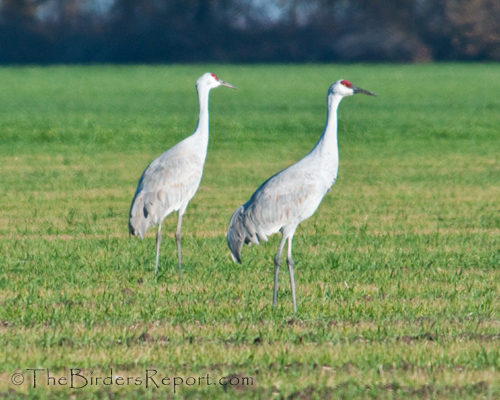 I was hoping to have time to stop by Llano Seco, one of the units of the Sacramento River National Wildlife Refuge but I was running late.  So, I was thrilled to happen upon this group of Sandhill Cranes along Ord Ferry Road where I stopped to snap a few photos.
Last year Brigitte and I visited Cosumnes River Preserve to see the cranes following the Sandhill Crane Festival that takes place every year in the Central Valley of California, around Lodi.  This is one of the photos I took last year where there were hundreds of cranes foraging the remnants of the corn fields on North Staten Island Road.  Here is a map of the Crane Viewing Sites in this area.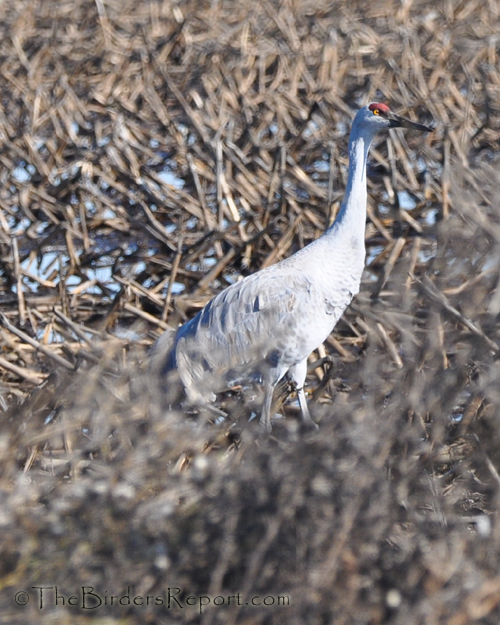 And here is a short video of a pair of Sandhill Cranes displaying their courtship dance.  One of the reasons I picked this video is that the cranes are calling back and forth in the video.  Their prehistoric call, for me, is one of the best reasons to visit these birds whenever you can.  The sound of hundreds of Sandhill Cranes flying overhead, calling to each other, is unforgettable.
Be sure to visit all the other great Skywatch Friday photos too!