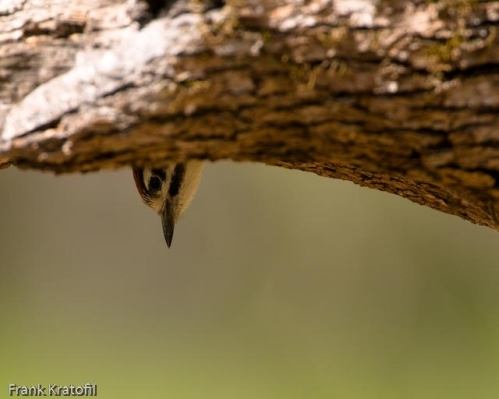 Nuttall's Woodpecker Chick Sticking Its Head Out Of A Nest On The Underside Of An Oak Tree Branch photo by Frank Kratofil
What is the best way for a brand spanking new birdwatcher, or even a novice birdwatcher to gain a whole lot of knowledge about birds quickly?  I mean right now.  Easy.  Participate in the 109th Annual Christmas Bird Count, taking place from December 14th through January 5th.
You may be a backyard bird watcher.  Maybe you have been watching birds from your porch or living room and just want to find out more about the birds you see in your yard.  Maybe you have decided that you want to learn more, not only about the birds in your yard, but all those other birds out there.
I have great news for you!  The Audubon Christmas Bird Count is almost here!  The Christmas Bird Count (CBC) is the oldest and largest citizen science event in the world.  For over a hundred years, people have gathered together during the winter holiday season to count birds.
This tradition was started in 1900 by Frank Chapman, one of the ornithologists involved with the beginnings of the National Audubon Society.  Frank came up with the brilliant idea of counting birds on Christmas rather than killing them.
Since 1900, the Christmas Bird Count has grown by leaps and bounds.  What began as 27 bird watchers has grown to nearly 60,000 observers in 2007, tallying over 57 million birds.  In this humble birder's opinion, this is the most important birding activity of the year.  We not only get the privilege of helping scientists gather information critical to the environment, we are also able to see birds we may never have seen before and learn from more accomplished birders than ourselves.
The best thing about participating in this event is that you can be brand new to bird watching and still contribute.  Observers are grouped into field parties, each covering a specific area within a 15 mile diameter circle.  The organizer of each count always arranges groups so that inexperienced observers are matched up with seasoned CBC veterans.
Each field party needs someone to tally the birds counted as they are spotted during the day long session.  This is a great way for beginning birders to learn their bird species and learn to which families those species belong.  When you have experienced birders pointing out birds to you all day and sharing their knowledge with you, you can't help but gain birding skills and knowledge.
I you can't tell how excited I am about the Christmas Bird Count let me tell you one more thing.  You can participate in as many CBCs as you want.  We have three CBCs here in Northern California all within 40 miles of my home!  Oh yeah, I will be counting in every one of those counts.  For more information, go to http://audubon.org/bird/cbc/getinvolved.html