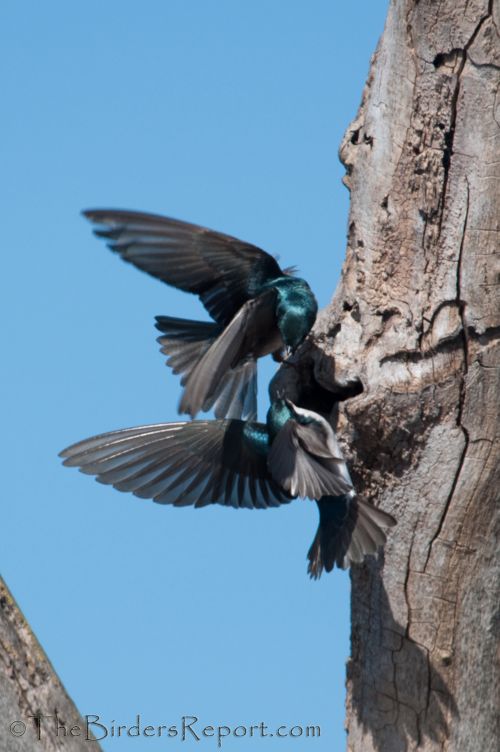 Tree Swallows At Sacramento National Wildlife Refuge photo by Larry Jordan
The Tree Swallows are returning to northern California!  Spring is approaching and Tree Swallows and Western Bluebirds are beginning to look for available nesting sites.  If you have birdhouses (nestboxes) in your yard, make sure they have been cleaned out and are ready for your next inhabitants.
These two male Tree Swallows were eying this tiny cavity in  this snag and taking turns showing it to the ladies.  I don't believe they would be able to use anything this size to create a nesting cavity but they are looking (click on photo for a larger picture).
Tree Swallows are beginning to pair up and will look for large cavities in which to build their nests.  In northern California we have several large oak trees that will house large numbers of Tree Swallow pairs.  They also take readily to man made birdhouses with the same configuration that Western Bluebirds occupy.  If you live in an area where both of these species live, you can place two birdhouses, 25 feet apart and they will coexist happily, keeping other nesting birds away from their territory.
For more great sky photos, go to Skywatch Friday!  If you have some sky photos, participate in the fun!