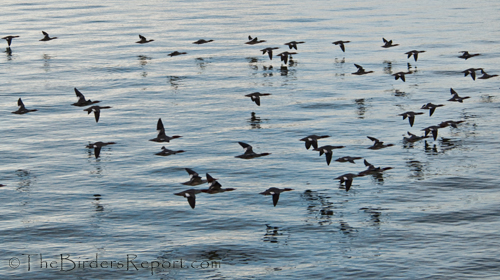 Common Mergansers Skimming the Water at Clear Lake photos by Larry Jordan
I had a photo blind reserved this weekend at the Sacramento National Wildlife Refuge and a California Audubon Council meeting to attend on Saturday, so I made a weekend of it.  The council meeting was held in Ukiah, hosted by the good folks of the Peregrine Audubon Society.  It turned out to be an excellent meeting with great information on conservation education and getting youngsters interested in nature at an early age.  What better way to help our environment for future generations than to raise our children to respect nature and our planet.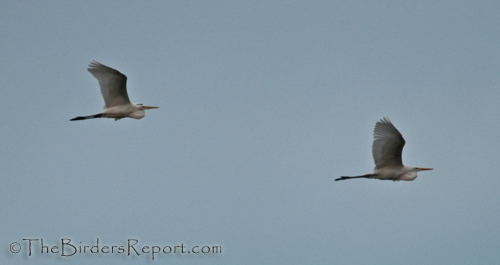 Great Egrets Flying Overhead
I stopped for a driving break at Clear Lake on the way to Ukiah were I watched as female Common Mergansers raced across the water with the young from their summer hatch.    Mergansers are easily identifiable in flight by their bill, head, neck and body forming a straight horizontal line and as a fish eating, top predator in aquatic food chains, they are an indicator of the environmental health of lakes and rivers.
On the way back to Willows, after the meeting, I stopped at Clear Lake again to revisit the Western and Clark's Grebes I saw on the way in.  They were busy feeding their young and I sat for quite a while watching the boisterous chicks coax their parents into feeding them.  This is a Clark's Grebe with it's orange-yellow bill and eye surrounded by white.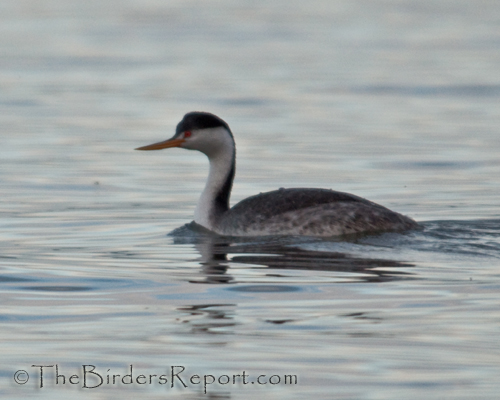 Until 1985, Clark's Grebe was considered a pale morph of the Western Grebe, now they are a separate species, even though their behavior and renowned courtship rituals are nearly identical.  Here is the Clark's Grebe with it's chick begging to be fed, followed by a video of a pair of Western Grebes doing their courting dance.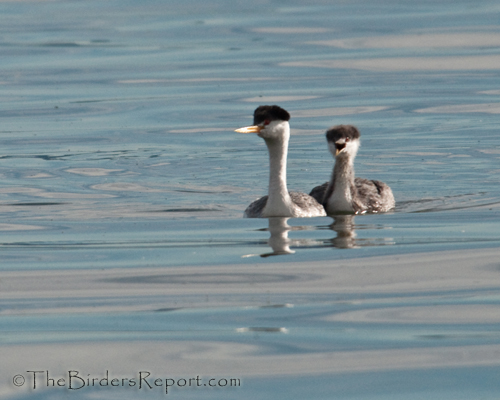 Notice in the close-ups of the pair, at the end of the video, that the Western Grebe's black cap extends below the eye and their bill is kind of a greenish yellow with a dark ridge.
I thought this behavior of the adult sticking its foot out stiffly behind it was rather odd too, until I discovered that the chicks are brooded on the parents backs and they stick their leg back similar to this as a foothold to help the young chicks get back up after being dislodged.
But my favorite activity this afternoon was watching this Western Grebe feeding its insatiable young one.  That little grebe must have consumed over a dozen fish in the short time I was watching.  The parent would dive down and stay underwater for what seemed like a long time, popping up in an unknown place causing the chick to swim as fast as it could, vocalizing the entire way, until reaching the prize fish.  Then there was the hand off and the process repeated (click on these for full size photos).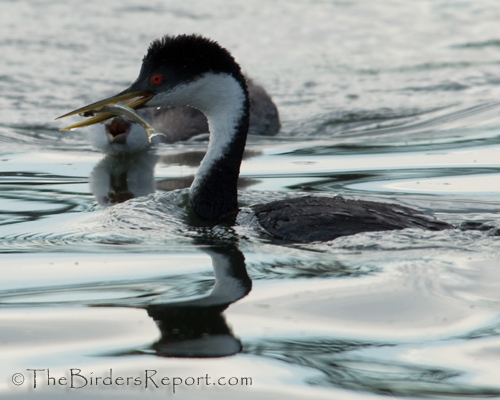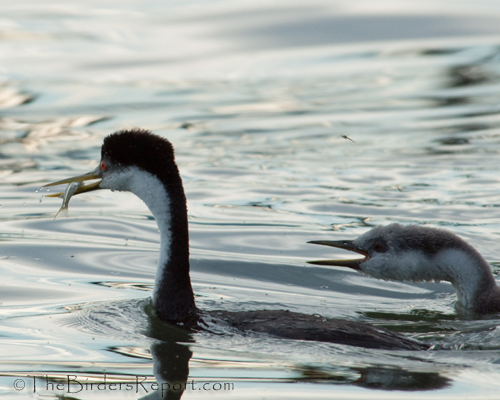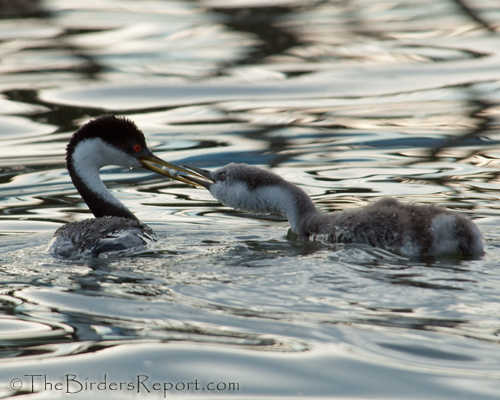 As I was leaving Clear Lake, passing by all the docks, I had to stop to grab a shot of a  Snowy Egret that was silhouetted against the sparkling lake  sitting on a railing with three Great Egrets and what appeared to be a Brewer's Blackbird.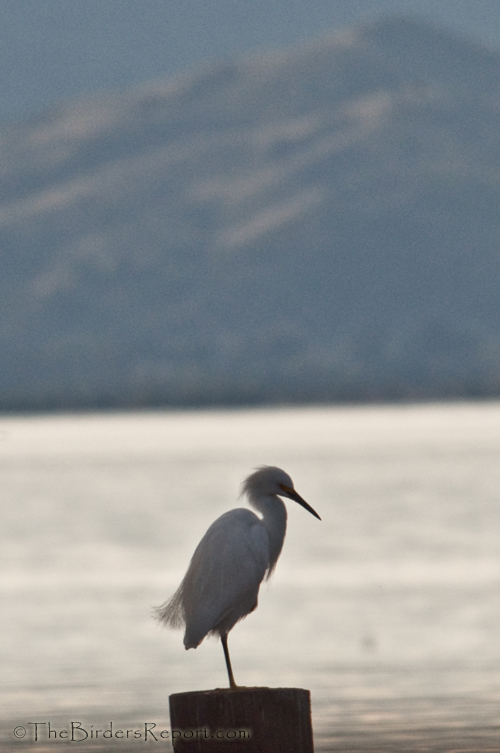 Near the end of a great day with fellow birders and looking forward to more birds of the Sacramento National Wildlife Refuge in my next post.  Go see the other great photos at Bird Photography Weekly and the ginormous 66 blog carnival at Walk The Wilderness for IATB #112, hosted by my friend Thomas.