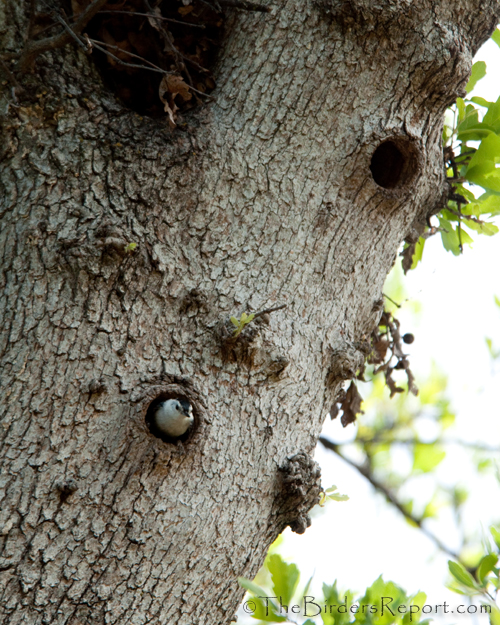 White-breasted Nuthatch Peeking Out Of Nest photos by Larry Jordan
Do you remember the post I wrote a few weeks ago when I found a pair of White-breasted Nuthatches building a nest?  Well, this male is getting ready to leave the nest after feeding the female who is probably still incubating eggs.  But not for long.  White-breasted Nuthatches usually lay 5 – 9 eggs that are incubated for two weeks.  By my calculations, these eggs will be hatching out this week!  But that's not the most interesting thing about this entire ordeal.  Take a good look at this photo.  Do you see anything interesting about this tree?  Yes, there are two entrance holes!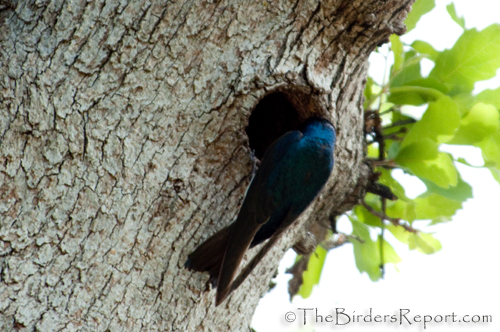 I discovered that the upper entrance hole in this oak tree is being used by a pair of Tree Swallows!  The photo above is the male who appeared to be checking out the digs yesterday to see if they were acceptable.  Then today, when I went by Lema Ranch to check in on the White-breasted Nuthatches, I observed the female (below) and the male going in and out of the upper entrance hole.  Apparently, they will be setting up house in the same tree.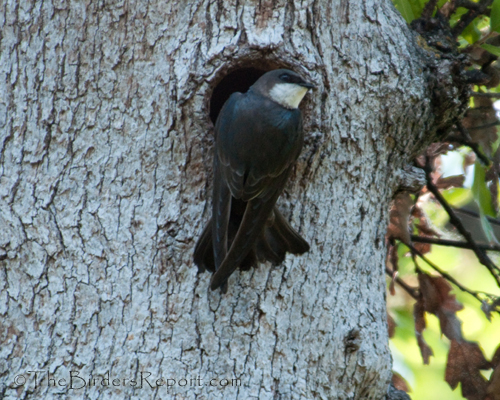 I have three other Tree Swallow pairs building nests in homemade birdhouses at this site, one pair has 6 eggs in the nest already but the other two so far only have the nest built.  So this pair seems to be right on time with the decision to build their nest in this tree.
It looks as if I will be able to follow two nestings at the same time, the White-breasted Nuthatch and the  Tree Swallow.  The nuthatches being about three weeks ahead of the tree swallows, their young should fledge before the swallows since both species have a two week incubation period followed by three to four weeks in the nest before the young fledge.  I am very curious whether the adults will be using the entrance holes at the same time during the nesting period.  I think it will be unavoidable during the next 3 – 4 weeks.  I will try to get a photo of both species at their respective entrance holes at the same time.