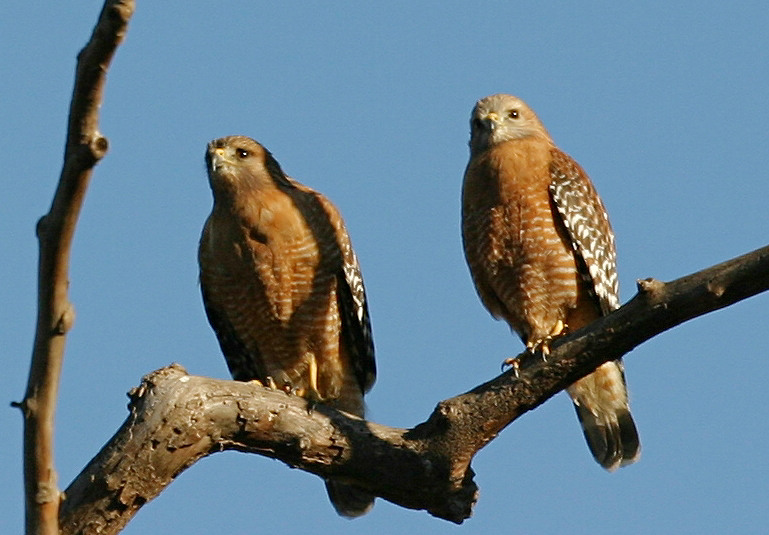 Red-shouldered Hawk Pair photo by M.J. Kammerer
During the late fall, winter and early spring, when the leaves have all left the deciduous trees, you have the best opportunity to spot bird nests just waiting for that special couple to turn them into next seasons' home.  That's how I spotted this one.  I was on my way to town one early spring morning and as I slowed to a stop on a country road, I looked up to see two Red-shouldered Hawks sitting next to each other on an upper branch of an oak tree.
I pulled off the side of the road to watch the pair (as I always do when I spot some interesting avian fauna) and to my surprise, one of the hawks flew over to a nest!  The other soon followed.  I had discovered my first Red-shouldered Hawk nest.
Here's a shot of the Red-shouldered Hawk chicks, a couple of months later in the nest, getting ready to fledge.  This shot was taken by my friend Frank Kratofil (you can see more of his incredible photos at his Flickr site by clicking on the photo).  The chick on the left is jumping into the air and flapping it's wings.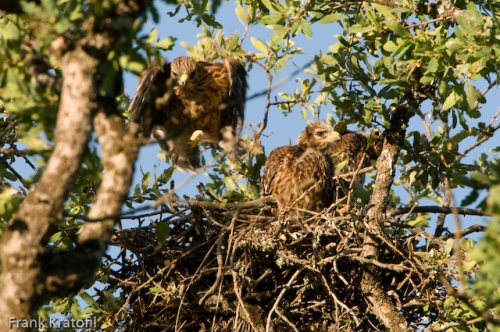 But I'm getting ahead of myself.  I actually found several nests last winter by doing some scouting once the deciduous trees lost their leaves.  I have discovered a few new nests just recently, two of which look to be hawk nests. I have also spotted some smaller nests that could be crow or raven, magpie or mourning dove.
These are nests that you can spot high up in bare trees that you may not be able to see once spring arrives.  Larger nests, made of sticks, are usually occupied every year by birds of prey and Corvids.  Smaller nests spotted are most likely built by birds for one season only.  Even so, finding these small nests can give you a good idea where to look for nesting birds next season.
Hawk and Osprey nests can also be found on man-made structures like power line towers.  These are easy to spot anytime of year and are reused routinely by these birds of prey.  I followed a breeding pair of Red-tailed Hawks that fledged two offspring this last summer from this tower nest.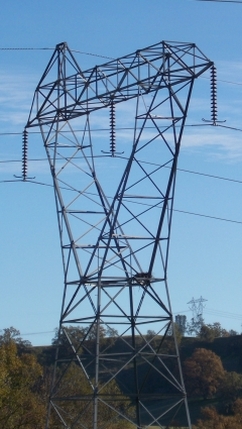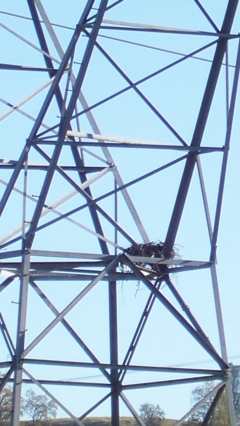 The beauty of finding these hawk nests is that the adults will usually use them every year or every other year, with a second nest site nearby, especially if they've had a successful brood the previous year.  They may simply add some lining material and they're ready to go!
I was thrilled to be able to watch this pair of Red-shouldered Hawks, day by day, from egg incubation to fledging their young.  Watching the male bring food to the seemingly hypnotic brooding female and tenderly offering her tidbits was one of the most touching things I have ever witnessed in the wild.
I have gathered some great photographs of these beautiful birds from some excellent photographer friends.  These are not all photos of the pair I was watching but I wanted you to see the different aspects of these incredible raptors in all of their glory.  All photos copyrighted and courtesy of individual photographers.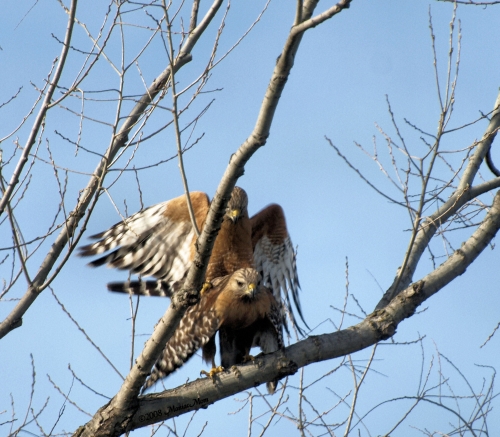 A Pair of Red-shouldered Hawks Mating photo by Denise Runciman
Following is a series of photos by Frank Kratofil of the Red-shouldered Hawk chick he photographed on his property within a couple of miles of the nest I was watching.  These were taken about a week apart.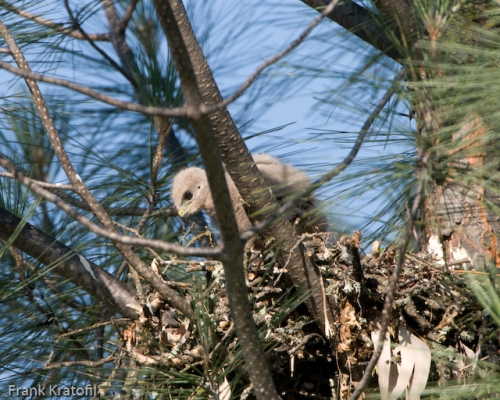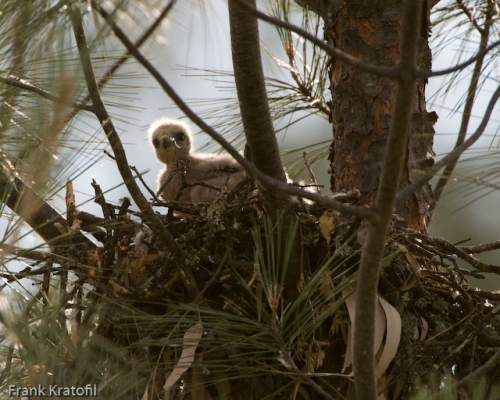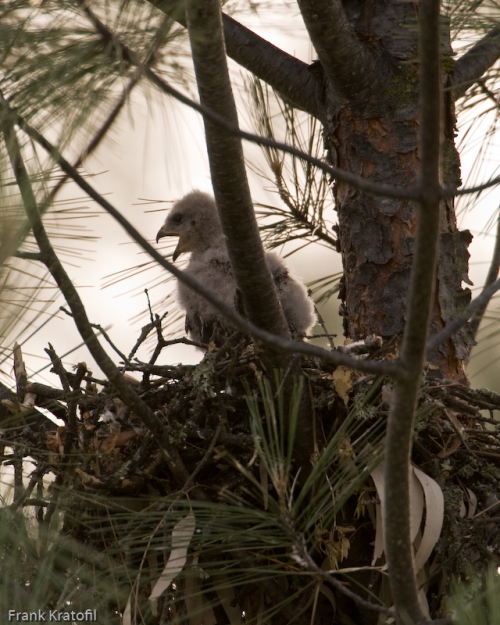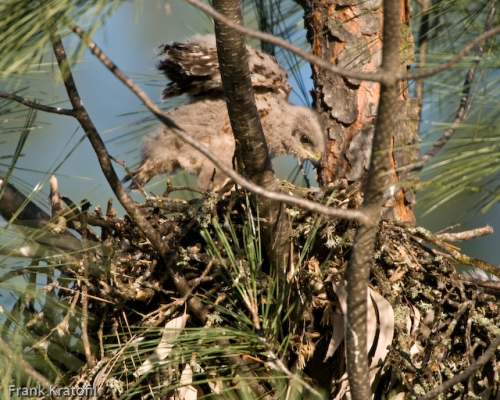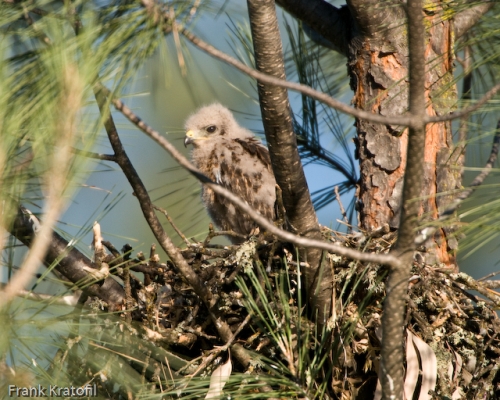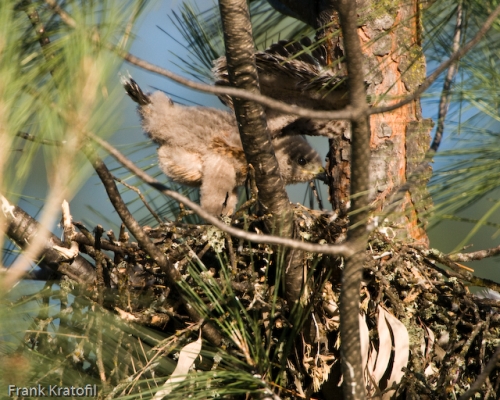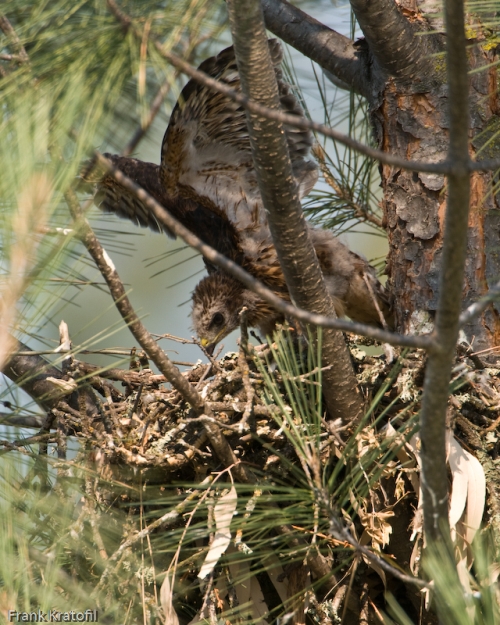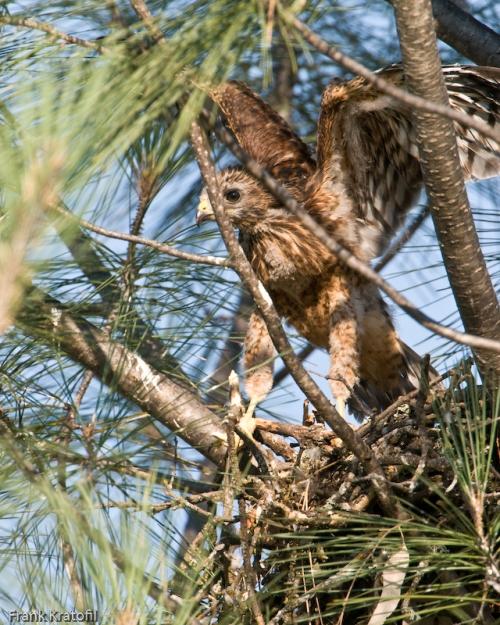 This Red-shouldered Hawk Chick Is Ready To Fly!
Here is a shot of the three chicks I was watching that fledged the third week in May.  Notice that they get farther out of the nest and jump up and flap their wings when they get close to their "leap of faith".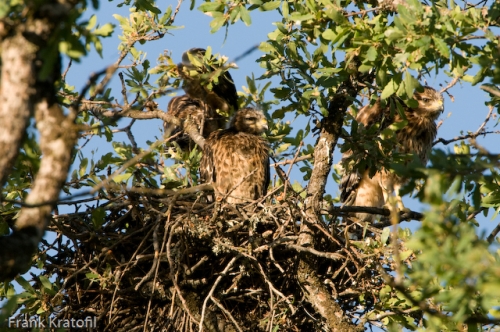 Finally, here is a shot of one of the adults flying over watching us take pictures of their chicks.  Watching us like a hawk.  Note the strongly banded, rounded tail, white bands narrower than the dark bands, and the rusty body and wing linings.  This is the definitive way of identifying this hawk from below.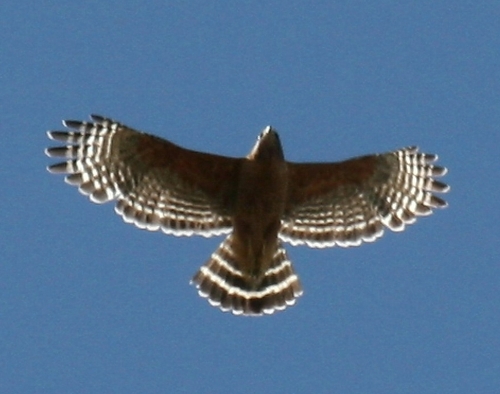 Red-shouldered Hawk Adult Flying Over photo by Bill and Judy Adams