Red-tailed Hawks In Central Park
There is a long history of raptors in Central Park, but none as famous as Pale Male and his mates.  He has sired at least 26 chicks since the early 1990s.  Many have produced there own offspring.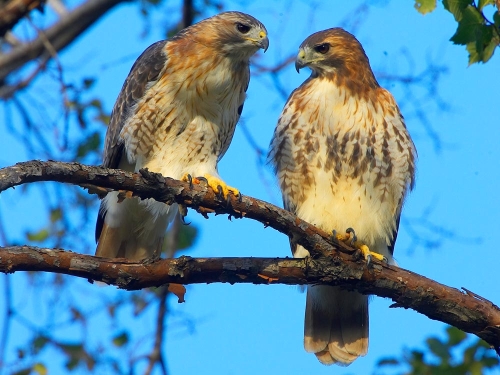 Pale Male and Lola photo courtesy of PaleMale.com
It all started in 1992 when Pale Male attracted a beautiful mate that was named First Love by fans.  First Love was injured later that year and taken to Raptor Trust wild bird rehabilitation center.  In her absence, he took another mate and fledged 3 chicks in 1995.
In 1996, after First Love was returned to Central Park and Pale Male had lost his previous mate from 1995, they reunited and fledged three chicks that summer. They fledged another two chicks the next summer before First Love died after eating a poisoned pigeon.
Pale Male's mate from 1998 to 2001 was a hawk known as Blue. The pair were observed to hatch about 11 chicks together. Blue is presumed to have died in the summer of 2001.  In early 2002 Pale Male met his current mate Lola pictured above.  They raised 7 chicks between 2002 and 2004, building a nest on ornamental stonework above a top-story window on a very upscale residential housing co-op on the upper east side of Manhattan.
Our story falls apart for Pale Male and his mates after a controversial nest removal in the winter of 2004 by the building co-op that made international news.  The nest was rebuilt with help from the New York City Audubon but their were no successful hatchings afterward.  The Audubon has researched to try to find out why but have had no success.  Maybe at 15 years of age, Pale Male is no longer able to fetrilize the eggs.  We will never know.
Pale Male and Lola now reside in Central Park where avid birdwatchers and tourists can spot them and have the satisfaction of witnessing real celebrities.