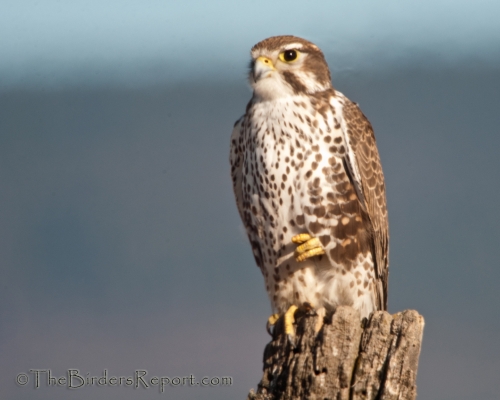 Prairie Falcon (Falco mexicanus) photos by Larry Jordan
On our recent Fall River Christmas Bird Count on December 17th, we tallied 127 species in our count circle. Some finds were extraordinary, like the Long-tailed Duck, Common Redpoll, Red-naped Sapsucker and American Tree Sparrow.
Others like the Prairie Falcon (Falco mexicanus) are seen every winter in the Fall River/McArthur area. However, according to this range map, courtesy of Terry Sohl of South Dakota Birds, I should look for Prairie Falcons there in the early spring when they begin nesting. Click on photos for full sized images.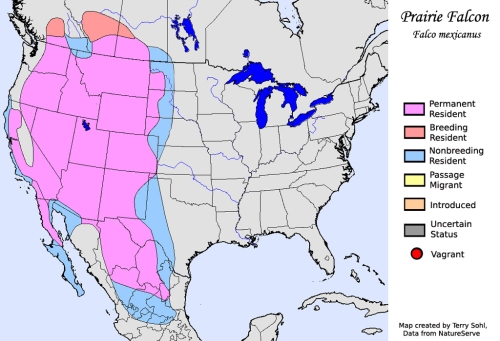 The Prairie Falcon inhabits dry environments of western North America where cliffs or bluffs punctuate open plains and shrub-steppe deserts. An efficient and specialized predator of medium-sized desert mammals and birds, the Prairie Falcon ranges widely, searching large areas for patchily distributed prey1.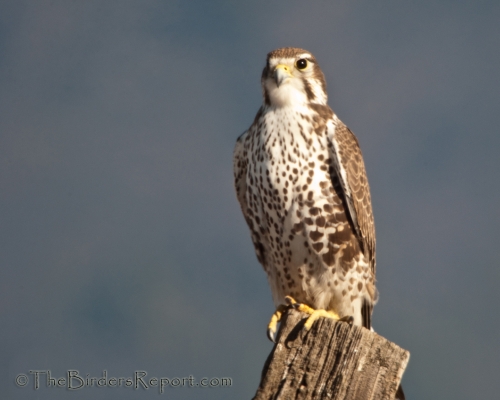 Several species of ground squirrels are the mainstay of the Prairie Falcon's diet; they provide fat-rich calories that the Prairie Falcon needs for raising its broods of 4–5 young during its 3 to 4 month nesting season. When ground squirrels move underground to escape summer heat and dryness, Prairie Falcons leave their nesting areas in search of other prey. Horned Larks and Western Meadowlarks are important prey items in winter1.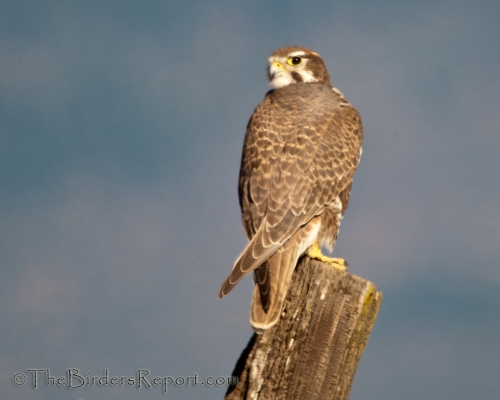 Having missed the opportunity to see the rare Common Redpoll (rare for our neck of the woods or savannahs that is) I headed back up to McArthur to try to see the Redpoll about a week after the CBC. I dipped on the Common Redpoll but got these photos of the Prairie Falcon for my efforts.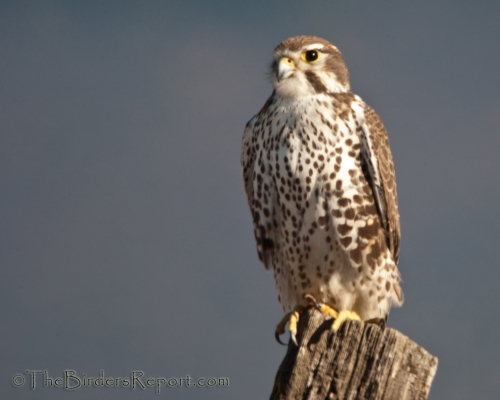 A second trip to the Fall River area a couple weeks later yielded the Common Redpoll, American Tree Sparrow and the Western Screech-Owl seen in the previous post. I was never able to catch up with the Red-naped Sapsucker but getting close-up views of the Prairie Falcon was enough to make this birder happy!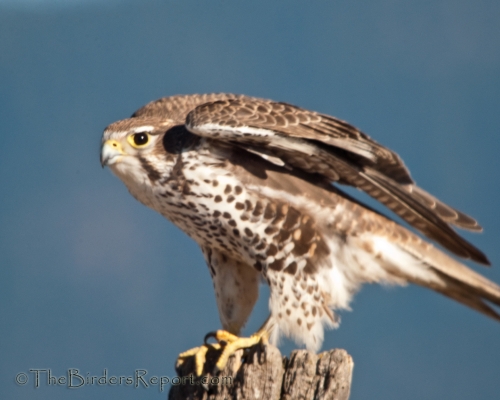 If you want to see some really incredible photos of the Prairie Falcon, check out my friend Mia McPherson's post. Now those are some gorgeous shots! To see more great bird photos from around the world, check out World Bird Wednesday!
References: 1Birds Of North America Online