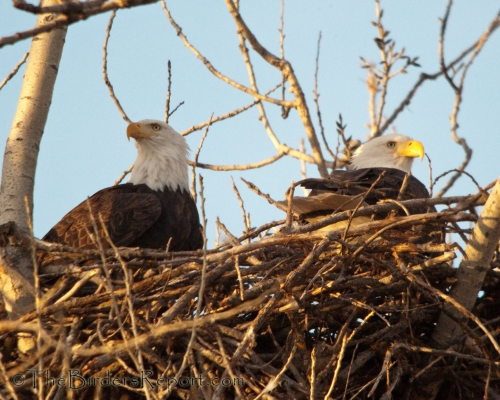 Bald Eagles (Haliaeetus leucocephalus) Patriot and Liberty at Turtle Bay
Patriot and Liberty have been nesting successfully at Turtle Bay since 2006, fledging a dozen healthy eaglets from the same nest. They are a bit unusual, having twice fledged three healthy eaglets! Click on photos for full sized images.
This autumn they returned to Turtle Bay where they began building a new nest. For the past three years we were able to view their nesting activity on the Turtle Bay Eaglecam. Unfortunately, since they have begun building a new nest, only yards from the old one, the nest cam will not be available this season.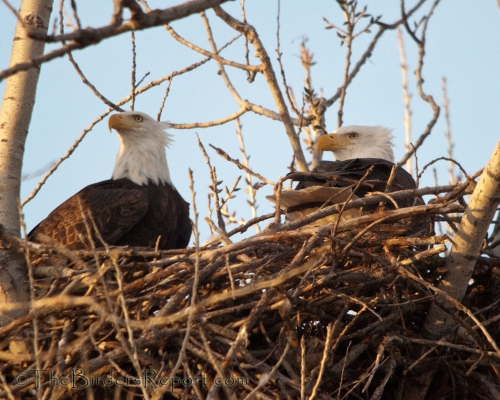 It is very interesting watching them build their new nest. Both partners are involved with constructing a nest which is among the largest of all birds. Patriot and Liberty's previous nest was 5 1/2 feet wide and 5 feet deep during the 2010 nesting season1.
The nests are made of rather large sticks, interwoven into a pattern to fit the tree in which it is built.
I shot this video of Patriot and Liberty as they built their new nest in a large Cottonwood tree very close to their previous nest.
Interesting things I saw in the video were: at the 1:50 mark, the two eagles have a ritualistic tug of war over a small sick in the nest; at the 2:20 mark Patriot takes off from a lower perch and flies erratically as he searches for a stick to break off and bring back to the nest; at the 3:37 mark, as Patriot is working diligently trying to place a stick, Liberty is seen (seemingly) playfully grabbing Patriots tail,  but he appears to be all business.
Many times they seem to look down from their perch before taking off, apparently looking for appropriate sized sticks for the nest.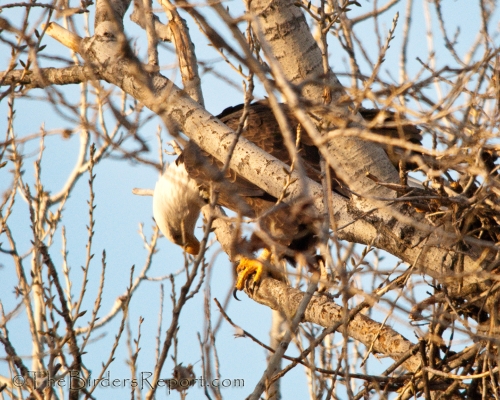 This beautiful pair of Bald Eagles should begin laying their eggs in February if past history is any judge, with eaglets coming in March.
One more look at the much smaller male, Patriot, waiting in the nest.
To see more great bird photos from all over the world, you gotta go check out World Bird Wednesday!
References: 1Turtle Bay Eagle Cam