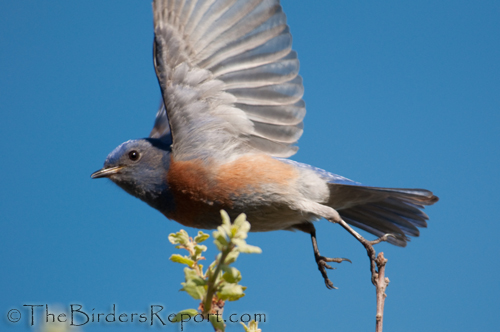 Western Bluebird (Sialia mexicana) Male photos by Larry Jordan
It is my favorite time of year, nesting season, with my favorite songbird, the Western Bluebird (Sialia mexicana), the bird that carries the sky on its back and the earth on its breast.  They don't call these the Bluebirds of Happiness for nothin'!  Just the sight of a bluebird perched on a tree top, fence post or wire brings a smile to any sane person's face.  Click on photos for full sized images.
A few weeks ago I was checking the nest boxes on one of my three bluebird trails and slowly approached one of the birdhouses.  The male Bluebird was perched above in the tree but the female was sticking her head out the entrance hole, watching as I approached.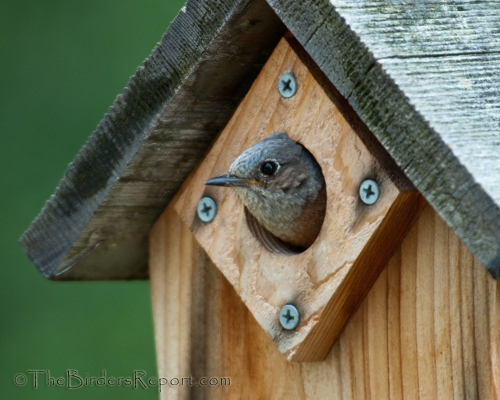 This is behavior usually encountered at Tree Swallow boxes.  Western Bluebirds usually leave the birdhouse before getting this close but maybe this pair knows my voice and face by now (I always announce myself when approaching a birdhouse so the inhabitants can escape if they choose, rather than being startled).
She was so steadfast that I thought she was protecting newly hatched young.  She finally left the nest and I opened the box to find six perfect sky blue eggs.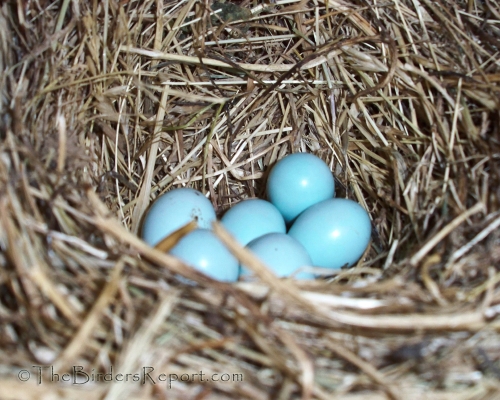 By my next visit, a week later, the chicks were looking about three or four days old.  Both adults were in the nearby trees watching every move I made to make sure their babies weren't disturbed.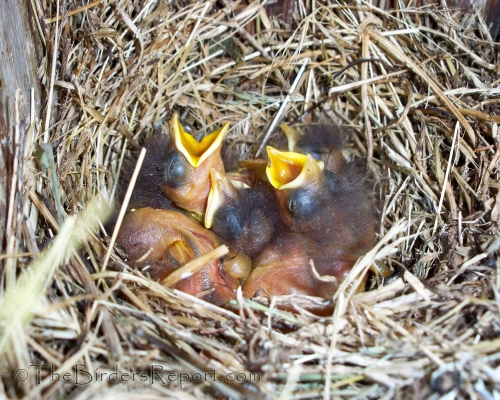 I closed up the nestbox and moved away to record my findings.
Here is a shot of the little darlings at about two weeks of age.  At this age they are fully feathered.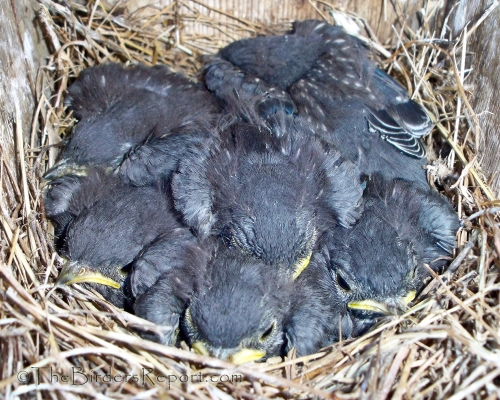 Western Bluebirds fledge at about three weeks of age.  I advise not opening the nest box after they are thirteen days old to prevent premature fledging.  Even at this stage, I will open the box very carefully and slowly so as not to disturb the chicks.  The last thing you want to do is cause the death of one of these cuties because they flew the coop to early.
Coming up next week, Tree Swallows!  Until then, check out World Bird Wednesday to see great photos of birds from all over the world.