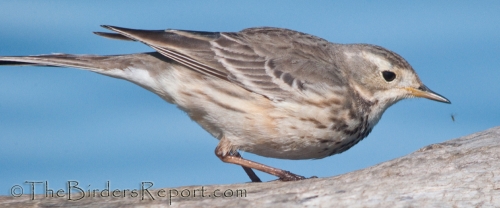 American Pipit (Anthus rubescens) Foraging photos by Larry Jordan
You may have been wondering what happened on day three of the Great Backyard Bird Count.  Well, I had a photo blind reserved at Sacramento National Wildlife Refuge.  I had a few excellent photo ops from the blind but I had no visits from raptors this day.
I had several good views of ducks, the numbers of which the refuge reported in December as 530,809 along with 133,082 geese.  I estimated that I saw approximately 6,500 Snow Geese in one location at the refuge on Sunday and several hundred assorted ducks.  The list for my count is at the end of this post.
I did get excellent views of this American Pipit from blind number one as well as some Tree Swallows that you will see in upcoming posts.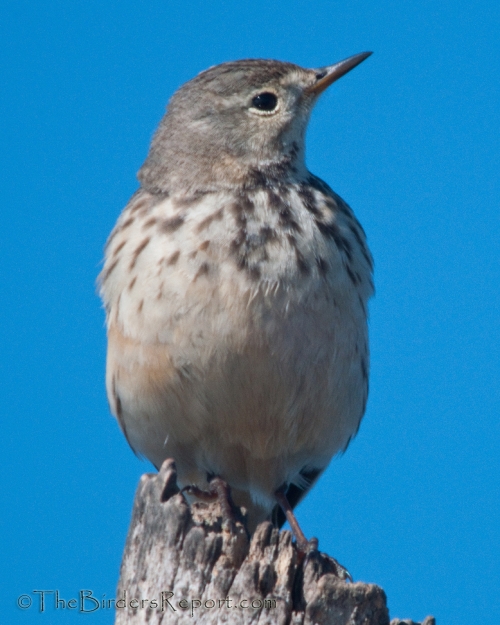 As you can see from this photo, it was a gorgeous day for day three of the GBBC.  Clear, sunny and no wind.
This bird showed up just as I was getting ready to leave the blind for the day, which brings up one of my rules when photographing birds.  When you are ready to leave your location, stay for at least another thirty minutes.
This little fella put on quite a show for me, preening and stretching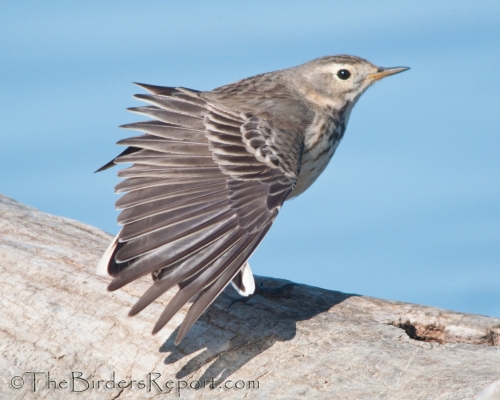 And foraging for arthropods along this log and the surrounding waters edge.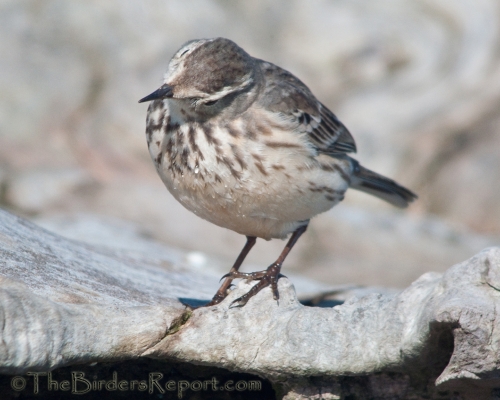 It was cool watching the tail pumping that American Pipits do almost constantly while foraging.  This bird jumped in and out of the water several times while pecking at indistinguishable small prey.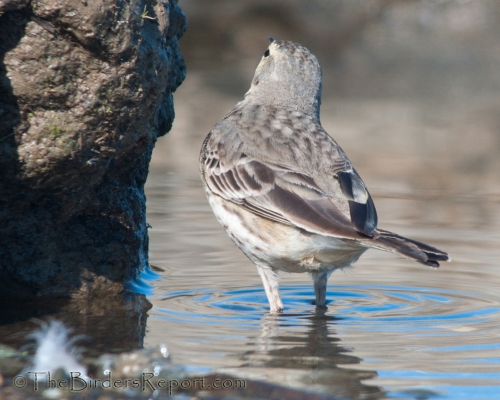 Here is a short video in case you haven't seen this bird's foraging style.  They are very active.

If you want to see more cool bird photos, check out World Bird Wednesday!
And here's my count for day 3 of the Great Backyard Bird Count:
Greater White-fronted Goose 300
Snow Goose 6,500
Gadwall 58
American Wigeon 12
Mallard 8
Cinnamon Teal 8
Northern Shoveler 110
Northern Pintail 138
Green-winged Teal 24
Bufflehead 13
Common Goldeneye 2
Ring-necked Pheasant 3
American White Pelican 100
Double-crested Cormorant 4
American Bittern 1
Great Blue Heron 1
Great Egret 3
Snowy Egret 2
Turkey Vulture 4
Bald Eagle 2
Northern Harrier 3
Red-shouldered Hawk 1
Red-tailed Hawk 4
American Coot 250
Black-necked Stilt 48
American Avocet 2
Long-billed Dowitcher 44
Glaucous-winged Gull 1
Barn Owl 1
Nuttall's Woodpecker 2
Downy Woodpecker 1
Black Phoebe 4
Tree Swallow 17
Bushtit 8
Marsh Wren 18
Ruby-crowned Kinglet 1
American Pipit 1
Yellow-rumped Warbler 11
Savannah Sparrow 10
Song Sparrow 1
White-crowned Sparrow 6
Red-winged Blackbird 115
Western Meadowlark 26
House Finch 3