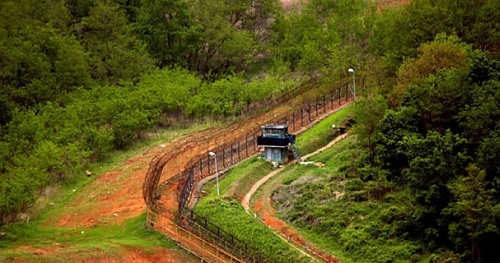 A South Korean control tower along the border with North Korea
photo courtesy of Newscom/File
The stretch of wilderness along the demilitarized zone between North and South Korea encompasses 390 square miles of diverse terrain virtually untouched by human development for 55 years.  Does this sound like a perfect place for a National Wildlife Preserve?
Take a look at this great article from the Christian Science Monitor, written by Tony Azios.  This concept of making the DMZ into a bio-diverse haven and increasing tourism to the area would not only be economically important to the area, it could also foster peace in this troubled part of the world.
The most important aspect of this conservation effort to this observer is that perhaps one-third of all Red-crowned Cranes, the world's rarest, depend on the DMZ's wetlands and nearby agricultural fields while migrating. The Spotted Seal, Chinese Water Deer, and Lynx are just a few of its resident mammals as well as some of the last wild bears and leopards in the region.
Up to 67 percent of all plant and animal species found in Korea live in and around the DMZ and several species are found only there.  With these kinds of figures, how can we not preserve this jewel as one of the most bio-diverse spots in East Asia?