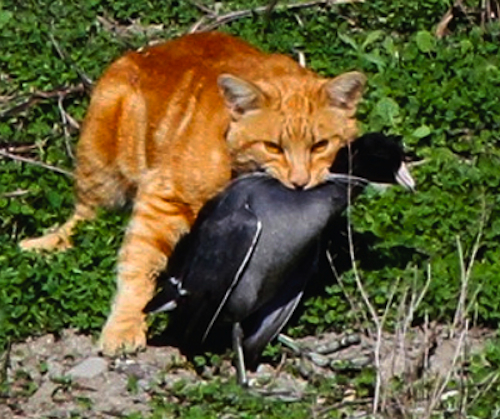 Cat with American Coot photo by Debi Shearwater
Due to concern about the validity of the original headline of this post, I have changed the title from "Single Greatest Source" to "A Major Source" of Human-caused Mortality. Please read the actual study linked below as "peer-reviewed study"
The following is an excerpt from an article by the American Bird Conservancy (ABC). You can read the full story here.
Washington, D.C., January 29, 2013 – A new peer-reviewed study published today and authored by scientists from two of the world's leading science and wildlife organizations – the Smithsonian Conservation Biology Institute and the U.S. Fish and Wildlife Service (FWS) – has found that bird and mammal mortality caused by outdoor cats is much higher than has been widely reported, with annual bird mortality now estimated to be 1.4 to 3.7 billion and mammal mortality likely 6.9 – 20.7 billion individuals.
According to Dr. George Fenwick, President of American Bird Conservancy, one of the leading bird conservation organizations in the U.S. and a group that has called for action on this issue for many years, "This study, which employed scientifically rigorous standards for data inclusion, demonstrates that the issue of cat predation on birds and mammals is an even bigger environmental and ecological threat than we thought. No estimates of any other anthropogenic [human-caused] mortality source approach the bird mortality this study calculated for cat predation."
The study charges that, "Despite these harmful effects, policies for management of free-ranging cat populations and regulation of pet ownership behaviors are dictated by animal welfare issues rather than ecological impacts. Projects to manage free-ranging cats, such as Trap-Neuter-Return (TNR) colonies, are potentially harmful to wildlife populations, but are implemented across the United States without widespread public knowledge, consideration of scientific evidence, or the environmental review processes typically required for actions with harmful environmental consequences."
You can always get the latest bird news on my "Birds In The News" page!