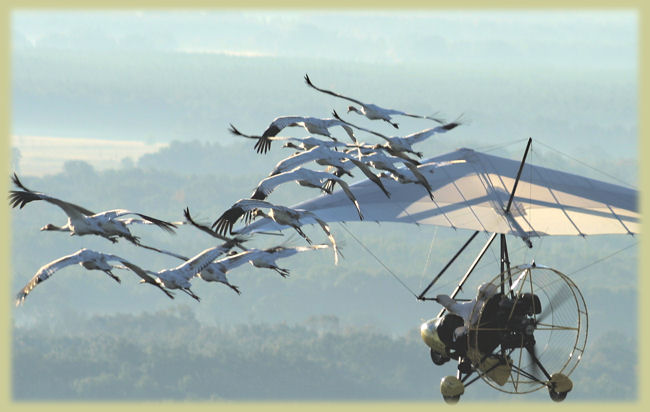 Whooping Cranes Migrating photo courtesy of Operation Migration
The survival of the Whooping Crane has been largely due to the efforts of Operation Migration and the Whooping Crane Eastern Partnership (WCEP).  Back in 1941 there were less than 20 Whooping Cranes left on this planet.  Due to the efforts of these organizations, there are now 529 Whooping Cranes, 72 being cared for by Operation Migration, including 12 breeding pairs.
This is an incredible success story of bird conservation and cooperation between the U.S. and Canada.  The WCEP and Operation Migration are to be applauded for the great work they are doing to make it possible for all of us to witness a miracle of nature as the Whooping Cranes migrate from Canada and Wisconsin to Florida and the gulf coast.  The 2008 flock is on their way!  For you lucky folks in the East, you may be witness to this amazing feat first hand.
Update: Vickie Henderson has an entire photo series on the Whooping Crane with incredible photos and video of the parents raising a chick.  You have got to see this!