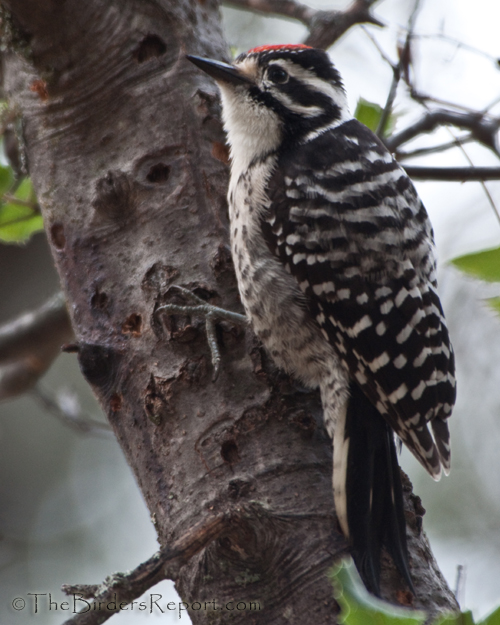 Nuttall's Woodpecker Juvenile all photos by Larry Jordan
I was out photographing my Ash-throated Flycatchers a couple of weeks ago as they were feeding their young still in the nest box, when I heard a Nuttall's Woodpecker drumming behind me!  (You can hear the sounds of the Nuttall's Woodpecker here).
He was foraging in a small oak tree, either for insects or sap.  My guess is sap, as there was also an Anna's Hummingbird that kept visiting the same little holes in the bark.
Even though these small woodpeckers primarily live in oak woodlands, almost exclusively in California, acorns are only a small part of their diet.  Their diet consists of insects and spiders, as well as some fruit and nuts.  They will visit backyard feeders also and they love peanut butter suet.  Here it is coming down the tree, investigating one of the many small holes excavated in this scrub oak.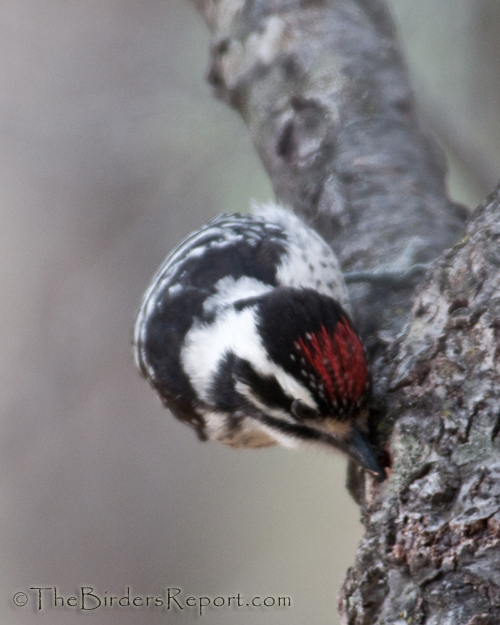 Nuttall's Woodpecker Juvenile Foraging In An Oak Tree
The Nuttall's Woodpecker is similar in appearance to the Ladder-backed Woodpecker but their ranges barely overlap.  Both the male and female juveniles of both species have this red patch on the head before their first molt which makes identification a bit tricky.
What denotes this little bird as a juvenile Nuttall's Woodpecker is the red patch on its head, the more extensive black on the sides of the head, the distinctive white patches at the lores and the lack of barring at the top of the back.
In the adult bird, the red patch is only worn by the adult male and extends from the mid crown to the nape where it meets the upper back which is black with little or no barring.  The adult male Ladder-backed Woodpecker in contrast, sports a red patch on the head from the nape almost to the base of the bill and the white bars on the back are wider than the black bars and extend to the nape.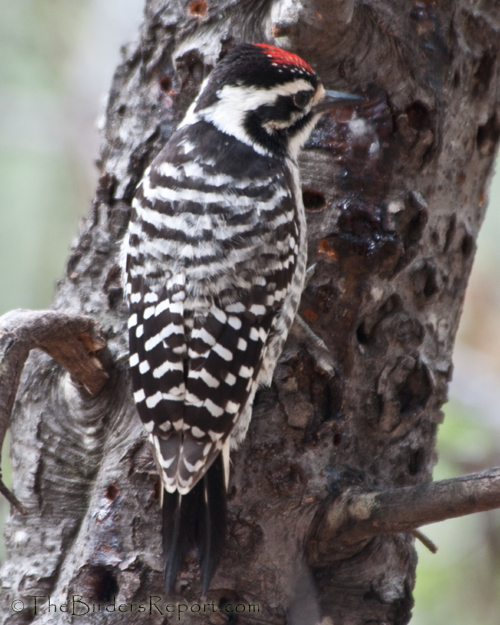 If you live in Northern California, like I do, the Nuttall's Woodpecker is the only black and white zebra-backed woodpecker found.  This makes it even easier to identify in the field, but I still don't know if this is a male or female bird.  Either way, it sure is cute 😉