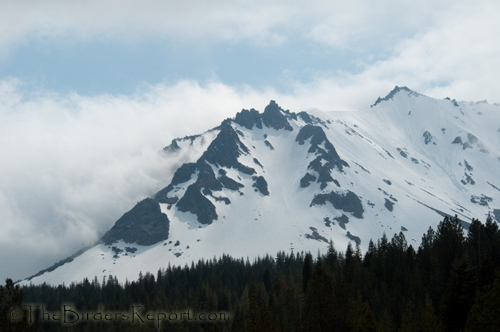 Lassen Peak, Lassen Volcanic National Park all photos by Larry Jordan
Lassen Volcanic National Park is one of over 380 parks in the National Park System. Congress made this area a national park in 1916 following its largest eruption on May 22, 1915. The peak itself rises to an elevation of 10,457 feet. You can find a map of this park here.
Three chapters of the Audubon Society got together for a campout at Lost Creek Campground, one of the eight campgrounds available in the park. We met on Saturday morning at the Manzanita Lake Visitor Center, but before we got together, I took the opportunity to photograph a cavity nest we had spotted last year at Manzanita Lake that had been occupied by Pygmy Nuthatches. This year, a House Wren was living there.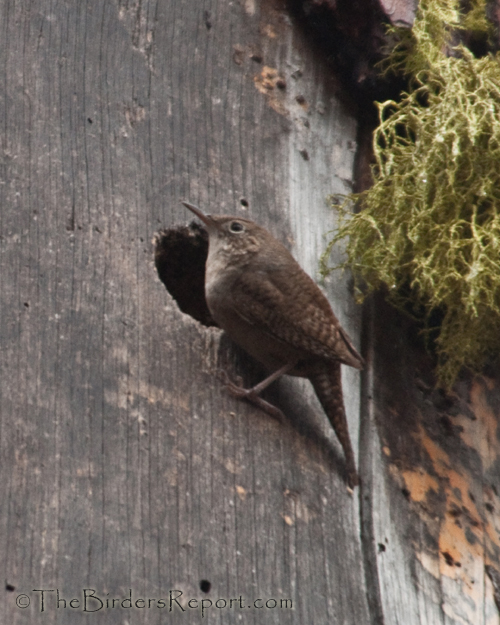 As we walked around this gorgeous mountain lake, we spotted several birds including Common Nighthawk, Band-tailed Pigeon, Western Wood-pewee, Stellar's Jay, Western Bluebird, Tree Swallow, Red-winged Blackbird, Brewer's Blackbird, Yellow Warbler, Orange-crowned Warbler, Yellow-rumped Warbler, a Warbling Vireo and this Brown Creeper.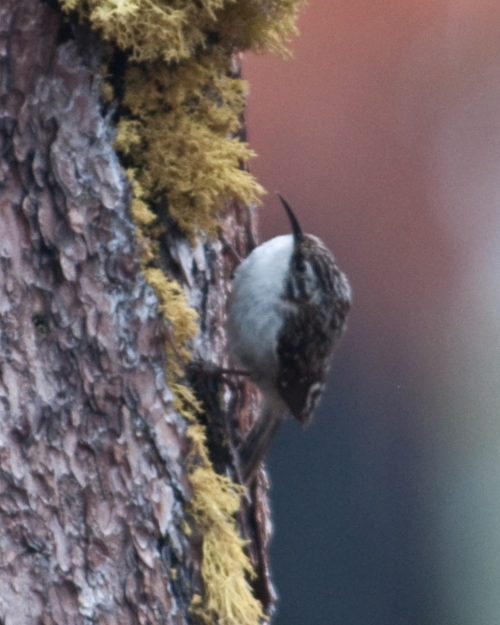 The trail follows the edge of the lake where we saw several water fowl and wading birds as well. We were treated with the likes of a Green Heron, Pied-billed Grebe and Canada Geese, as well as American Coots, Mallards and Bufflehead (which were all trailed by little ones)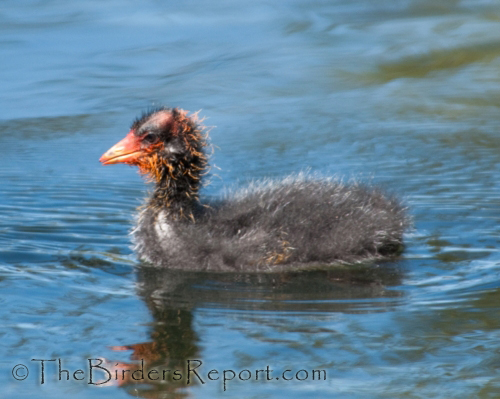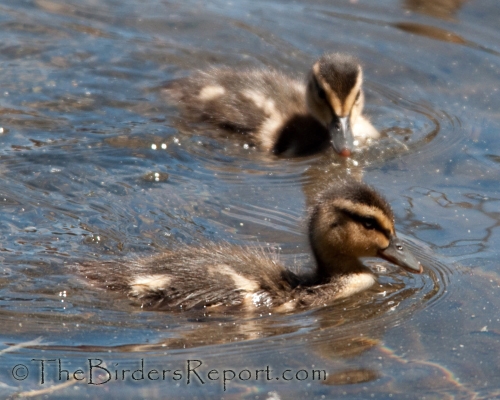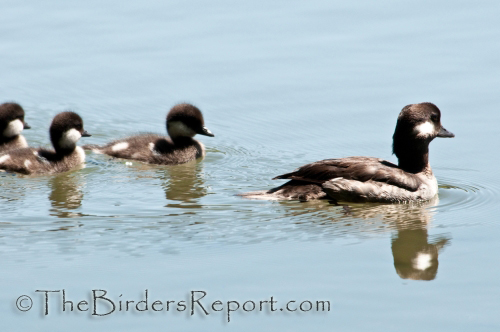 Are they cute or what? And all this while a pair of Osprey were circling overhead and occasionally diving on unsuspecting fishermen.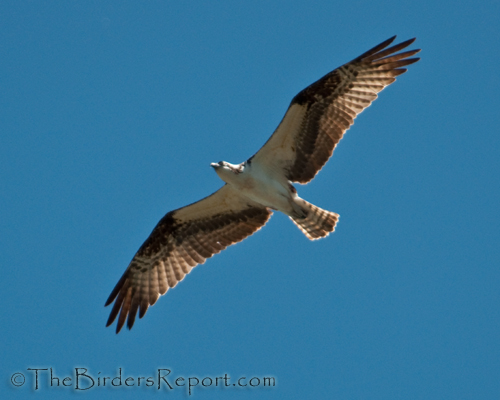 On the way back to the campground we witnessed an American Dipper feeding its fledgling in the creek near the visitor center. What a treat that was.
In the campground itself we had White-headed Woodpecker, Black-backed Woodpecker, White-breasted and Red-breasted Nuthatches, Hairy Woodpecker, Evening Grosbeak, and repeated visits by a pair of Western Tanagers that must have been nesting nearby, and this Red-breasted Sapsucker that I didn't get a very good picture of (we were eating by then).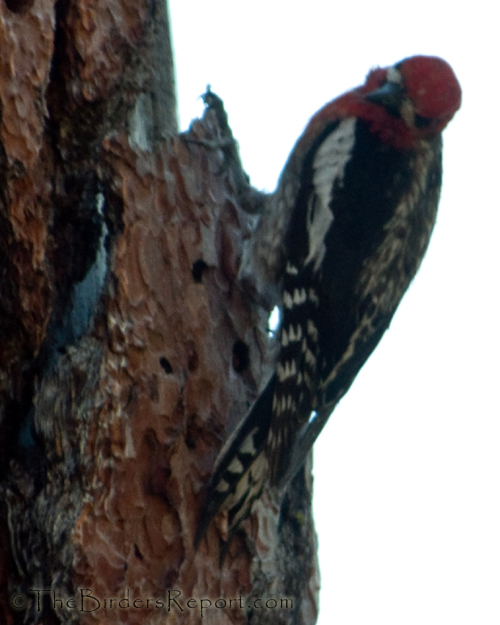 After lunch we drove up to Hat Lake where my friend Frank Kratofil told me I could find a Mountain Chickadee nest, which I did. Besides the Mountain Chickadees, new birds seen here included Vaux's Swift and Spotted Sandpiper. We also heard Mountain Quail here.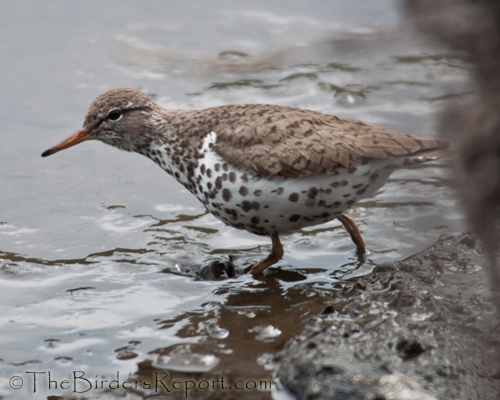 I came back to Hat Lake early Sunday morning to get some shots of the nesting Mountain Chickadees when I had more time and better light. You can see the adult here and below is a photo of the nestling at the entrance hole. Notice the cream colored mandible, unlike the adult's which is black.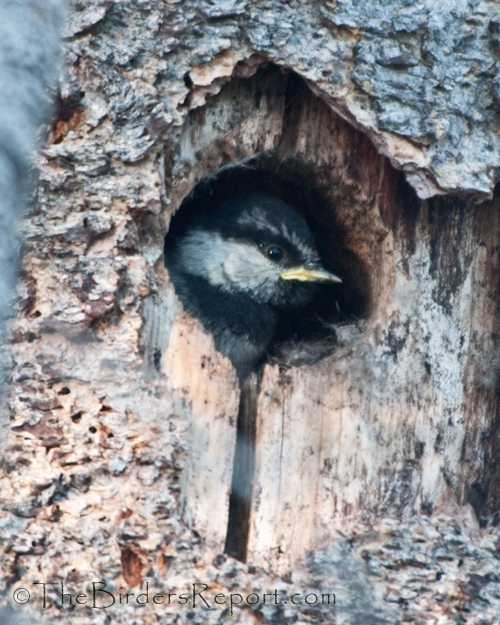 Leaving Hat Lake, we made our way to Summit Lake where the only new bird we saw was a Clark's Nutcracker but that was well worth fighting off all the mosquitoes. We got some great looks at that Clark's as it flew from tree to tree. I also got to see this Mountain Chickadee nest in an old tree stump on the ground about 30 feet from the waters edge!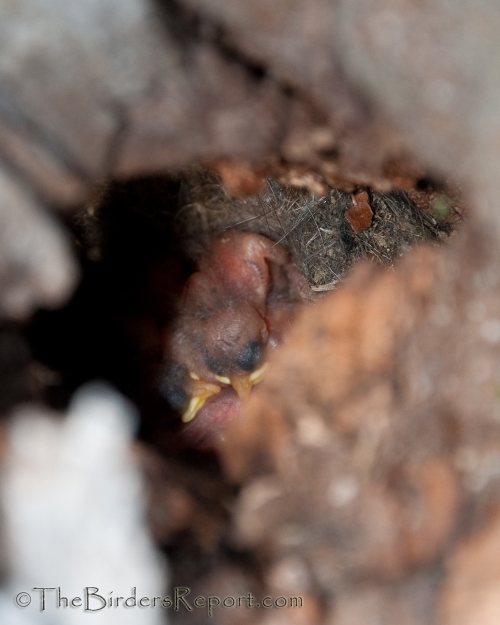 Off to the parking area for the trailhead to Lassen Peak where, a few weeks earlier, Gray-crowned Rosy-finches were seen. No luck there but I found out later they have been spotted up on the peak now that the snow has moved up in elevation.
A short trip down the road to Bumpass Hell we found Mountain Bluebirds, Cassin's Finch and Chipping Sparrow before it was time to get back to Lost Creek Camp.
Sunday morning after returning from my Chickadee photo shoot, the others were waking and we had breakfast before we headed out again to look for the Pileated Woodpecker we heard drumming. We found a beautoful male just south of the campground where it gave us some brief views. This was my target bird for photography on this trip but I wasn't quick enough to snap even one picture.
The thrill for me was to see a beautiful Green-tailed Towhee near the Sulphur Works. It was a lifer for me! I didn't get close enough for a good photo but got some very good views through the bins. Plus, a short distance from the Sulphur Works is the new southern entrance visitor center for the park. From there you can catch the trail to Mill Creek Falls where I captured the American Dipper. Several members of the group also saw Sooty Grouse there on the Brokeoff Mountain Trail.
We all had a great time on this outing where we encountered 53 species! It is an annual trip for the Wintu Audubon Society and I look forward to next year's trip. In the meantime, I hope to get back up to Lassen Peak to see those illusive Gray-crowned Rosy-finches!