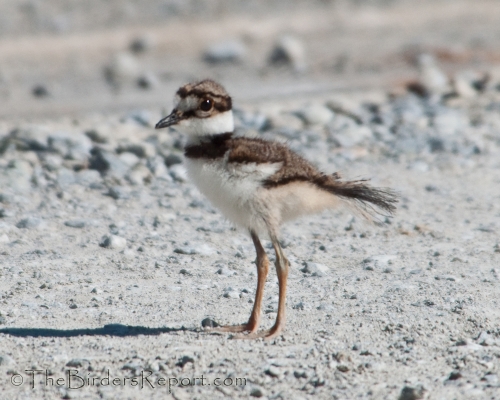 Killdeer Chick photos by Larry Jordan
A friend of mine told me he had seen some Killdeer chicks near a lot where he feeds the wild birds.  Having never seen a Killdeer chick, I went out to investigate.
I followed his directions to a quiet, two block long, graveled side street in town.  A perfect spot for these plovers to breed.  As I walked down the deserted gravel road I spotted an adult Killdeer doing its "broken wing" act before I ever saw the young ones.
The adults perform this little show to draw predators away from the youngsters and give them a chance to escape.  Here's a shot of one of the adults after finishing its show and realizing I was only there to observe.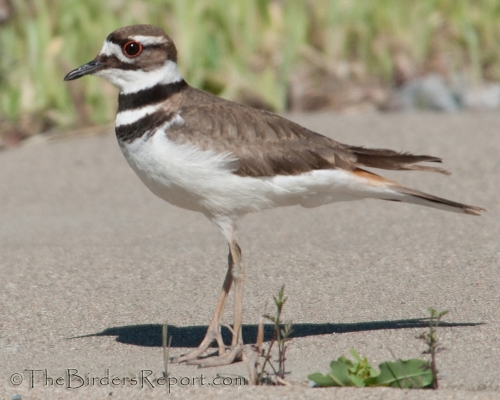 I get many emails this time of year from people who find the Killdeer eggs and want to know what bird laid them.  This a photo of their "nest" from Lisa who inquired about some eggs she found mowing their lawn last year.
They typically lay four eggs that are arranged with the pointed ends toward the middle of the nest.  When the nest is located in a gravelly area, they are nearly impossible to detect, blending in so well with the surrounding stones.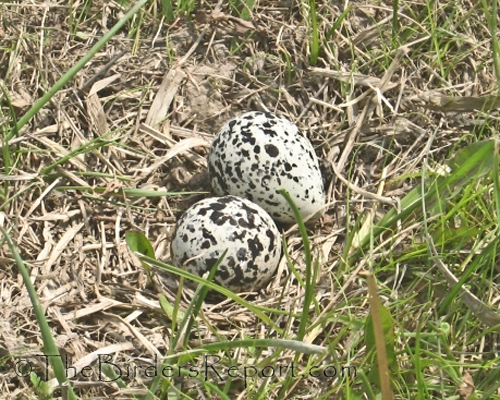 After watching the broken wing act, the other adult Killdeer flew in from somewhere and that's when I saw the chicks.  There were three of them, so well camouflaged that I didn't see them until they moved.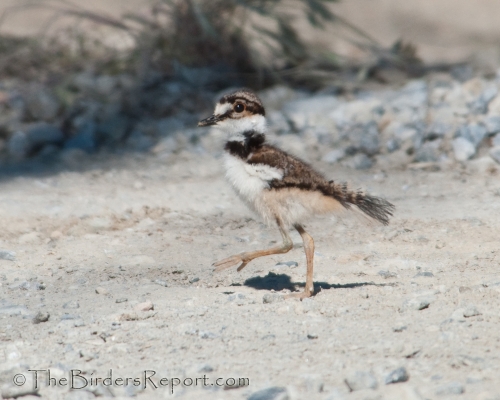 And when they move, they move!  These very cute little chicks act exactly like the adults.  They run, then stop abruptly, stand still and bob their heads.  Even the adults are usually so well camouflaged that you hear their loud calls before seeing them.[audio:https://thebirdersreport.com/audio/KILL.mp3] Audio courtesy of  Taylor Brooks, audio found at Xeno-Canto.org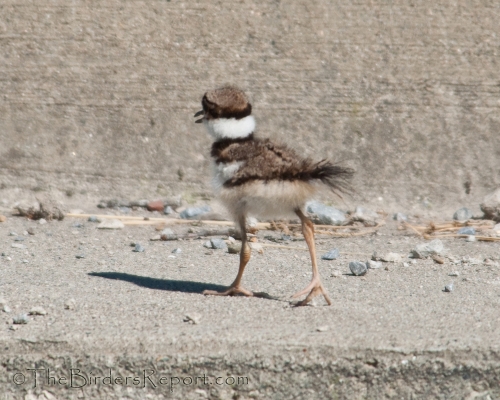 This is what the little fluff balls look like from the tail end as they scurry away to forage for worms and insects.  They leave the nest as soon as their down dries after hatching.  And here is a photo of the adult with the speeding chick in the background just to get an idea of the size of the chicks.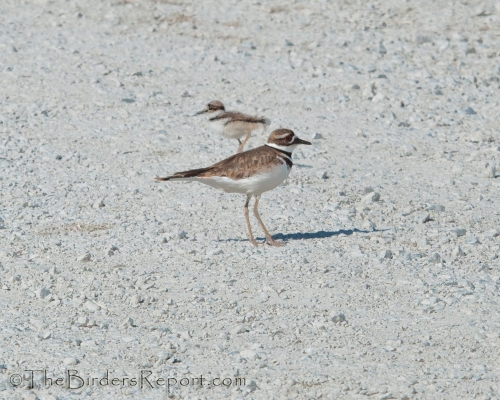 To see more great bird photos, go to Bird Photography Weekly!  Wanna join the fun, submit your own bird photos and share!