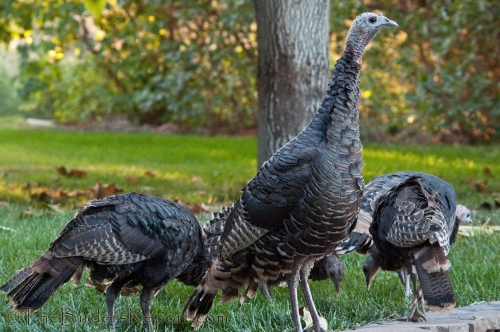 Wild Turkey Hen with Poults photos by Larry Jordan
With autumn we get to witness the great migration of birds that breed to the north and pass through on their way to their wintering grounds.  We also begin to see our own wintering residents returning.  We have just begun to see Spotted Towhees and Northern Flickers returning to our yard, while the California Quail are forming coveys.  And a big plus this autumn are the local Wild Turkeys visiting!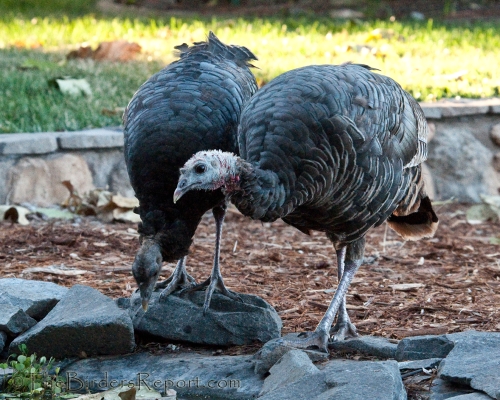 Hen Turkey Bringing Poult to the Pond
The Wild Turkey is an endemic bird of North America.  They are non-migratory and have a very complex social structure.  They roost in trees at night and forage during the day for seeds and acorns, also feeding on insects and beetles.  Grit is also very important in the turkey's diet to aid in the digestion process.  This flock is foraging under my feeders below the oak trees, in the open fields and on the lawn.
My guests appear to be a female brood flock of two hens and four poults.  They visit in the wee hours of the morning, before the sun comes up, to forage and drink from the pond, then return at dusk for more of the same before retiring to the trees.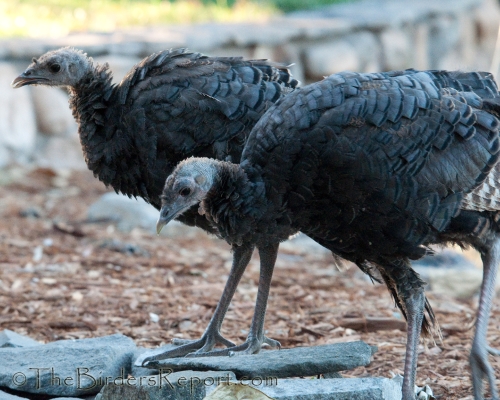 Wild Turkey Poults at the Pond
After the hen and her brood leave the nesting area, they may unite with other broods to form larger groups.  Then, in late fall or early winter, when the juvenile males grow larger than the hens, they leave the hens and female poults to form their own independent flocks.  The juvenile male brood flocks may contain over twenty birds in the winter.  The female brood flocks, on the other hand, may band together forming flocks of over 200 birds during the winter.
The Wild Turkey hens teach their poults early and long lessons about predators.  They are a very wary breed.  They have excellent eye sight and hearing and with constant communication, alert the entire flock if something doesn't seem quite right.  They will run or take flight rapidly when alerted, similar to quail.  Hearing an alert call from the hen, these two poults begin to run and can take flight in an instant.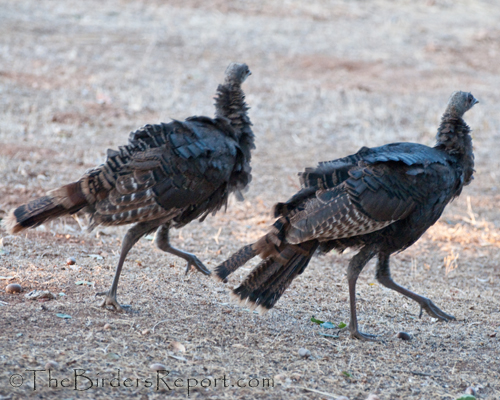 The Wild Turkey hen is on constant alert, usually standing with her neck extended above the flock, looking for trouble on the horizon.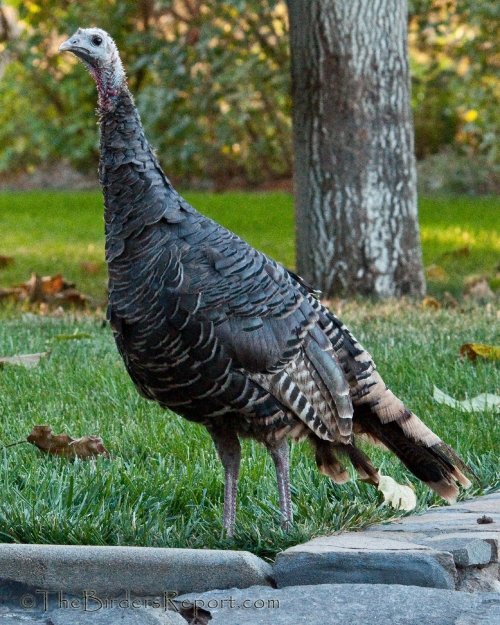 No worries here mama.  This is a danger free zone.  Relax and enjoy your stay!
Go see more great bird photos at Bird Photography Weekly.