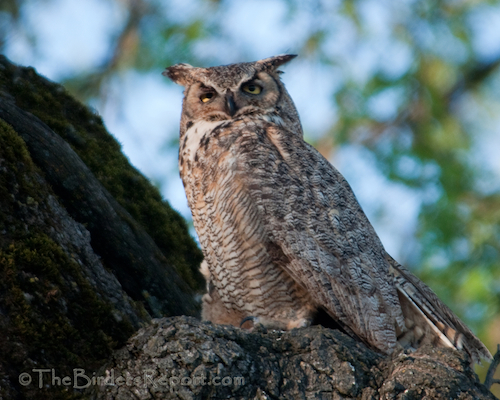 Great Horned Owl (Bubo viginianus)
I got up early hoping to see an adult Great Horned Owl (Bubo virginianus) at the nest. I was not disappointed!
Fortunately my friend Frank Kratofil introduced me to this Great Horned Owl nest a couple of years ago and, according to the locals, the owls have been nesting here for several years. I did, however, I miss them last year when they chose a different nest location.
I arrived just before sunrise to see several darkened shapes in the large old oak tree, and yes, one was an adult! Little did I know what a treat I had in store.
I saw two lighter colored shapes as I slowly approached the nest tree, the larger darker adult standing guard above them.
The parent owl slowly made her way down the main trunk to the nest site and perched on the rim of the rotted old stump that must have once been a mighty branch of this old tree.  She peered down into the nest as one of the owlets made its way toward the nest and squeezed past her down into the nest cavity.
She followed, then struggled to turn around in the nest only to reappear at the rim of the nest with some type of prey! She began tearing meat from the prey as the young owlet came up under her breast to be fed.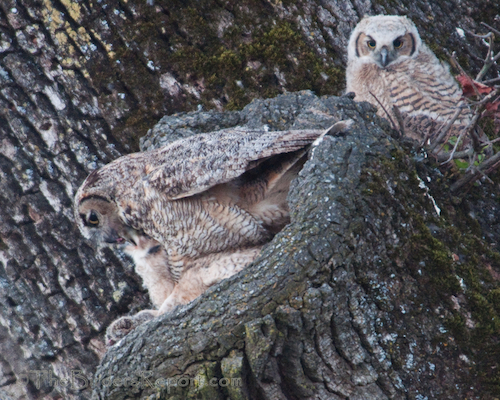 This being my first time ever seeing a Great Horned Owl feeding its young, I moved to a better viewing location. My new angle at the nest revealed a third owlet in the nest!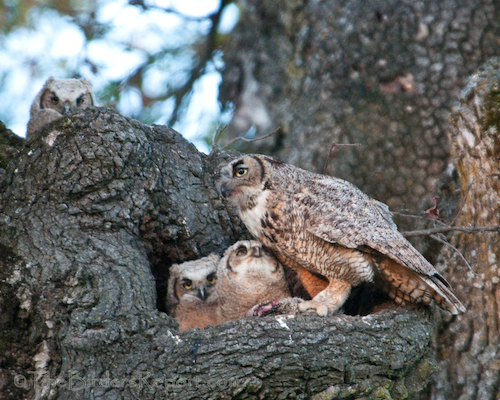 It was a real joy watching her feed the youngsters to tenderly.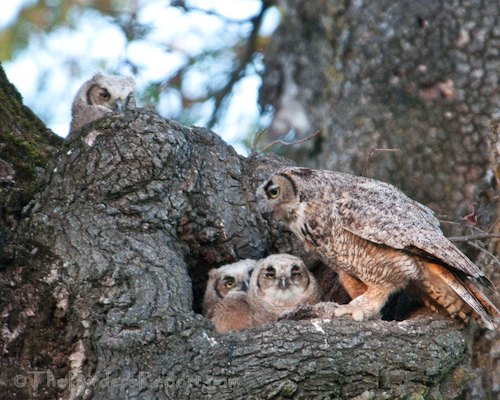 Breaking the near silent atmosphere of the feeding session, all of a sudden a pair of Canada Geese flew around the large oak.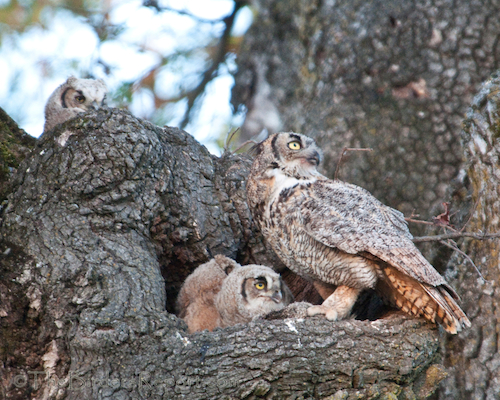 Then this crazy pair of geese came right over the nest site…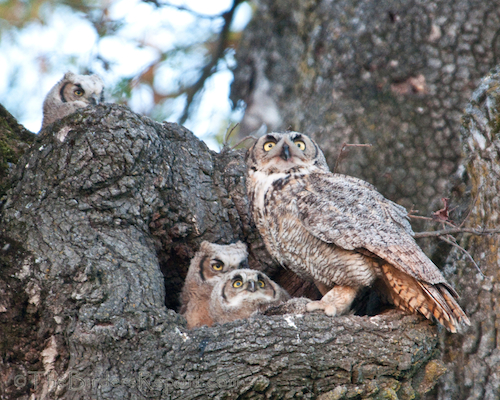 and looked like they were trying to land right above the owls.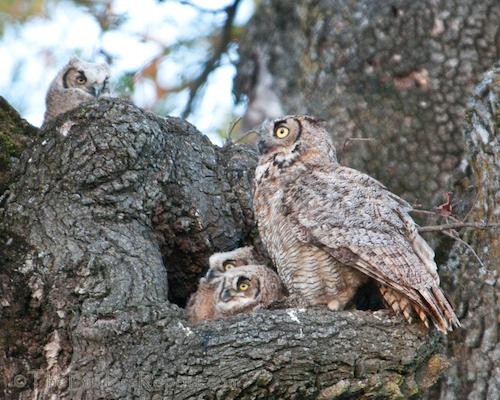 She looked at me seeming to ask "what was that all about?"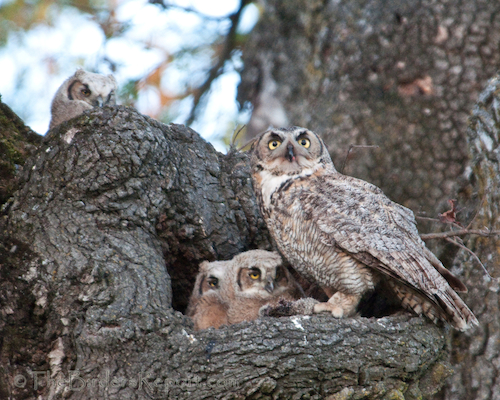 Finally, the owlet that had been patiently waiting up top, outside the nest, got some attention when mama brought what was left of the Western Grey Squirrel up to share.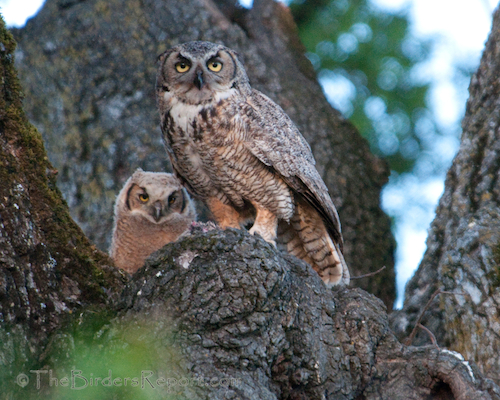 As the sunlight began to encroach on this now tranquil scene…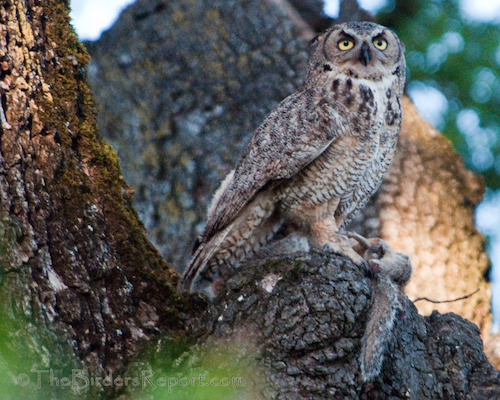 she took what was left of the squirrel back into the nest…
and took a long deserved rest.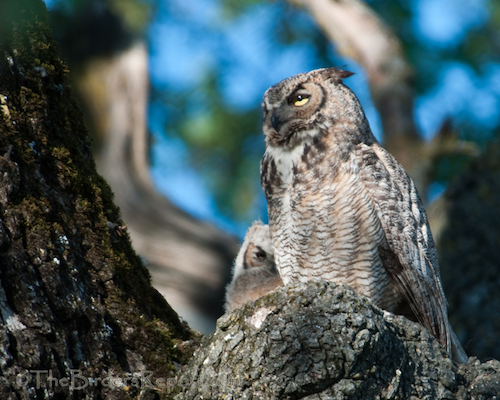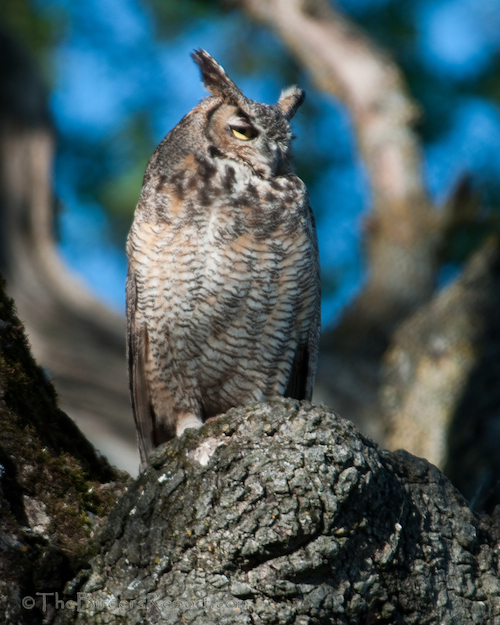 For more great bird photos from all around the world, check out World Bird Wednesday, hosted by Dave Springman over at The Pine River Review!