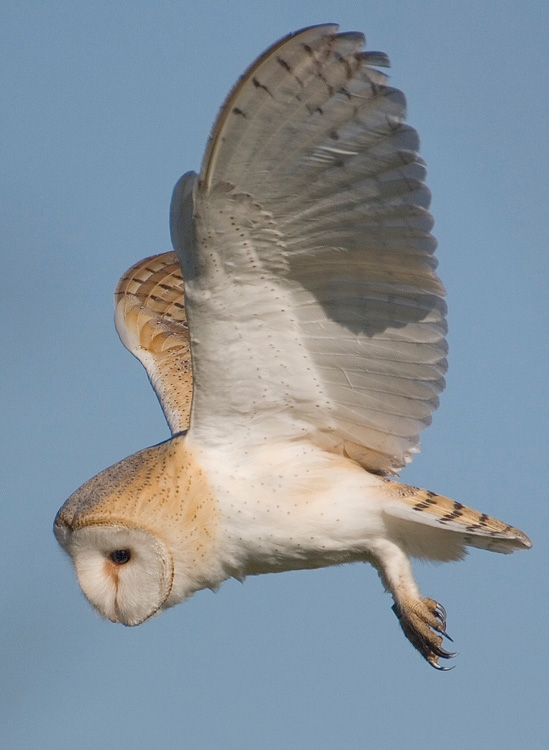 Barn Owl In Flight Photo by Nigel Pye
Barn Owls are one of the truly global species of birds, found on every continent except Antarctica. This last summer I was able to join my friend Steve to help him band some of these excellent hunters. The Barn Owl is one of many birds Steve has breeding in nest boxes.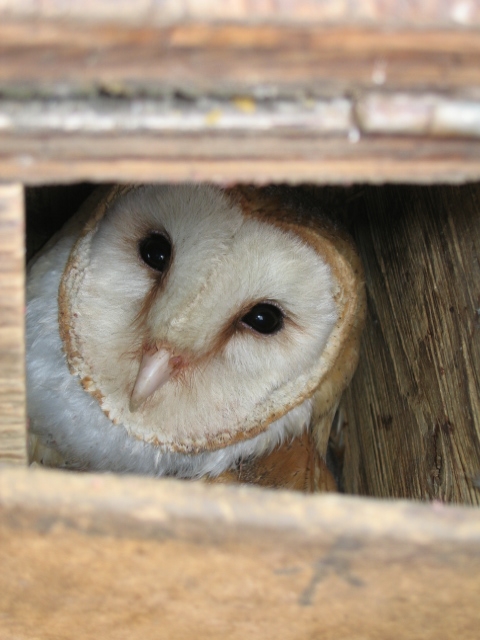 Barn Owl In Nest Box photos by Larry Jordan
Barn Owls are excellent hunters for several reasons. Their large, forward facing eyes widen inside the skull where the retinas almost touch. Those retinas are packed with photoreceptors making it easy for them to catch prey in total darkness. They also have very sensitive ear openings that differ in position and in size. These asymmetrically positioned ears help them pinpoint sound directly in front of them while on the wing. Even the Barn Owl's heart-shaped face helps channel the sound to its ears.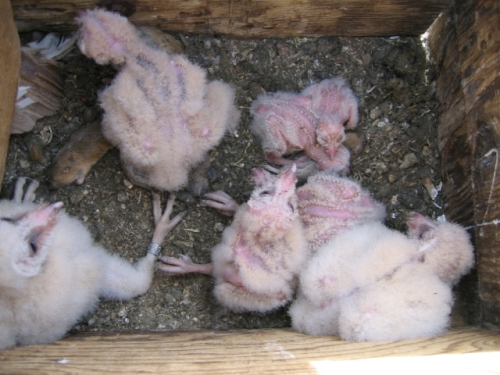 This mom is such a good hunter, even with seven chicks to feed, there are two uneaten rodents in the nest. Barn Owls are voracious feeders that will eat up to 1 1/2 times their weight in food each day, primarily rodents. They will breed year-round and if the food supply is good, they may breed twice in a season. Other prey may include baby rabbits, bats, frogs, lizards, birds and insects.
Notice that the chicks are in various stages of growth. This is because the female lays an egg every two days until 5-7 (or more) white eggs have been laid in the nest. When the first egg is laid, she begins incubating. When the first egg hatches about 30 days later, that owlet is older than the next one to hatch and is stronger and more able to take food from the parents. The same applies to the next chick hatched and so on. This breeding system allows for the biggest, strongest owlets to survive during times of short food supply.
Barn Owls are short-lived birds. Most die in their first year of life, with the average life expectancy being 1 to 2 years in the wild.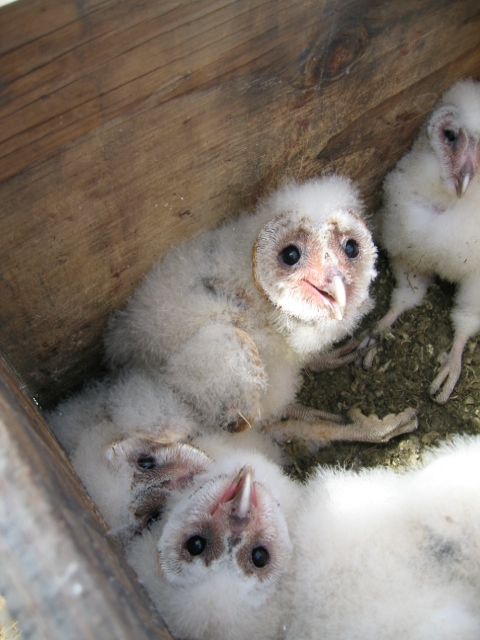 These owlets, still covered in down, are strong and healthy.  They appear to be three to four weeks old and well fed.  Their parents have hundreds of acres of grassland to fly over searching for prey. Flying low and silently, on fringed feathered wings, the Barn Owl family can capture and eat over three thousand rodents a year!  It's no wonder farmers have been keeping Barn Owls on their lands for so many years. Here's a short video clip to give you an idea of the Barn Owl chicks movements and the hissing sounds they make.
Barn Owls will nest in hollowed out trees, old buildings, and of course, in barns.  They will also nest in man-made nest boxes.  If you want barn owl nest box plans, you can find a couple on my resources page.  There is also a great PDF file you can download (2MB) on Building Barn Owl Boxes that I got from the Santa Clara Audubon Society.  It has a very nice nest box plan and information on mounting the boxes.