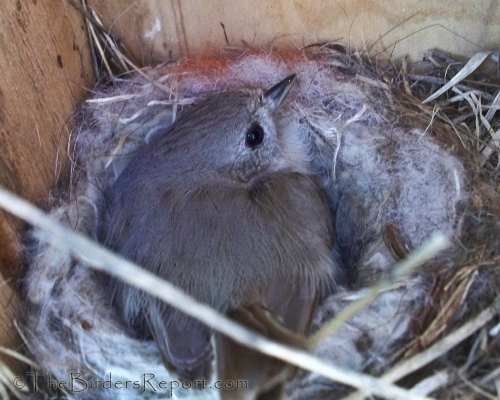 Oak Titmouse In Nest photos by Larry Jordan
This is a series of photos of my newest 2010 arrivals on the bluebird trails, the Oak Titmouse.  They are always the first to nest on my trails.
The first photo was taken after I had checked the nest box and found five tiny chicks, mouths agape, waiting for a meal.  I had left the camera in the car and by the time I got back to the nest, the adult was back, brooding.
When I checked the nest box four days later I found these seven chicks (five obvious mouths agape, one back left you can just see the tip of the beak and one whos beak you can see in the middle, underneath the others)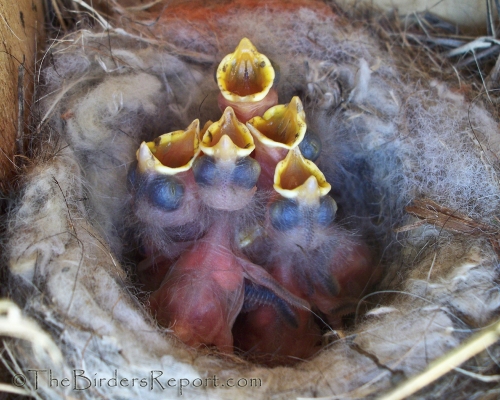 And this shot I took this afternoon, the chicks are nine days old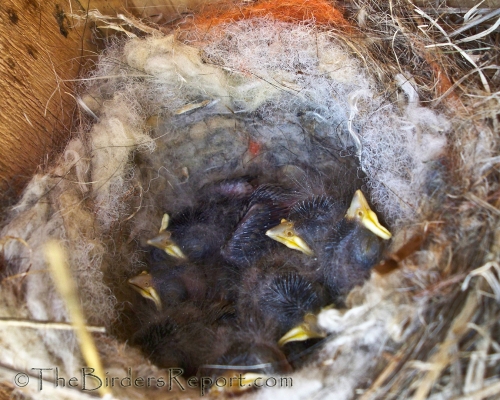 I found an exceptional video of the Tufted Titmouse, which is the eastern version of Titmouse, created by Paul Murray, showing the entire nesting cycle of this bird, from nest hunting to fledging.  It is a nine minute video but well worth watching if you want to see what really goes on inside a nest box.  Click on Paul's link above to view the video.
If you want to see more great bird photos, check out Bird Photography Weekly.