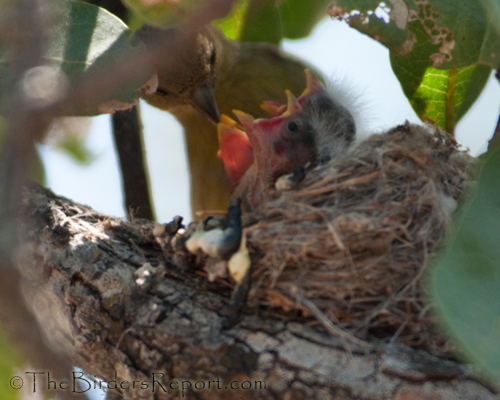 Lesser Goldfinch Female Feeding Chicks In The Nest photos by Larry Jordan
I found this Lesser Goldfinch female building her nest about three weeks ago while checking one of my bluebird nest boxes.  She was busily building this beautiful and sturdy nest of  grass, twigs and plant fiber.  This nest held up (as did she) through two raging thunderstorms and downpours over the last two weeks.  An amazing feat of engineering.
These chicks are about three days old and their Mom will regurgitate a seed puree, that she has partially digested for them, directly into their stomachs.  This gives the young birds the bacteria they need in their digestive systems to process the plant foods they will be eating.
After the first few days she no longer needs to brood them and the male and female will both feed the chicks.  They may also begin feeding them soft bodied insects like aphids.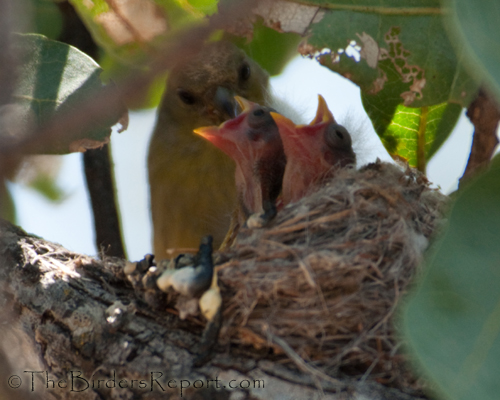 As you can see, the parents remove the fecal sacs and place them around the nest to keep the actual nest cavity clean.  The chicks will spend about two weeks in the nest before they take their first flight.  I will follow up with some more photos next week when they should be pretty well feathered.  Maybe I will be able to catch the male Lesser Goldfinch feeding the chicks!
Make sure to check out the other Bird Photography Weekly posts!