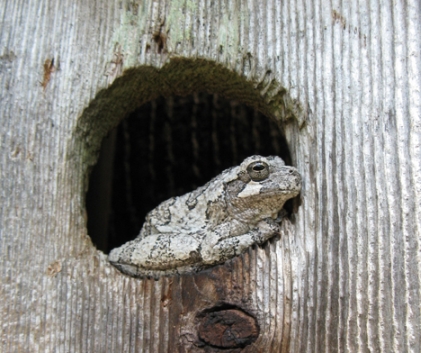 Photo from the Sand Springs Leader
This is a neat little story about a frog in a birdhouse from the Sand Springs Leader Newspaper in Arkansas.   I thought it was a cool photo, plus I love frogs and have a pond in my backyard.  As you know, or will find out soon, ponds and flowing water is a huge attraction for birds.  The story starts like this:
 It was a frog, alright; a frog in the bluebird house. Had that frog been sitting in the door-opening wearing a tam, cheap sunglasses, holding a cold drink in one hand, and a lit cigarette at the end of a long, ebony cigarette holder in the other, I wouldn't have been more surprised.
You can read the rest of the story here: Sand Springs Leader