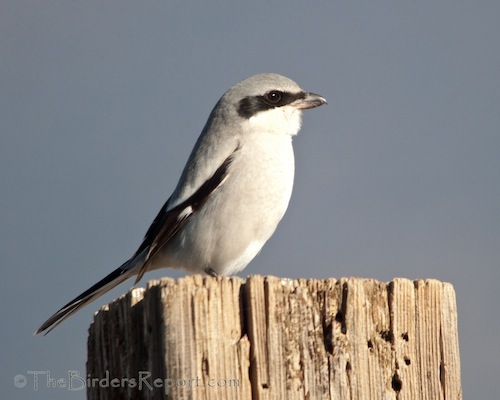 Loggerhead Shrike (Lanius ludovicianus) photos by Larry Jordan
It all started with the Fall River Christmas Bird Count (CBC) back on December 17th. Well actually it started a week or so before that with the rare bird alert of the Falcated Duck at Colusa National Wildlife Refuge. Then there were the unusual sightings of Surf Scoter, White-winged Scoter and Black Scoter, all seen in and around Turtle Bay! Come on, these are coastal birds not usually found 150 miles inland on the Sacramento River.
Well, during the Fall River CBC, some of the participants found more rare birds for Shasta County, but I didn't know about them until I returned to our meeting place to carpool back to Redding. Apparently there was a Common Redpoll (Carduelis flammea) flocking with some Savannah Sparrows…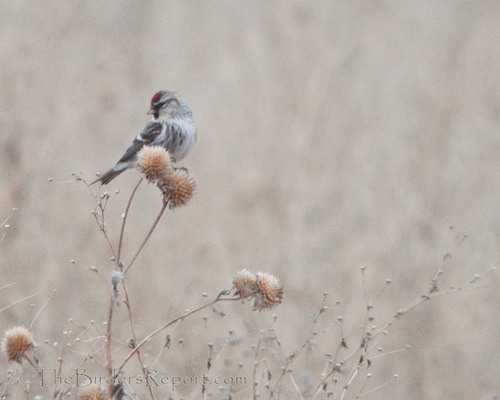 and an American Tree Sparrow (Spizella arborea) with a flock of Juncos.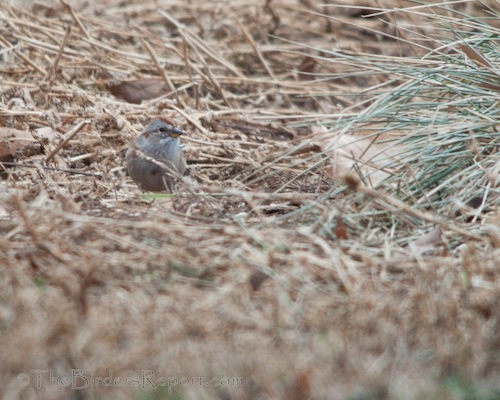 I took the above two photos on a trip back up to Fall River Mills to see these rare sightings but I also wanted to photograph the raptors you have seen in my most recent posts.
The Fall River Valley is located in the southern Cascade Mountains between Mount Shasta and Mount Lassen and includes acres of pasture and agricultural land that abounds with wildlife, including many species of birds. We counted 127 species in our count circle, the Loggerhead Shrike being one of those species.
This is the range map of the Loggerhead Shrike.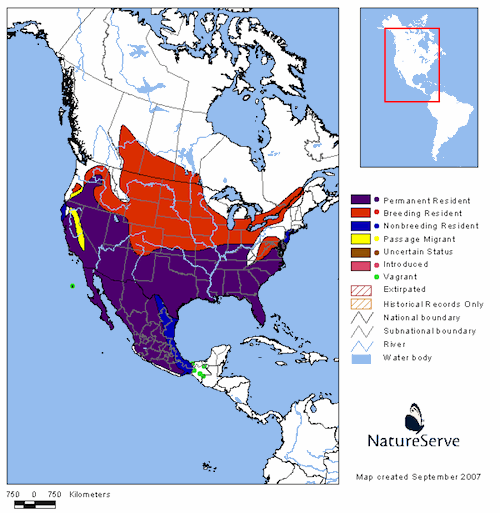 Traveling Rat Farm Road to its end there is a parking area and a small boat launch area with access to Big Lake and Ahjumawi Lava Springs State Park. It was there that I finally got a chance to photograph a Loggerhead Shrike, one of my nemesis photographic species. Click photos for full sized images of the Loggerhead Shrike.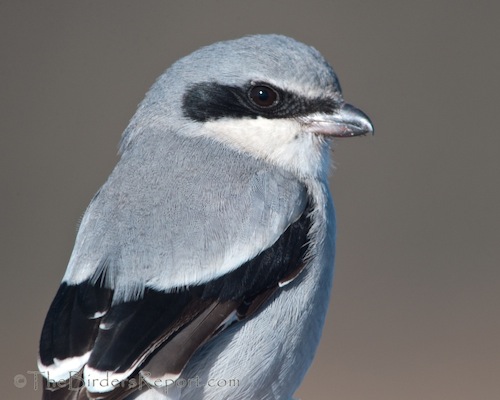 The Loggerhead Shrike is the only one of the world's thirty species of true shrikes that occurs exclusively in North America1. I believe they are year round residents here.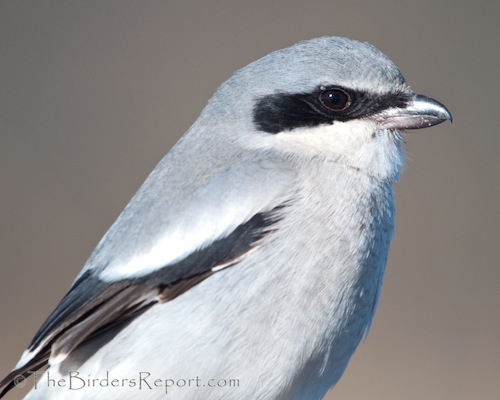 Sometimes known as the "butcherbird," it is a small avian predator that hunts from perches and impales its prey on sharp objects such as thorns and barbed-wire fences.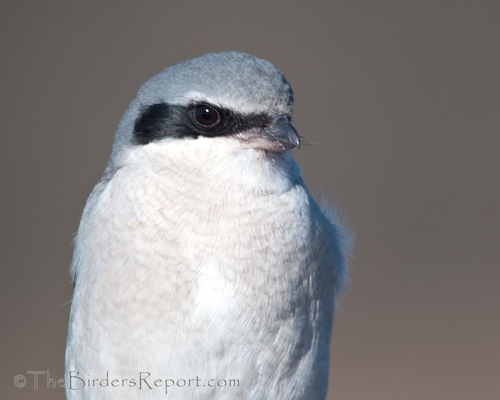 This beauty was sitting atop a sign as I drove into the parking lot at the end of the road, seemingly waiting for a photo op.
According to Birds of North America Online, "Although such predatory behavior mimics that of some raptors, impaling behavior represents a unique adaptation to the problem of eating large prey without benefit of the stronger feet and talons of raptors. In addition, the hooked bill, flanked by horny tomial projections and functionally similar to the notched upper bill of falcons, further sets shrikes apart as distinctive in the order Passeriformes. Being both passerines and top-level predators, these birds occupy a unique position in the food chain."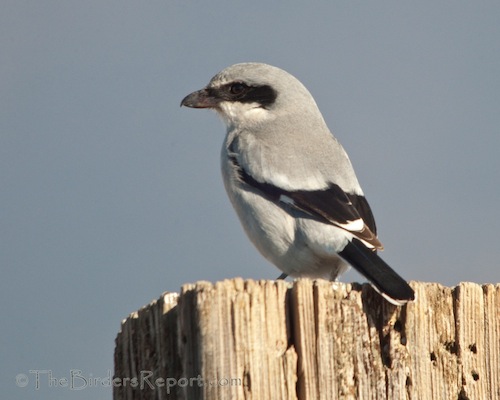 Unfortunately, despite its wide distribution, the Loggerhead Shrike is one of the few North American passerines whose populations have declined continentwide in recent decades. My Peterson Field Guide lists it as "uncommon to rare." I don't see it very often but I do know a couple of places where it can sometimes be found. Now, thanks to this bird, I can search for another nemesis bird and I have found another possible place this interesting species can be seen.
Please visit World Bird Wednesday and post some of your own bird photos. It's lots of fun to see what species other people are seeing around the world!
References: 1Birds of North America Online