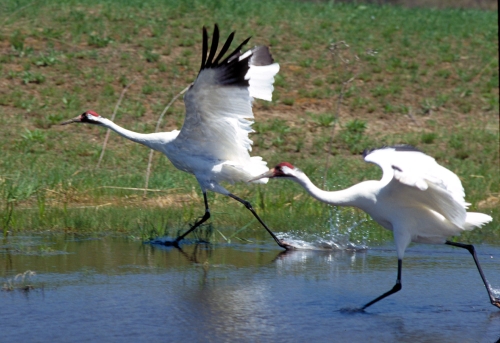 Whooping Crane photo courtesy of International Crane Foundation
Identified by her leg band, the bird shot was the mother of "Wild-1", the only Whooping Crane chick successfully hatched and migrated from captivity in 2006.  You can read the US Fish and Wildlife Service (USFWS) report here.
The U.S. Fish and Wildlife Service is offering a minimum reward of $2,500 to the person or people who provide information leading to a conviction.  Anyone with information should call the Indiana Department of Natural Resources 24-hour hotline at: 1-800 TIP IDNR (800-847-4367), or the U.S. Fish & Wildlife Service at 317-346-7016. Callers can remain anonymous.
Operation Migration has been helping the Whooping Crane survive  since 2001.  You can help by clicking on the link to there website or the "I Give A Whoop" logo in the right sidebar.
I hope the person or persons responsible for this outrageous crime are caught and sentenced to the maximum punishment for what they have done.
To quote John Christian, USFWS Assistant Regional Director for Migratory Birds, "To kill and abandon one of 500 remaining members of a species shows a lack of reverence for life and an absence of simple common sense.  It is inconceivable that someone would have such little regard for conservation."