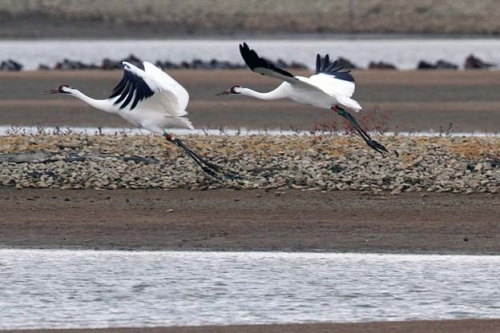 Photo courtesy of USFWS
Conservation officials are offering a reward for information about the person who shot and killed the whooping crane in Jackson County. Officials determined the male bird died from a shotgun wound.
Whooping Cranes reached a low of only sixteen birds in North America in the winter of 1941-1942, and numbered under 35 birds over the next two decades. With extensive efforts of concerned people and organizations since the 1970's, their numbers have grown to only around 500 individuals.
With Sandhill Crane hunting legal in ten states in the Central Flyway, and a hunting season just opened in Kentucky that runs until January 15th, or until 400 birds are killed, the chance of killing endangered Whooping Cranes seems to be more and more likely.
But don't worry, where Sandhill Cranes are hunted in the Central Flyway like Kansas, the Kansas Department of Wildlife, Parks and Tourism gives hunters a link to the US Fish and Wildlife Service stating  "The purpose of this web site is to provide waterfowl and sandhill crane hunters with information that will reduce the likelihood of shooting illegally at migratory birds that may look like sandhill cranes, but for which there is no open season and are protected by Federal law."
The US Fish and Wildlife Service site then states "Some of these protected species have been designated as threatened or endangered (e.g., whooping crane) and are further protected by the Endangered Species Act. Sandhill crane hunters in the Central Flyway need to be particularly cautious about the presence of whooping cranes during sandhill crane hunting seasons. The penalty for the unlawful take of an endangered species is a fine of up to $100,000 and/or up to 1 year in jail. If you see anyone shoot a whooping crane, you may be eligible for a reward up to $2,500 for information leading to the arrest of that person."
I wish I knew who shot that endangered Whooping Crane!