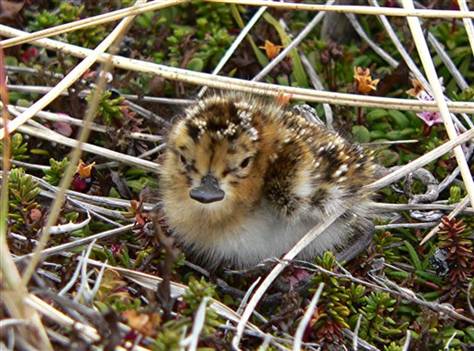 Spoon-billed Sandpiper Chick photo by John O'Sullivan, RSPB
BirdLife's work to save two key resting and feeding sites in China, used by one of the world's oddest and most appealing waterbirds is to receive support from Disney's Friends for Change initiative.  The project,  'Saving Spoony's Chinese Wetlands ' will receive at least $25,000. But if children around the world decide to give it their vote, that support could rise to $50,000, or even $100,000.
Spoony- the Spoon-billed Sandpiper- is one of the rarest birds in the world. It gets its name from its spoon-shaped beak, which it uses to pick up food from the mud left uncovered when the tide goes out.  Every year it flies over 9,000 km from the Arctic tundra in Russia, where it nests, to the tropics of southern Asia, where it spends the winter. Then, in spring, it flies all the way back again.
Fewer and fewer Spoon-billed Sandpipers make it back to breed each year, and unless we act quickly, this tough and determined little bird could soon be gone for ever. There may be as few as 400 left, down from 2,000 just 10 years ago.  You can read the rest of BirdLife International's story and then go vote for Spoony!  Here is a cool video of the Spoon-billed Sandpiper calling just to seal the deal.  Now GO VOTE!