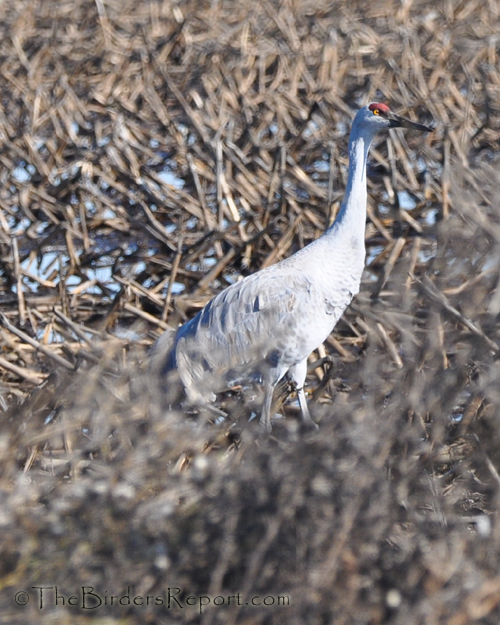 Sandhill Crane at Cosumnes River Preserve photo by Larry Jordan
"Winter in the Central Valley may seem cold, damp and foggy to you, but thousands of sandhill cranes feel right at home in the valley's grasslands and marshes.  This magnificent bird offers awesome viewing experiences, whether it is feeding on grains, loafing or flying to an evening roost. The sight and sound of a flock of these gargling journeyers gracefully descending into a sunset-lit field makes for a lifetime memory"  Bruce Forman, California Department of Fish and Game Interpretive Services.
[audio:https://thebirdersreport.com/audio/SACR2007-10-6-6.mp3]
Thousands of wildlife viewers feel the same way when they finally get to witness the return of the Sandhill Cranes to the California central valley but I'm sure most birders don't even know that in some states, Sandhill Cranes are hunted for "sport" and are considered game birds.  They are legally hunted in Alaska, Arizona, Colorado, Kansas, Montana, New Mexico, North Dakota, Oklahoma, South Dakota, Texas, Utah, and Wyoming.
I was shocked when I heard this.  Julie Zickefoose wrote a great post over at 10,000 Birds regarding "Shooting Sandhills in Tennessee."  I would like all of my readers to take a few minutes, click on the link and read the post and the comments.  When you're done there, head on over to Vickie Henderson's post titled "Sandhill Crane Hunting in Tennessee? Multiple Factors Say, NO."  Vickie has written one of the best pieces I have ever read on wildlife conservation.
Vickie makes a strong case for not hunting Sandhill Cranes and backs it up with facts and figures.  She points out that "historically our country has relied heavily on population numbers to determine the health of a species without sufficient consideration of species' ecology and the impact of human use and consumption of vital habitat.  Sandhill Cranes rely on wetlands for their survival" and wetlands seem to be endangered themselves.
Even as appreciation for the benefits provided by wetlands has grown over the last couple of decades, wetlands continue to be filled, drained, and dredged. California today has only 10 percent of the wetlands that existed before settlement by Europeans. The Central Valley once had vast wetlands extending over some 4 million acres; these have diminished to a mere 300,000 acres and only 5 percent of the state's coastal wetlands remain intact1.
Vickie also brings up the funding aspects of wildlife conservation siting numbers from the U.S. Fish and Wildlife Service (USFWS) that show that wildlife watchers have grown considerably  during the last census, from 1996 to 2006, while hunters numbers have significantly declined.  In California (wildlife watching includes feeding, observing and photographing wildlife) 85% of the participants in wildlife-associated recreation were wildlife watchers compared to 4% hunters.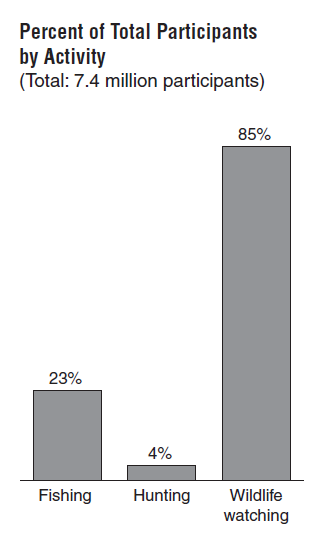 The USFWS report also shows that wildlife watcher's expenditures on these activities has now grown beyond the amount spent by anglers in California.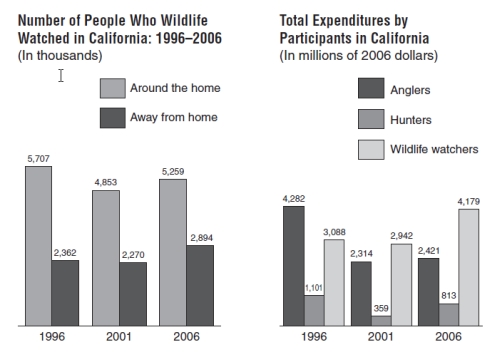 The number of Americans participating in wildlife recreation and spending money for those activities has obviously tipped in favor of wildlife watchers yet we have no say in the management of the public lands that we support.
There has got to be a way for the birders, photographers and other wildlife watchers to be recognized as contributors to the cause of conservation on our public lands and therefore have a voice in the policies of entities like the California Department of Fish and Game and the U.S. Fish and Wildlife Service.
You can download a copy of the 2006 National Survey of Fishing, Hunting and Wildlife-Associated Recreation for California here.  It is a 9.8MB file so be patient.  If you live in another state, you can get the report for your state here.
Please support this critical conservation issue in Tennessee by writing the Tennessee Wildlife Resources Commission and telling them how you feel about a Sandhill Crane hunt in their state.
References: 1 California Wetlands Information System, Sandhill Crane audio by Andrew Spencer