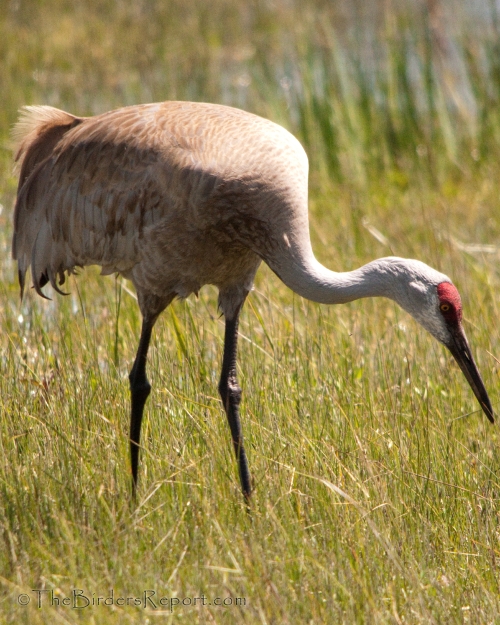 Sandhill Crane (Grus canadensis) photo by Larry Jordan
Unfortunately, we have lost the first battle in the attempt to stop the state of Kentucky from allowing the hunting of the eastern population of Sandhill Cranes.  On June 3rd, 2011, the Kentucky Wildlife Resources Commission approved a hunt season on sandhill cranes to be held in December of 2011.
As stated by my friend Vickie Henderson of Vickie Henderson Art "evidence from research conducted by the International Crane Foundation indicates that hunting this population at the current time could harm important breeding populations, and that population increase estimates are overinflated due to flaws in count methodology."
There are so many things wrong with this proposal.  It appears that the Kentucky Wildlife Resources Commission approved this hunting season on Sandhill Cranes simply to satisfy a small group of hunters, giving them an opportunity to "hunt" this slow flying, easy to hit "target" (see my post on Sandhill Crane hunting to understand my dismay).
I could go on about why this is such a bad idea but my friend Vickie Henderson has written excellent articles on this subject and bundled them all together on her blog, Vickie Henderson Art.
We need to stop the madness!  Please go read Vickie's well written arguments to stop this insanity of hunting a species that has just recently responded to recovery efforts.
I have also installed a link to the Kentucky Coalition for Sandhill Cranes in the right column of my blog that you can click on to get all the information on who to contact to stop the Sandhill Crane hunting madness!