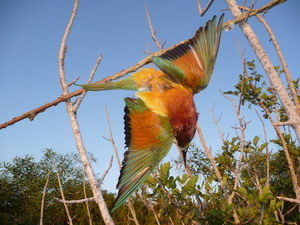 "The Greek-Cypriot south of the new EU member state Cyprus has become a death trap for the birds which migrate across the Eastern Mediterranean. Countless trappers set up their nets, and above all lime sticks, in almond and olive groves, in gardens and in the macchia in order to trap migrant song birds resting on passage. The main victims of the lime sticks are warblers and thrushes; but cuckoos, owls and other protected birds are also caught. The trapped birds are destined for the pot, not infrequently in restaurants, where they are sold at a high price as delicacies."  Photo and quote from the Committee Against Bird Slaughter (CABS), an organization protecting migrant birds in Europe.
The video below shows what these illegal methods do to the songbirds these trappers catch to sell to local restaurants as ambelopoulia, considered a delicacy in on the island.  These "hunters" set up mist nets and limestick traps and then lure the birds to them with songbird recordings played over loudspeakers.  Beware bird lovers, this video may cause you stress and even make you sick to your stomach.
What can we do to help stop this insanity?  Sign this petition against poaching in Cyprus, click here or on the "Cyprus 2010" icon in the left sidebar to donate to CABS and support BirdLife Cyprus.
Please do what you can.  For more information on this practice and what people are doing to stop it, check out Dan Rhoads' blog Migrations and the article he recently posted at 10,000 Birds titled "Why Ambelopoulia Is A Problem For Europe."