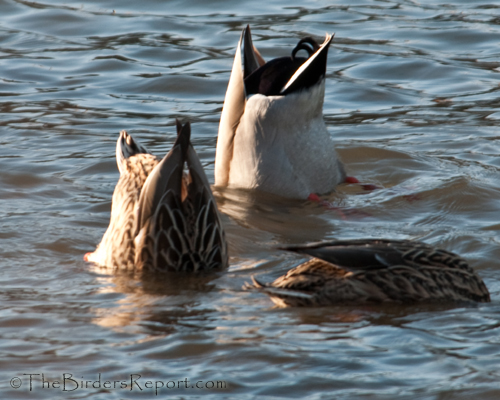 Mallards photo by Larry Jordan
We have three winners of the bird butt shot contest!  Robert and Jann had the most correct answers with 16 followed by Rainer with 13.  I hope everyone enjoyed the challenge as much as I enjoyed putting it together.
A few interesting observations are that everyone thought that butt #5 was a pair of Mallards.  I can see why though because male Mallards are the most common species we see with a black rump and undertail coverts, but there are a couple of differences.  The male Mallard has a white tail and orange feet (photo above) while the Gadwall (image 5) has a gray tail and yellow feet.  Of course, had I not known what bird I shot and I was looking at those rather small images in the original post, I probably would have guessed Mallard also.
No one got #12, the Peregrine Falcon either, probably because there was not a hint of anything identifiable on that photo.  Jann was the only one who got both #11 and #20 correct, those being the Cinnamon Teal and Savannah Sparrow respectively.
Thanks to all who participated.  Here are the answers that match the bird butt shot images with links to some better photos from my Flickr page: