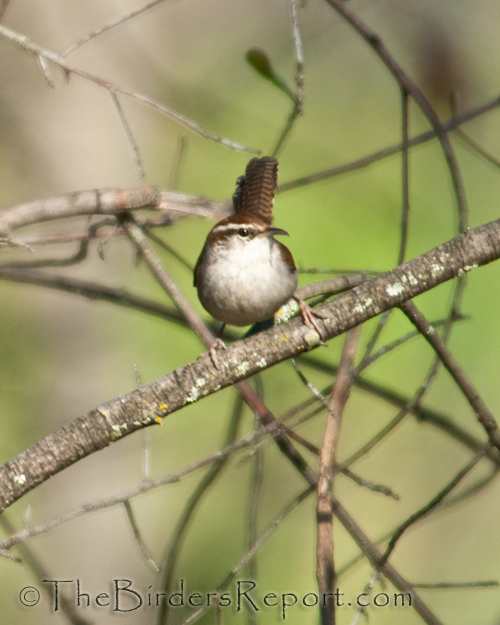 Bewick's Wren photos by Larry Jordan
On the last day of the Great Backyard Bird Count, I took a trip into town to run some errands and did two counts in two different areas.  I arrived at the first location at sunrise hoping to find the Great Horned Owl nest I photographed last spring but the owls did not chose to nest there this year.  I did however find 22 species in and around several acres of partially developed land behind the local junior high school.
The most notable birds of this early morning walk were twenty-five Wood Ducks that were enjoying a swim in a pond below Gray Pines and large Valley Oaks where I spotted fifty-four Mourning Doves perched like ornaments on the huge trees.  There was a covey of California Quail I heard as I traversed the grassy areas between the empty sidewalks.  Thirty-two quail sauntered across the road without a care in the world, not a motor vehicle in sight.
Around this junior high school I saw another scene I had never before observed.  I counted approximately 385 American Robins, scouring the lawn areas for tasty morsels.  They covered the ball fields and every other lawn area I could see.
As I made my way into town I saw many birds not counted on my journey.  I had errands to do but I made time to stop by Turtle Bay on the Sacramento River before heading back home where I found this cheerful singing Bewick's Wren.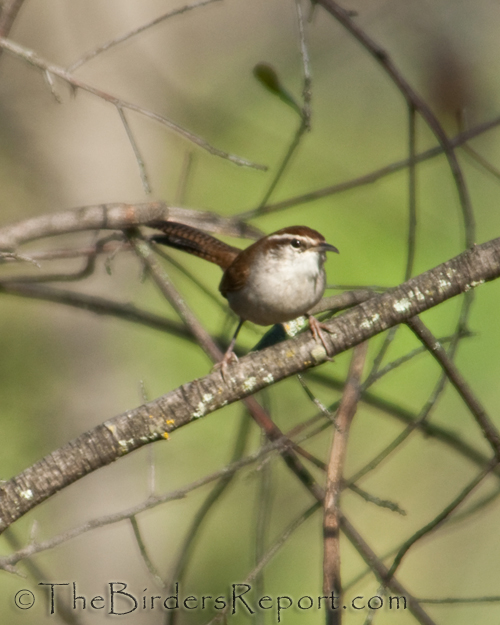 The female Bewick's Wren will call but the male is the only singer in the family.  He sounds like this (courtesy of Xen0-Canto.org): [audio:https://thebirdersreport.com/audio/BewicksWren.mp3]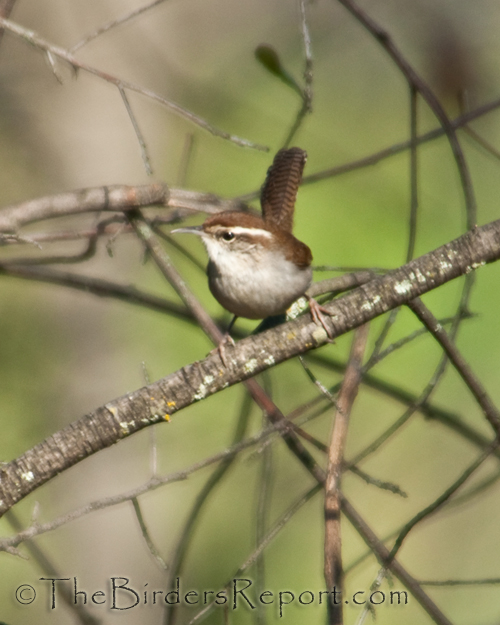 I had a nice hour long walk along the Sacramento River where I observed another 21 species.  With a few species counted in both locations, my total for the last day of the GBBC was 40 species.  Not bad for a couple of hour long walks in different habitats.
To see some great bird photos, check out Bird Photography Weekly!  Below are my species lists for the two locations I counted.
Palo Cedro, California:
Greater White-fronted Goose – 16
Wood Duck – 25
California Quail – 32
Mourning Dove – 54
Lewis's Woodpecker – 12
Acorn Woodpecker – 3
Nuttall's Woodpecker – 1
Downy Woodpecker – 1
Western Scrub-Jay – 8
American Crow – 6
Oak Titmouse – 4
White-breasted Nuthatch – 2
American Robin – 385
European Starling – 8
Spotted Towhee – 3
California Towhee – 2
Song Sparrow – 2
Lincoln's Sparrow – 2
White-crowned Sparrow – 12
Golden-crowned Sparrow – 3
Brewer's Blackbird – 15
House Finch – 7
Turtle Bay, Redding, California:
Bufflehead – 22
Canada Goose – 2
Common Goldeneye – 1
Common Merganser – 3
Great Egret – 1
Snowy Egret – 1
Turkey Vulture – 25 Confirmed
Red-shouldered Hawk – 1
American Coot – 12
Killdeer – 1
Ring-billed Gull – 1
Herring Gull – 1
Anna's Hummingbird – 1
Nuttall's Woodpecker – 1
Black Phoebe – 1
Tree Swallow – 8
Oak Titmouse – 2
Bewick's Wren – 2
Ruby-crowned Kinglet – 1
American Robin – 2
Yellow-rumped Warbler – 4
If you participated in the Great Backyard Bird Count, don't forget to submit your checklist. They are due by March 1st.  If you didn't participate I hope you will next year.  It's lots of fun and you help by becoming a citizen scientist and contributing to the sum of knowledge about birds.