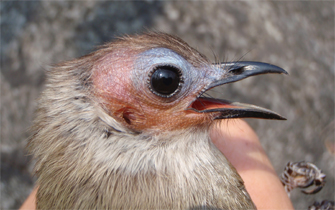 Bare-faced Bulbul photo by Iain Woxvold
The number of bird species in the world has just grown by one with the announcement of a newly discovered songbird in Laos. The twist on this already intriguing news is that the bird is bald — a trait rarely seen in songbirds.
Scientists named it the Bare-faced Bulbul because of the lack of feathers on its face and part of its head.
It is the first new species of bulbul – a family of more than 130 species – described in Asia in more than 100 years. The bird is the only bald songbird in mainland Asia, and one of only a handful in the world. Read the entire story at Birder's World.